Hello
With the long, warm summer days keeping us quite busy, we wanted to have some fun with this newsletter and focus on what summer (i.e., pre-harvest season) means to us. Namely: being outside, cooking as much as possible with produce from the garden, having outdoor dinners with friends and family and trying to read something other than vineyard-related books and newspapers.


All sorts of activity is happening in the Cartograph Garden, and we're loving it!
Flowers:
Some of the sunflowers have passed the 12-foot mark - seriously! It's been amazing to see them flower this spring.

The hydrangea is dutifully turning Cartograph blue and reminding Serena of her family's home in Brittany.

The purple larkspur were about two feet taller than last year; we're harvesting seeds to plant along the fence line at the vineyard.

The vibrant red poppies were bountiful and we've got enought seeds to carpet the whole county in red. If you'd like poppy, larkspur, or Love-in-a-Mist seeds to start your own wildflower garden, we have them in the tasting room for you to pick up.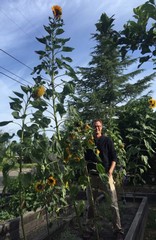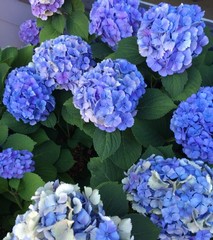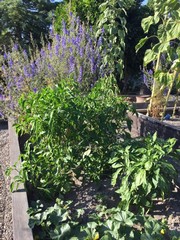 Herbs:
Our horseradish somehow managed to leap across beds somehow (well, yes, we did transfer dirt between the beds) and has established several new plants. If you need some fresh horseradish, let us know.

Basil…ah, the jars of pesto are starting to stack up. It's one of our greatest pleasures to make about 40 jars of pesto in summer and freeze them to get us through the winter. A bowl of pasta with fresh pesto on it in winter takes us right back to a beautiful summer day.

This summer's experiment is to make a variety of herb (thyme, marjoram, parsley, rosemary, cilantro) pestos and sauces that we'll use as rubs on meat and fish for the grill and as bases for better condiments for the sandwiches we take to the vineyard. We'll also freeze them to stir into pasta sauces and soups this winter. The cilantro has already bolted to seed, so we took the very last of it and made a cilantro-cashew pesto that works quite well with fish and chicken.
Fruit:
The blueberries were round and plump and turning a lovely shade of blue…and when we came to harvest them, the birds had gotten there first. Sigh. Note to self for next year: bird netting.

We'll soon have a pile of small but tasty peaches at the tasting room. Our two dwarf trees put out an amazing quantity of fruit, but it all ripens at once! We'll be sure to have our peach cobbler and peach salsa recipes in the tasting room as well.

The Gravenstein apples are well on their way to ripening, but unfortunately, we had to chop off the Fuji branch due to disease.
​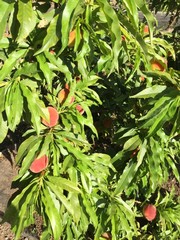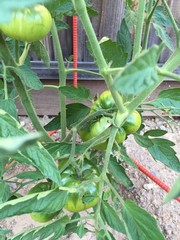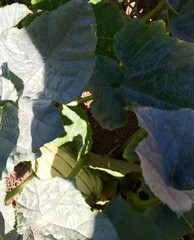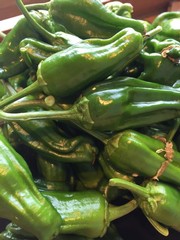 Veggies:
Lettuces are finishing up their season and we've taken to making grilled salads, which has been fun.

Eight tomato plants — five different types — are going strong. Most of the yield will go into tomato sauce, though we'll keep a few for gazpacho. We can't wait!

This may be the year of the delicata squash. The new placement for this vine has generated an unbelievable amount of baby squash so far; we'll see how many make it to fruition.

We decided to forego attempting to grow enough cucumbers for pickling this year, so we'll have just enough cucumber to make Jackie Baker's delicious cucumber salad throughout the summer.

We've already enjoyed our first set of Padron peppers; the jalapeños will be ready soon.

Our recent hot spell gave the edamame quite a bump, and we're just waiting for them to flesh out a bit before picking them.

Some volunteer cannellini beans sprouted in one of the front beds, so we'll see how they fare.

One of the beds is devoted to corn, which we'll mill into corn flour. Even though Alan grew up in Iowa and should be able to grow a decent ear of corn, he has given up on trying to grow sweet corn for eating. Something about the climate here takes it from not-ripe to sticky and thick-skinned overnight.
Clearly, we've got our hands full of produce this summer if the garden yields well. As always, we'll bring what we can in to the tasting room for you to enjoy too.

If you managed to read my LOOOONG update last month, you'll remember that we were staring at the forecast hoping that the cool weather wouldn't interrupt bloom in the vineyards. It looks like we fared much better than last year and did manage to set a decent crop; we were 100 percent through bloom somewhere around June 5.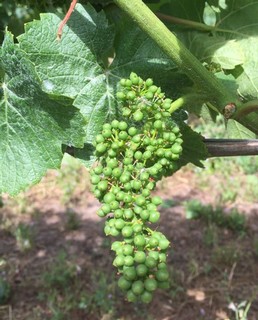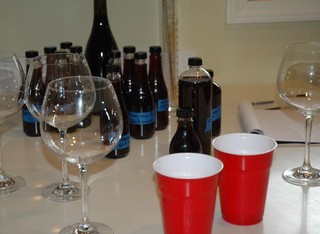 With that in the rear-view mirror, I'm turning my attention to the cellar and our fall bottling. Tasting through all of the barrels last week, I was very excited: The wines are a bit more full on the palate than in years past. It's going to be fun to get the appellation blends figured out — which I need to go start, so I'll keep this one short.
Cheers, Alan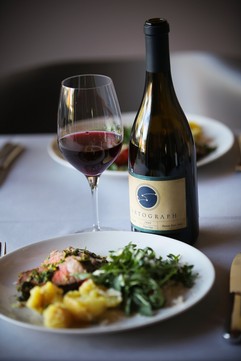 We try to spend as much time as possible outside during summer, knowing that the rainy days in late fall and the gray days of winter will have us curled up in front of the fire soon enough. Now that we have the new vineyard, spending time there is a daily activity.
We've discovered that there are only so many sandwiches we can stand to schlep out to the vineyard for lunch in any given week, so we decided to put a grill out there. At the end of a long day, being able to throw something delicious on the grill and enjoy it with the vineyard view is pretty special.
Below you'll find some of Alan's favorite things to grill, with Serena's suggested wine pairings.
With Pinot:
With Sangiovese:
With Rosé, Gewürz, and Riesling: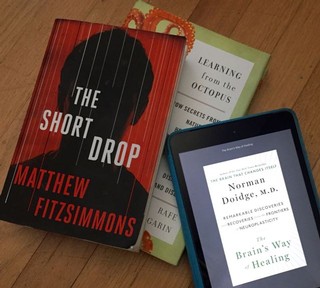 Just for fun, we've put together a list of books we're reading that have absolutely nothing to do with wine. We hope you'll have time this summer to relax and enjoy a book along with a great glass of wine.
Fun fiction:
Books that help you become smarter:
Learning From the Octopus: How Secrets from Nature Can Help Us Fight Terrorist Attacks, Natural Disasters, and Disease by Rafe Sagarin
The Brain's Way of Healing by Norman Doidge
Biography and autobiography:

All this talk of grilling has gotten us hungry. It's a beautiful, sunny day, so we're going to wrap up here at the tasting room and fire up the grill for Provençal Marinated Chicken Legs, which we'll enjoy with a cold bottle of Rosé.
Cheers,
Alan and Serena