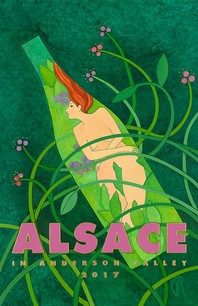 Join us at the Alsace Festival where we will be pouring our Riesling and Gewürztraminer. At this event you can meet the winemakers and taste Alsace style white wines from around the world. Enjoy foods perfectly suited for aromatic whites.
Tickets go on sale November 15
At 12:00 p.m., prior to the Grand Tasting, A special guest chef will create an educational and entertaining food/wine demonstration to highlight why so many foods pair beautifully with the wine. The audience will sample this creation during the Grand Tasting. It's a great way to learn more about the versatility of Alsace-style whites. At 1:00pm the Grand Tasting opens with over 100 wines to be sampled along with delectable bites.