Upcoming Events
November 2014
Single Vineyard Night
5:00 PM to 9:00 PM
Wed, Nov 5, 2014
Venue:
General's Residence, Fort Mason 1 Fort Mason , San Francisco, CA 94123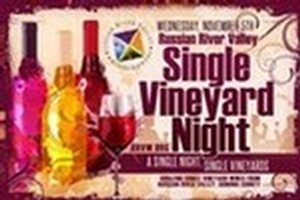 Join us in San Francisco for a wonderful evening showcasing wine from the Russian River Valley. We will be pouring a library selection of Cartograph wines from the Russian River Valley.
Complementing the wines will be delectable bites of food and you'll enjoy live music by Organix Guitar Duo, which features North Bay jazz guitarist Jason Bodlovich in an acoustic duet setting.
March 2015
Pinot Days Chicago
12:00 PM to 5:00 PM
Sat, Mar 21, 2015
Venue:
Navy Pier, 600 E Grand Ave, Chicago, IL
Please join us at Pinot Days in Chicago. Alan and Serena had such a great time at the Chicago Pinot Days in 2013 and 2014 that they could not miss the opportunity to pour at it again in 2015.
This the most intimate Pinot Days festival, but it has the biggest heart. 65 wineries fly into the Windy City and they paint the town pinot with Winemaker Dinners, "Meet the Winemaker" pinot and food pairings at local wine bars and restaurants, tastings at boutique retail stores and finally, the Grand Festival at beautiful Navy Pier. Chicagoans know great food and wine and they pursue it with vigor but (refreshingly) without any pretense. Join us in Chicago for a whirlwind of exquisite wine, incredible food and (considering the wonderful winemakers and the great-hearted Midwesterners who join us each year) the loveliest people we can imagine. More information.