Upcoming Events
April 2014
Pinot Days: Chicago
12:00 PM to 5:00 PM
Sat, Apr 26, 2014
Venue:
Navy Pier, Chicago
Please join us at Pinot Days in Chicago. Alan and Serena had such a great time at the Chicago Pinot Days in 2013 that they could not miss the opportunity to pour at it again in 2014.
This the most intimate Pinot Days festival, but it has the biggest heart. 65 wineries fly into the Windy City and they paint the town pinot with Winemaker Dinners, "Meet the Winemaker" pinot and food pairings at local wine bars and restaurants, tastings at boutique retail stores and finally, the Grand Festival at beautiful Navy Pier. Chicagoans know great food and wine and they pursue it with vigor but (refreshingly) without any pretense. Join us in Chicago for a whirlwind of exquisite wine, incredible food and (considering the wonderful winemakers and the great-hearted Midwesterners who join us each year) the loveliest people we can imagine. More information.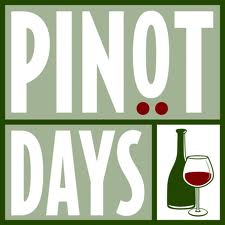 May 2014
Passport to Pinot
12:00 PM to 5:00 PM
Sat, May 24, 2014 - Sun, May 25, 2014
Venue:
Cartograph Tasting Room, 340 Center St., Healdsburg, CA 95448
More than 30 wineries located throughout the beautiful Russian River Valley will participate in this barrel tasting weekend.
Join the amazing producers of the Russian River Valley at our annual Passport to Pinot weekend, where you can celebrate the allure of our Pinot Noir and escape into the rugged beauty of our valley. This world-class tasting experience will have you traveling through our vineyards and redwoods along the Russian River, discovering hidden gems – fresh, local food, hospitality like no other and exclusive experiences at participating wineries.

The Russian River Valley Passport to Pinot weekend offers ticket holders exclusive experiences throughout the weekend at participating wineries. Pinot is the focus, but each winery will also be offering unique offerings, including:

Barrel tastings – get a glimpse of the 2013 vintage of Pinot Noir before it's bottled
· Futures purchases – secure your supply of the wines you love in barrel
· Library wines – discover the beauty of Pinot as it ages
· Vertical tastings – compare the past, present and future of a specific vineyard
· Amazing food pairings – with all the delicious local foods here in Russian River Valley, wine and food are a match made in heaven
· Artist demonstrations – from painters to potters to jewelers and beyond
· Vineyard tours – get out in the vines and learn why we say great wine starts with the grapes
· Entertainment – relax with a glass of wine while checking out some of our fantastic local musicians
· And more!