Get Connected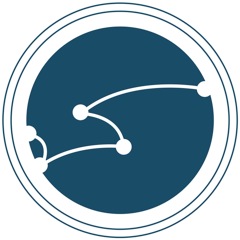 The image on our label is a Cartograph - a visual representation of key places in our history. This image is visual shorthand that helps people understand where we come from and where our paths may have crossed. It's a single image that encapsulates our shared history in wine. Each point of the Cartograph has a story, as does the line between each point.
Connect With Us
Cartograph is about connections. By bringing people together through wine, Cartograph seeks to create an ever-evolving web of connections that grows and deepens with each person who drinks Cartograph wine and shares their own unique and defining wine stories.
There are a number of ways you can reach out to us and our community of wine lovers.
Share your stories with us on Facebook: http://www.facebook.com/Cartograph
Follow us on Twitter: @cartographwines
Keep up with what's going on via the Cartograph Blog
Tasting Room
Our shiny new tasting room is now open in downtown Healdsburg! We're just a half block north of the square. We are open for tastings daily from 12pm to 6:30pm, no appointment needed. We also offer private tastings by appointment, please call the tasting room if you are interested in reserving a private tastings. If you are visiting the tasting room in a group larger than 6 people, we request that you notify us in advance of your visit to ensure we can accommodate you.
Location: 340 Center St., Healdsburg, CA (half a block north of the main plaza)
Hours: 12pm - 6:30pm daily (closed Thanksgiving, Christmas Day and New Year's Day)
Telephone: 707.433.8270
New tasting experience: Inside Pinot
If you've ever visited us during harvest, you know that Alan almost always has a small batch of something percolating on the back bar. You might get a taste of Pinot juice from a sample that was taken in the vineyard that morning, or a fermentation that is just taking off at the winery. The reactions we get are almost always ones of surprise that what is in the glass will eventually become an amazingly complex and graceful wine.
This got Alan to thinking about how he could help people experience all the stages of a Pinot Noir, from growth through fermentation and maturation. As he started sugar sampling in late summer 2013, he saved his samples and froze them.along with samples from active fermentations throughout that process.
Alan created a new tasting experience called "Inside Pinot" that lets visitors sample along as he gives a verbal and visual tour of how Pinot Noir is made. You will taste juice samples as well as current releases and library wines from Cartograph.
The details: Inside Pinot tastings typically last about 90 minutes, and the charge is $50 per person. Because the samples are limited, we try to put together a group of 6 more more for each tasting. If you would like to be part of an upcoming group or would like to put together a group for a tasting, please email Serena at serena@cartograpwines.com or contact the tasting room at 707.433.8270. We hope you'll join us for this unique look at how Cartograph wines evolve from vineyard to glass.
Tours
Throughout the summer months, we host tours of our vineyards with special focused tastings with Alan. Please contact the tasting room for reservations.
Contact Information for Serena & Alan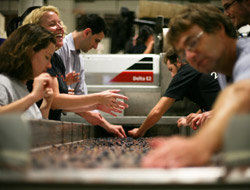 Email: Serena - serena@cartographwines.com
Twitter: @cartographwines
Email: Alan - alan@cartographwines.com
Twitter: @cellarrat