Blog
Welcome to our blog! This is where we post the stories and pictures in greater detail than the nuggets on Twitter and Facebook. Enjoy! - Alan & Serena


Win prizes!
Impress your friends!
Assert your place at the top of the food chain!
Join us when Cartograph Wines becomes Cartograph Swines at noon on Sunday, March 23, for the first annual Pass the Pigs Olympics. This completely wacky dice game is guaranteed to get you rolling with laughter like . . . well, like a pig rolling in mud.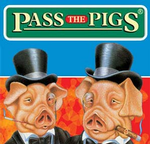 Picture yourself standing on the medal podium, a gold medal around your neck and a porcine trophy in your hand, salty tears streaming down your face as you're overwhelmed with the joy of achieving your lifelong dream.
Best of all: The gold medalist wins Cartograph wine club privileges for a year!
Pass the Pigs is super-simple to master (get the rules and scoring grid here). We're planning a double-elimination tournament to determine the gold medalist, with silver and bronze medalists determined by the highest cumulative point totals.
It's free to enter—just email us at info@cartographwines (include both your real name and your nom de pig if you're competing under a different name). Hope to sooo-ey you there!
Team Cartograph

Happy Valentine's day to the Cartograph Circle. A little Valentine poem from us to you.
Roses are red
Violets are blue
The winemaker said
He made a special Pinot to share only with you
(2012 Green Valley Pinot Noir for the Cartograph Circle only, to be released in 2014)
Cheers,
Serena

This has been an incredibly dry winter—the driest on record for most of California, and bad enough to put us into an official drought emergency. We've had a lot of people ask what this means for the grapes.
The primary concern right now: protecting the fruit from frost. When there is a threat of frost, many growers turn on their sprinklers to coat the budding vines with ice; it might seem counterintuitive, but this protects the buds from frost damage. Our warm, dry winter creates the potential for an early bud break, which means a longer frost season . . . with potentially no water to run the sprinklers. A dry winter also typically results in less fruit, and any frost damage could further reduce yields.
The 10-day forecast calls for rain. Our fingers are crossed that it will materialize and we'll start seeing a more normal winter weather pattern.

Winter Wineland is an annual event put on by an organization called The Wine Road. It's a celebration of winter and wine. Our theme for the event was "A Winter's Starry Night" so Alan covered the ceiling with hundreds and hunders of tiny white lights. It was an uncharacteristically warm and sunny winter day so we had the shades drawn which created an atmosphere of intrigue as you could not see in to the tasting room but once inside, you could see the people outside pressing their noses against the window to see what was happening.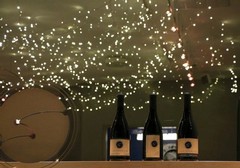 We created four stations to give people the Cartograph experience. The first stop was "Wine on Tap" where Tina was pouring the 2012 Floodgate Vineyard Gewürztraminer, and being such a warm day it was met with much delight. Besides people being pleasantly suprised by the crisp nature of our dry Gewürztraminer, they also really enjoyed hearing about the green aspect of our keg program. The next station was in the reserve room where we were pouring the latest wine to join our list - the 2011 Sonoma County Pinot Noir. The bright cranberry and strawberry seemed to shine on such a warm day and it is showing an incredible earthines that had folks refrencing Burgundy quite a bit. The third station was staffed by Circle club members which was really fun and they poured a library wine - the 2010 Russian River Pinot Noir. People loved the wine but truly enjoyed hearing from the Circle members about why they joined the Circle and what their experience of Cartograph was. The fourth station was Deb's conciege station where she answered all sort sof questions, directed people to their next visit, signed up Circle members and ran a raffle for a Cartograph jacket. Alan milled about the crowd and answering questions and sharing the Cartograph story and Serena and another Circle member were the greeters at the front.
All in all, it was a very fun, lively weekend and we met all sorts of new people who we hope will continue to support Cartograph. Perhaps you'll join us next year?
- Serena

We are excited to turn the page on 2013 and look forward to 2014. The focus in 2013 was the building and designing of our new tasting room and now in 2014 we can turn our attention to creating new experiences.
We will kick off the year with Winter Wineland on Jan. 18 - 19 which will be our first event as Wine Road members. In February we will launch a new tasting experience with Alan (our winemaker) called "Pinot A to Z," a one-of-a-kind immersive tasting with samples that take you through every step in the transformation of the Pinot grape from harvest through fermentation to finished wine. Reservations are required for the Pinot A to Z tasting.
Because we have the tap system in the tasting room, we are developing a growler program which we hope to launch in March. With the growler program, we will be able to fill a one liter bottle (the growler) directly from the tap for you to take home and enjoy at your leisure. We'll send more information via the newsletter as soon as the final details come together.
- Serena

What a year 2013 has been! After our production hit 1,000 cases with the 2012 harvest, we decided to make a leap and launch our own space where we could tell the Cartograph story and share our wines. We kicked off the year looking for a new tasting room closer to Healdsburg's main square.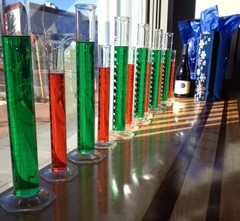 Once we had our space, the creative juices flowed as we made drawings of what we wanted it to look like. Today, as we look around and see how those drawings came to life, we're absolutely thrilled with how the tasting room became a true reflection of Cartograph.
In the spring, we presented our wines at Pebble Beach Food and Wine, at the Food & Wine Classic in Aspen and at SF Chefs in San Francisco. It was a pleasure to see how well the wines were received outside our circle of friends and longtime supporters; our little brand is getting great recognition from critics and sommeliers.
Locally, we got more involved in what's happening in downtown Healdsburg. Serena was asked to join the Downtown Business District Advisory Board, which guides strategy for downtown growth and helps to direct marketing efforts for downtown businesses. We've also been working to establish an alliance of downtown wineries called Wine.Walk.Healdsburg. Stop in at our tasting room for a map, or click the link for a look at all the downtown wine-tasting options.
Harvest was admittedly a bit of a blur, but 2013 delivered an amazing crop. With its moderate late-season temps, the long summer gave us great hang time without destroying the vibrant acidity that is so crucial to our style of winemaking. We're very excited by what we've got in the winery.
Cheers,
Serena & Alan

If you've ever visited us during harvest, you know that I almost always have a small batch of something percolating on the back bar. You might get a taste of Pinot juice from a sample that was taken in the vineyard that morning, or a fermentation that is just taking off at the winery. The reactions we get are almost always ones of surprise that what is in the glass will eventually become an amazingly complex and graceful wine.
This got me thinking about how I could help people experience all the stages of a Pinot Noir, from growth through fermentation and maturation. As the winemaker, I get to taste the wine at every stage, and I find the process of tracking its changes endlessly fascinating. So as I started sugar sampling in late summer, I saved my samples and froze them. I also pulled samples from active fermentations throughout that process.
Now that I have a freezer chock-full of samples, I've created a new tasting experience called "Pinot A to Z" that lets visitors sample along as I give a verbal and visual tour of how Pinot Noir is made. We taste juice samples as well as current releases and library wines from Cartograph. The first few sessions were an absolute blast, and I'm excited to dig into the freezer for more.
The details: Pinot A to Z tastings typically last about 90 minutes, and the charge is $50 per person. Because the samples are limited, I try to put together a group for each tasting—email info@cartographwines.com if you'd like to be part of an upcoming group. I hope you'll join us for this unique look at how Cartograph wines evolve from vineyard to glass.
Cheers,
Alan

The paper that covered our windows for six months came down on Oct. 26 when we held a tasting of our new releases—and a sneak peek at our new tasting room—for Cartograph Circle members. On Oct. 27, in conjunction with the Pinot on the River Festival in downtown Healdsburg, we opened our doors to the public.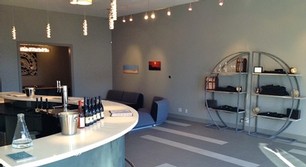 Our furniture is still arriving one piece at a time and we're finalizing some design details, but we should have everything completed in January. Once it's finished, we'll have a grand-opening celebration in February so we can all celebrate together at long last.
The response from our neighbors and visitors has been wonderful and we haven't stopped smiling. If you've visited the tasting room and had a great experience, we'd be eternally grateful if you would share your thoughts on Yelp and Trip Advisor. Reviews on these two websites—the most popular sites for planning trips to wine country—will help us get the word out about our new location.
We hope to make every visit to our tasting room wonderful, and we're delighted that so far that's the word on the street. Please come see us if you're in the area: We're open every day from noon to 6:30 p.m.
- Serena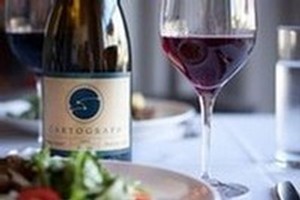 We love November as it ushers in the holiday season. A chance to enjoy delicious meals with friends and family and linger in front of the fire sharing a bottle of wine. It's a wonderful time filled with rich flavors and delicious scents. We are grateful that we get to spend this Thanksgiving with dear friends and have time to reflect on what an amazing year it's been, particularly in the past several months seeing our vision for the new tasting room come to life and to open the doors. The response from the local community, the Cartograph Circle, friends and family, and from new visitors to the tasting room has been wonderful and has made this step in the journey exhilarating.
For this year's meal, we're going to use as many ingredients from the Cartograph garden. What are you serving at your table this year? We'd love to hear if you have any dishes in particular that match our wines as we'd like to develop a holiday recipe series for Cartograph.
Here's our menu:
Winter squash soup with gruyere croutons - The brightness and crisp dryness of the 2012 Rosé of Pinot Noir would be great with this
Juniper and heb roasted turkey - Either the 2011 Perli Vineyard Pinot Noir or the 2012 Floodgate Vienyard Gewürztraminer - the Perli woudl play beautifully with the juniper especially if there was a chanterelle gravy and the Gewürztraminer always works with Thanksgiving turkey
Challah, sausage, and dried cherry stuffing - I think this would be great with the 2011 Floodgate Vineyard Pinot Noir or the 2010 Russian River Pinot Noir
Wild mushroom Tart - I'd serve the 2011 Anderson Valley Pinot Noir with this one
Mashed potatoes with truffle butter
Green beans
Amazing dinner rolls from our local baker (Downtown Bakery)
Cranberry sauce from Downtown Bakery
Pumpkin pie with homemade whipped cream
A fruit gallette from Downtown Bakery
May you all have a wonderful Thanksgiving filled with laughter and love. We wish you could join us at our table. Happy Thaksgiving!
- Serena

Some photos of the ever evolving tasting room. Eventually there will be art work behind the bar and the television screen will go into the reserve room for use for private tastings.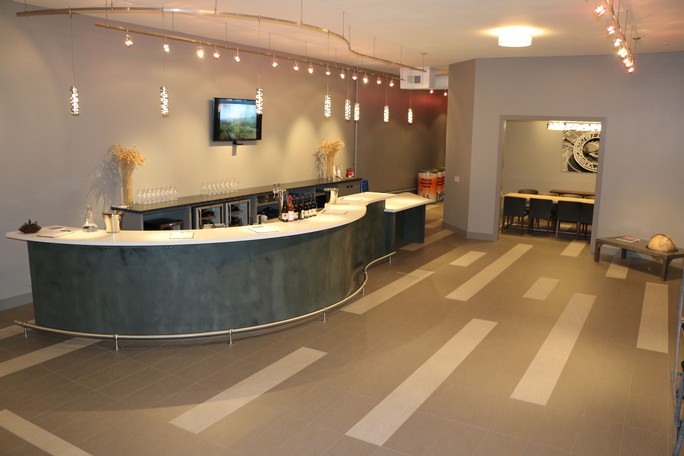 This is a fun spot to sit in and peruse the Sunday New York Times. We found some great walnut bar stools which make hanging out in the window seat comfortable.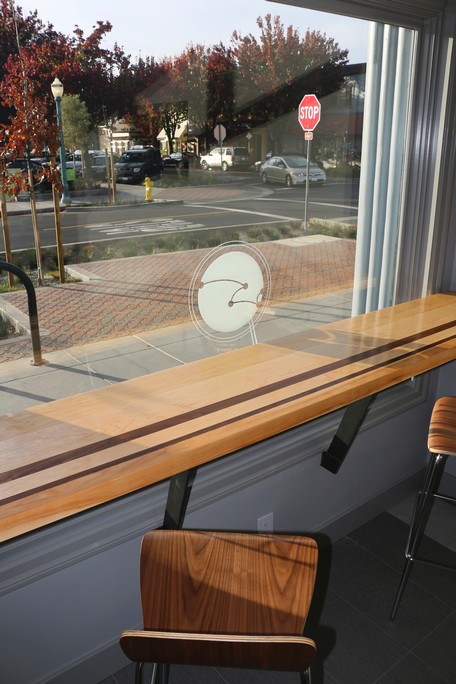 The temporary couch on loan to us from the store from which we ordered the orginal couch. Why a temporary couch ... because our couch did not ship and won't be arriving until January. At least, with the temporary couch there is a place to sit and relax and enjoy one of our Erlenmeyer flasks of Rosé.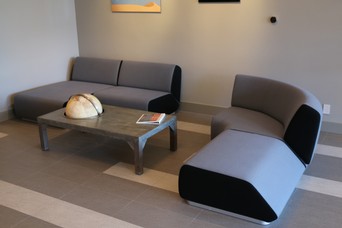 It's still a work in process but we are truly excited to have the doors open. Hope you'll come visit soon.
- Serena
Recent Posts
March 5, 2014

(1 Comment)

February 14, 2014

January 30, 2014

January 21, 2014

January 15, 2014

December 23, 2013

December 19, 2013

December 17, 2013

November 26, 2013

November 17, 2013
Blog Categories
Blog Archives
Our Writers