Blog
Welcome to our blog! This is where we post the stories and pictures in greater detail than the nuggets on Twitter and Facebook. Enjoy! - Alan & Serena


Green Valley Pinot Noir: So few grapes, so much love.
A grower friend of ours swung by the tasting room one day in July 2012 and told us about a tiny vineyard in the Green Valley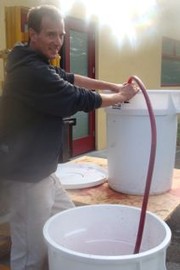 AVA that he was helping to manage for a couple who had recently purchased the property. We chatted about the challenges of working with such a small property; I told him that if the couple had any questions about winemaking, I'd be happy to help.
Fast forward: Life got busy and the owners, Tom and Ruth, asked if I would like to harvest the grapes. Having already committed ourselves to five vineyards, we were a little hesitant to take on another one . . . but our friend Rich was overseeing it, and Green Valley is a new and intriguing appellation for us, so I decided to throw caution to the wind and jump in without having set eyes on the vines. We were hoping to get a full ton of Pinot noir.
Our first visit to the property revealed that we were in for quite a ride. Birds had already picked one section clean and were methodically working their way across the block. With bird damage comes all sorts of other challenges; namely, the spread of botrytis and bacteria. Ruth started making daily passes to pull damaged clusters as we prayed for some heat to finish ripening the fruit. The weather stayed cold and the birds continued to feast.
Finally, the grapes got ripe and we picked the vineyard ourselves with help from the owners, the vineyard manager and some of their friends, all armed with pails, gloves, shears and knives. I showed everyone what kind of clusters to pick and which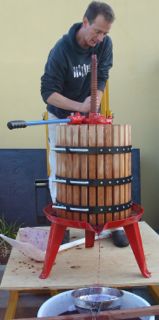 clusters to leave behind due to bird and wasp damage. As the picking pails started filling up, Serena moved to the harvest bin to be the final QA person, sorting each cluster and tossing the ones that didn't meet our expectations.
The owners cringed as Serena tossed out about 50 percent of what they were delivering. However, tough love is the only way to ensure that you have something worth worrying over for the next year. By the time the final sort was complete three hours later, we had exactly 500 lbs. of Pinot. Ugh!
Given the small quantity of fruit, we thought we might get laughed out of the facility where we produce the rest of our Pinot, so we took the fruit to the Cartograph tasting room and fermented the wine in the back room (we're a bonded winery, so it was all legit.) You never know about the batches of wine that come from a difficult pick, but the wine smelled nice and clean through fermentation and we pressed it with a small hand-powered press borrowed from a friend's winery—just a tasting-room prop for them, but it did the job for us. We got the last basket pressed and the place cleaned up just in time to open the tasting room for the day.
Working with such a small lot meant that we couldn't use our regular winemaking tools, so this lot is truly handcrafted in every sense of the word. And with only 12 cases available, we've made it an exclusive for our Cartograph Circle members.
So how does it taste? Here's my tasting note.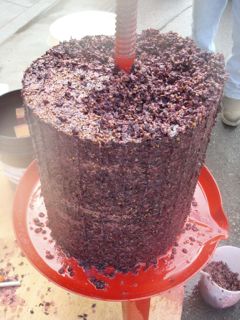 2012 Green Valley Pinot noir (Harlan Vineyard)
Green Valley sits at the west end (cold end) of the Russian River Valley appellation. You can recognize the bing cherry aroma that you often find in Russian River Pinots but this wine also has hints of cedar, mint, and dried leaves in its complex aromatics. The wine is light on the palate with ample acid. And the flavors are also a nice balance of bright red cranberry fruit and a pronounced earthiness. Like the best cool-climate Pinots this wine has a certain taughtness or edginess to it. Imagine a violin string beginning to vibrate and sing.
Alan

The winter garden is slow to grow but once it gets going, it yields all sorts of tasty organic goodness to share in the tasting room. We have two kinds of oranges - juice and navel - and while the trees did get damaged by frost, the branches that were unscathed are prolific. Just the other day we noticed that in the trees have started putting on their buds for the new season so we are quickly pulling all the oranges off the tree. So, if you are feeling the need for some vitamin C, come visit the tasting room and help yourself to oranges.
The lettuces have finally hit their stride. We have forests of arugula that we are chopping down and bringing in. The red lead, curly leaf lettuces, and romaines are putting on full heads of lettuce that we can now start harvesting. Instead of planting a multitude of spinach plants, we only planted six plants this year and that seems to be the perfect amount so far for a household of two. We've been using the spinach in pasta dishes, soups, and we came across a delicious spinach and brussel sprout saute . The recipe is here - and the only changes we did was to chop the almonds, increase the vinegar by a quarter and decrease the maple syrup by a quarter.
The garlic, onions, barley, and fava beans are slowly growing. Unfortunately, the snails got the best of the sugar snap peas so we won't have any of those this year. The daffodils, hyacinth, tulips, and this beautiful purple flower whose name eludes me are all blooming. The blueberries look promising but the lack of bees continues to be a concern. On the apple tree, only the Fuji branch is in bloom, the Gravenstin limbs are just pushing out their buds.
That's the garden update. Come visit the tasting room and pick up some produce.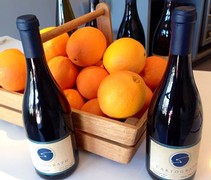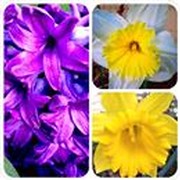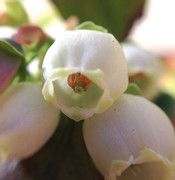 Cheers,
Serena

This late-winter part of the season is an interesting time for us. What you might think is a slow time—with the vineyards at rest and fewer people traveling—is in reality a little chaotic. Kind of like the frantic underwater paddling that keeps a placid-looking duck gliding upstream.
There are a lot of wine events this time of year that have us on the road; as I write this, I'm perched in a hotel room at World of Pinot Noir in Santa Barbara. In addition, our 2013 whites and rosé are heading into bottle soon. After getting all the design work done for new labels, plus the necessary approvals from our friendly federal officials, it's a fun game to get the bottles, labels, corks, screwcaps, foils, etc., all to land at the winery in a two-day window just before the bottling truck shows up. The Gewürztraminer and Rosé are right in sync with what we've made in the past: bright and bone-dry. Both of these wines will be ready for May release.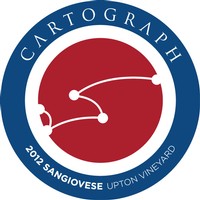 We're also very excited to be introducing two new wines, both new grape varieties for us. We picked Sangiovese in 2012 from a small organic vineyard in the Redwood Valley, about an hour north of us. This fun, tart-cherry Sangio will be a special offering for our Cartograph Circle members. Also, after a five-year search, we finally found a Riesling vineyard that has a reputation for making great, age-worthy wines. We sourced two tons of Riesling from Greenwood Ridge in the Mendocino Ridge appellation. The wine is racy and incredibly vibrant, and, as you might expect, dry! I've had a lot of fun working with these new varieties and can't wait to share the wines with you.
You've all heard about the drought conditions here in California almost as much as we've heard about the winter that won't end in all points east of the Rockies, so I won't ratchet up anybody's stress levels by bemoaning these things. But the sun is climbing higher in the sky, so relief is in sight for our friends to the east, and we're thankful for every drop of rain that in now falling here in the west.
Cheers, Alan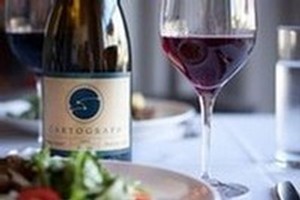 For the past several months, we've been exploring recipes that pair well with our wines. We're delighted to say that we've had many successes, thanks in part to the guidance we've received from our chef friends and the wonderful wine/food pairing books we've received from friends andCartograph Circle members.
Why is it important to know what foods go well with which wines? So you don't create a bad flavor profile that makes your wine taste flat or dull. For example, asparagus is a notoriously hard flavor to pair with wine—so don't center a meal around asparagus and plan to serve a wine that you've held in the cellar for several years.
Our winter garden is yielding only lettuces and spinach these days, so we feel lucky that we froze so much garden produce last summer. We've used fresh spinach in combination with cannellini beans and tomatoes from the summer harvest to create some tasty pork, salmon and halibut dishes that work well with Pinot. With the winter rains, mushrooms have started to emerge in Sonoma County; we know that Pinot and mushroom dishes tend to pair delightfully, so we're excited to find local mushrooms. As we continue toexplore recipes, we'll make them available in the tasting room and post them on our website so you can see what we're playing with.
Do you have any recipes that you enjoy pairing with Cartograph wines? We'd love to hear about them. Email them to us or send us a link at info@cartographwines.com.
- Serena

Win prizes!
Impress your friends!
Assert your place at the top of the food chain!
Join us when Cartograph Wines becomes Cartograph Swines at noon on Sunday, March 23, for the first annual Pass the Pigs Olympics. This completely wacky dice game is guaranteed to get you rolling with laughter like . . . well, like a pig rolling in mud.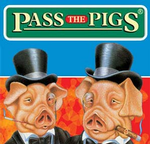 Picture yourself standing on the medal podium, a gold medal around your neck and a porcine trophy in your hand, salty tears streaming down your face as you're overwhelmed with the joy of achieving your lifelong dream.
Best of all: The gold medalist wins Cartograph wine club privileges for a year!
Pass the Pigs is super-simple to master (get the rules and scoring grid here). We're planning a double-elimination tournament to determine the gold medalist, with silver and bronze medalists determined by the highest cumulative point totals.
It's free to enter—just email us at info@cartographwines (include both your real name and your nom de pig if you're competing under a different name). Hope to sooo-ey you there!
Team Cartograph

Happy Valentine's day to the Cartograph Circle. A little Valentine poem from us to you.
Roses are red
Violets are blue
The winemaker said
He made a special Pinot to share only with you
(2012 Green Valley Pinot Noir for the Cartograph Circle only, to be released in 2014)
Cheers,
Serena

This has been an incredibly dry winter—the driest on record for most of California, and bad enough to put us into an official drought emergency. We've had a lot of people ask what this means for the grapes.
The primary concern right now: protecting the fruit from frost. When there is a threat of frost, many growers turn on their sprinklers to coat the budding vines with ice; it might seem counterintuitive, but this protects the buds from frost damage. Our warm, dry winter creates the potential for an early bud break, which means a longer frost season . . . with potentially no water to run the sprinklers. A dry winter also typically results in less fruit, and any frost damage could further reduce yields.
The 10-day forecast calls for rain. Our fingers are crossed that it will materialize and we'll start seeing a more normal winter weather pattern.

Winter Wineland is an annual event put on by an organization called The Wine Road. It's a celebration of winter and wine. Our theme for the event was "A Winter's Starry Night" so Alan covered the ceiling with hundreds and hunders of tiny white lights. It was an uncharacteristically warm and sunny winter day so we had the shades drawn which created an atmosphere of intrigue as you could not see in to the tasting room but once inside, you could see the people outside pressing their noses against the window to see what was happening.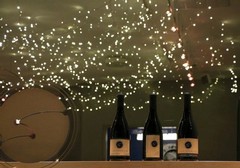 We created four stations to give people the Cartograph experience. The first stop was "Wine on Tap" where Tina was pouring the 2012 Floodgate Vineyard Gewürztraminer, and being such a warm day it was met with much delight. Besides people being pleasantly suprised by the crisp nature of our dry Gewürztraminer, they also really enjoyed hearing about the green aspect of our keg program. The next station was in the reserve room where we were pouring the latest wine to join our list - the 2011 Sonoma County Pinot Noir. The bright cranberry and strawberry seemed to shine on such a warm day and it is showing an incredible earthines that had folks refrencing Burgundy quite a bit. The third station was staffed by Circle club members which was really fun and they poured a library wine - the 2010 Russian River Pinot Noir. People loved the wine but truly enjoyed hearing from the Circle members about why they joined the Circle and what their experience of Cartograph was. The fourth station was Deb's conciege station where she answered all sort sof questions, directed people to their next visit, signed up Circle members and ran a raffle for a Cartograph jacket. Alan milled about the crowd and answering questions and sharing the Cartograph story and Serena and another Circle member were the greeters at the front.
All in all, it was a very fun, lively weekend and we met all sorts of new people who we hope will continue to support Cartograph. Perhaps you'll join us next year?
- Serena

We are excited to turn the page on 2013 and look forward to 2014. The focus in 2013 was the building and designing of our new tasting room and now in 2014 we can turn our attention to creating new experiences.
We will kick off the year with Winter Wineland on Jan. 18 - 19 which will be our first event as Wine Road members. In February we will launch a new tasting experience with Alan (our winemaker) called "Pinot A to Z," a one-of-a-kind immersive tasting with samples that take you through every step in the transformation of the Pinot grape from harvest through fermentation to finished wine. Reservations are required for the Pinot A to Z tasting.
Because we have the tap system in the tasting room, we are developing a growler program which we hope to launch in March. With the growler program, we will be able to fill a one liter bottle (the growler) directly from the tap for you to take home and enjoy at your leisure. We'll send more information via the newsletter as soon as the final details come together.
- Serena

What a year 2013 has been! After our production hit 1,000 cases with the 2012 harvest, we decided to make a leap and launch our own space where we could tell the Cartograph story and share our wines. We kicked off the year looking for a new tasting room closer to Healdsburg's main square.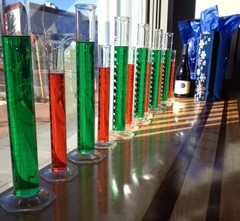 Once we had our space, the creative juices flowed as we made drawings of what we wanted it to look like. Today, as we look around and see how those drawings came to life, we're absolutely thrilled with how the tasting room became a true reflection of Cartograph.
In the spring, we presented our wines at Pebble Beach Food and Wine, at the Food & Wine Classic in Aspen and at SF Chefs in San Francisco. It was a pleasure to see how well the wines were received outside our circle of friends and longtime supporters; our little brand is getting great recognition from critics and sommeliers.
Locally, we got more involved in what's happening in downtown Healdsburg. Serena was asked to join the Downtown Business District Advisory Board, which guides strategy for downtown growth and helps to direct marketing efforts for downtown businesses. We've also been working to establish an alliance of downtown wineries called Wine.Walk.Healdsburg. Stop in at our tasting room for a map, or click the link for a look at all the downtown wine-tasting options.
Harvest was admittedly a bit of a blur, but 2013 delivered an amazing crop. With its moderate late-season temps, the long summer gave us great hang time without destroying the vibrant acidity that is so crucial to our style of winemaking. We're very excited by what we've got in the winery.
Cheers,
Serena & Alan
Recent Posts
April 22, 2014

March 24, 2014

March 18, 2014

March 11, 2014

March 5, 2014

(1 Comment)

February 14, 2014

January 30, 2014

January 21, 2014

January 15, 2014

December 23, 2013
Blog Categories
Blog Archives
Our Writers