Blog
Welcome to our blog! This is where we post the stories and pictures in greater detail than the nuggets on Twitter and Facebook. Enjoy! - Alan & Serena


It took five years of searching—but in 2013, Alan found a vineyard that produced Riesling of the quality he was seeking. At the Anderson Valley Alsace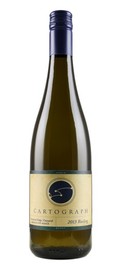 Festival tasting that year, Allan Green from Greenwood Ridge Winery shared a 25-year vertical of eight Rieslings from his Greenwood Ridge vineyard.
Alan was delighted with the wines, and after the tasting mentioned to Allan Green that he'd love to talk about purchasing some fruit. As it happened, Allan had been thinking about reducing his Riesling production as he prepared for retirement. The two struck a deal and on Oct. 7, 2013, we picked 1.9 tons of Riesling.
The slow fermentation took 63 days in stainless steel followed by four months aging in stainless steel. On March 31, 2013, we bottled 118 cases, and now we're ready to release this incredibly vibrant wine. Some of you might have shared a racy Riesling with Alan over the years; it says a lot about the quality of this one that he's pushing to get it out the door to share it with you.
The Riesling is available as of today online and in the tasting room.
- Serena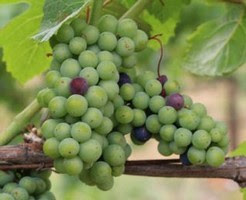 This is an interesting time to talk with winemakers and growers. I've mentioned in previous newsletters that we're quite a bit ahead of average for the season in some vineyards. The other night I had dinner with Steve Alden, who owns the Perli vineyard up in the Mendocino Ridge appellation, and something he mentioned seems to sum up where we are.
Looking back at his notes from the 2011 season—a cold year—Steve noticed his Aug. 11 note, "No color at all in the Pinot." On July 7 of this year, he saw the first color in the Pinot vines at his Perli vineyard. Something tells me that we'll be picking early up there and in select Russian River Valley vineyards.
The image above is from the Floodgate Vineyard on July 6 . . . not much going on. However, the image below, also taken on July 6, is from the Bucher Ranch. We assume we'll be having to make pick decisions in just weeks. Luckily, we're planning to bottle the 2013 Pinot early in August, rather than later that month as is typical.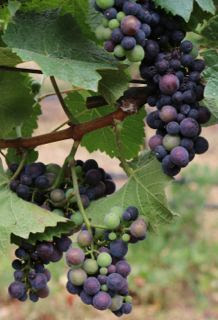 Cheers,
Alan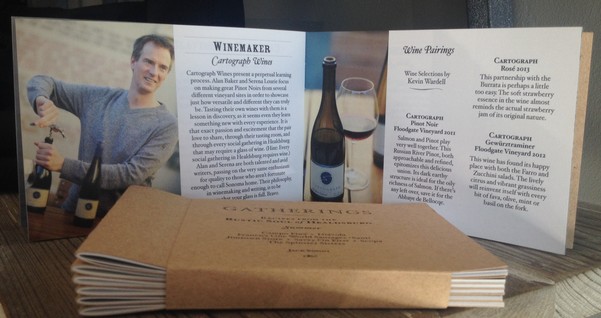 Something we've been excited about for some time finally came together at the end of June: Cartograph is featured in Gatherings: Recipes from the Rustic Soul of Healdsburg, a beautiful book by Jack Sonni that pairs Healdsburg wineries with local restaurants. We're teamed up with the awesome new Spinster Sisters in Santa Rosa, named one of the 100 best wine restaurants in the country by Wine Enthusiast.
You can pick up a copy of Gatherings in the Cartograph tasting room or online. Its release inspired us to create a number of recipe pairings for our wines—watch for them soon on our website and in the tasting room.
- Serena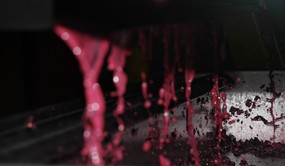 Inside Pinot is an in-depth exploration, led by winemaker Alan Baker, of all the stages of Pinot noir production: growth through fermentation and maturation.
When Alan starts sugar sampling in late summer, he saves and freezes juice samples—so in one sitting, you can taste samples from every stage of winemaking. You'll sample along the entire process (including tastes of current releases and library wines) as Alan gives a verbal and visual tour of how Pinot Noir is made. With only eight seats at the table, this is an intimate look at Pinot noir with plenty of time for discussion on a wide range of winemaking topics.
Inside Pinot tastings cost $50 per person and typically last about 90 minutes; reservations are required. If you're interested in doing this tasting with a group, please email Serena (serena@cartographwines.com) so we can arrange a date for you.

We're delighted to introduce you to our new Cartograph Ambassador, Corey Fine.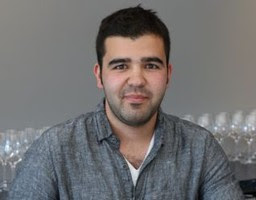 A native of Boston, Mass., Corey is a graduate of the University of Denver's Fritz Knoebel School of Hospitality Management. During his four years in Denver, Corey spent his free time exploring the area's wide array of ski slopes, hiking trails and microbreweries.
After graduation, Corey headed to New York City, where he worked for legendary New York restaurateur Danny Meyer at Union Square Hospitality Group. Corey was part of the opening team of the Upper East Side Shake Shack and experienced what it takes to grow a business quickly.
Corey's next gig was back in Boston, where he managed Vino Italiano, a wine store devoted to exploring Italian wine and culture. It was there that Corey discovered his passion for wine—and his love of working for family-owned businesses. On Corey's 25th birthday, he made his first trip to Napa and fell in love with wine country.
He moved here and enrolled at the Culinary Institute of America's Greystone Campus in St Helena, graduating with honors from the Accelerated Wine and Beverage Program and earning the Certified Wine Professional designation. Corey is incredibly excited to bring his passion for food and wine to the team at CartographWines. We hope you'll stop by the tasting room to meet him.
- Serena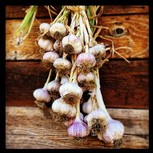 The winter citrus and spring lettuces are almost a distant memory and the garden is moving fast in this warm weather. I dug close to 90 heads (!) of garlic recently; it's now curing, and we'll have some for you in the tasting room soon. The beans, melons, tomatoes, cukes, and more are putting on a lot of growth in the abundant sunshine. (We're hoping to create some delicious cannellini bean recipes to pair with our Pinot release this fall.)
While the hyacinth, tulips and daffodils have faded, the apple, cherry and peach trees bloomed ferociously and the fruit is just starting to show. Our Fuji graft onto the Gravenstein should yield fruit for the first time this year!
In the vineyards, our early spring and above-average temperatures have everybody scrambling to keep up. There seems to be no such thing as a "typical" growing season anymore—we're definitely seeing spectacular early summer growth already. Most vineyards would be making several passes to sucker, get the canes trained into the trellis, and then pull laterals (secondary canes that keep moisture in the fruit zone and shade the fruit), but in many places we've had to do this all at the same time while wrestling canes that are much longer than would normally be expecting. All that adds up to slow going in the vine rows.
Cheers,
Alan

We're delighted to introduce you to our new Cartograph Ambassador, Emily Somple.
Emily is a wine-country native, raised by two entrepreneurial parents in St. Helena, Calif. She began her career in the service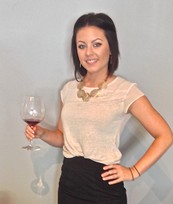 industry at age 15 and continued to wait tables and bartend at some of the best restaurants in Napa Valley and Sonoma County while she completed her degree in music at Sonoma State.
Over the next dozen years, Emily traveled the world, performing on countless stages as a professionally trained singer while continuing her education in wine and food—but she always returned to wine country. While working at a bistro in Calistoga, Emily discovered that wine, food and music could be complementary art forms, and managed to create a position within the restaurant as a server/bartender/performer who waited on customers and sang with the house band during her breaks.
Emily came to us at Cartograph to take the next step in immersing herself in the wine business. Business is in her DNA, and a passion for wine is in her veins. We hope you'll stop by the Cartograph tasting room to meet her.

On May 3, we invited Cartograph Circle members to join us for a wonderful tasting-room luncheon that paired two delicious paellas by Chef Fabiano Ramaci with our new wines. The heady aromas from the spices of the paella intermingling with the fruit aromas in the wines definitely made for a 2 + 2 = 5 moment.
The highlight of the afternoon for us was to be able to spend time with each of our guests. We're always excited to hear about what you've been up to and about your fantastic adventures, wine-related and otherwise.
Lest you think that things quieted down after the release parties: The warm weather has the vineyards well ahead—maybe three whole weeks ahead, in fact—of where they would typically be at this time of year. Alan is in the midst of tasting all the 2013 Pinots and getting blends dialed in. We're also back into generating labels; purchasing glass, corks, etc.; and getting all the wines prepared for bottling in August.
We've also welcomed some new team members this month (read on for more) and the documentary American Wine Story, in which we're featured, premiered at the Mendocino Film Festival (more to come on that this fall).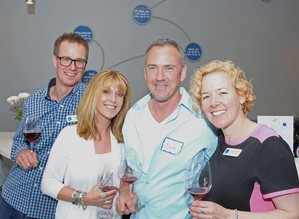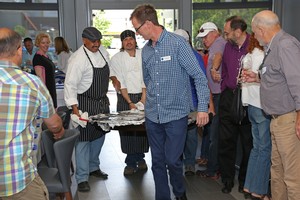 With our construction project on hold for the spring, we decided to utilize the space in our backyard to begin a project that Alan and I thought about this past winter. Here's the start of the project: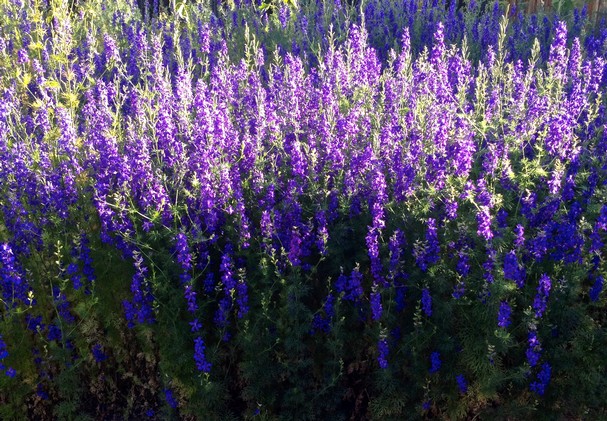 I can't tell you what the project is because it is a surprise for the Cartograph Circle but we hope to release the project in Spring 2015. I'll post more hints along the way.
Happy spring!
- Serena

Green Valley Pinot Noir: So few grapes, so much love.
A grower friend of ours swung by the tasting room one day in July 2012 and told us about a tiny vineyard in the Green Valley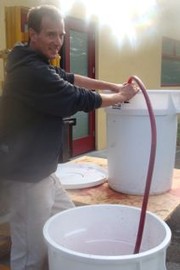 AVA that he was helping to manage for a couple who had recently purchased the property. We chatted about the challenges of working with such a small property; I told him that if the couple had any questions about winemaking, I'd be happy to help.
Fast forward: Life got busy and the owners, Tom and Ruth, asked if I would like to harvest the grapes. Having already committed ourselves to five vineyards, we were a little hesitant to take on another one . . . but our friend Rich was overseeing it, and Green Valley is a new and intriguing appellation for us, so I decided to throw caution to the wind and jump in without having set eyes on the vines. We were hoping to get a full ton of Pinot noir.
Our first visit to the property revealed that we were in for quite a ride. Birds had already picked one section clean and were methodically working their way across the block. With bird damage comes all sorts of other challenges; namely, the spread of botrytis and bacteria. Ruth started making daily passes to pull damaged clusters as we prayed for some heat to finish ripening the fruit. The weather stayed cold and the birds continued to feast.
Finally, the grapes got ripe and we picked the vineyard ourselves with help from the owners, the vineyard manager and some of their friends, all armed with pails, gloves, shears and knives. I showed everyone what kind of clusters to pick and which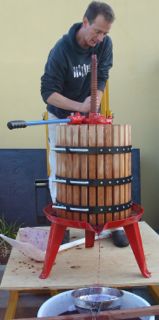 clusters to leave behind due to bird and wasp damage. As the picking pails started filling up, Serena moved to the harvest bin to be the final QA person, sorting each cluster and tossing the ones that didn't meet our expectations.
The owners cringed as Serena tossed out about 50 percent of what they were delivering. However, tough love is the only way to ensure that you have something worth worrying over for the next year. By the time the final sort was complete three hours later, we had exactly 500 lbs. of Pinot. Ugh!
Given the small quantity of fruit, we thought we might get laughed out of the facility where we produce the rest of our Pinot, so we took the fruit to the Cartograph tasting room and fermented the wine in the back room (we're a bonded winery, so it was all legit.) You never know about the batches of wine that come from a difficult pick, but the wine smelled nice and clean through fermentation and we pressed it with a small hand-powered press borrowed from a friend's winery—just a tasting-room prop for them, but it did the job for us. We got the last basket pressed and the place cleaned up just in time to open the tasting room for the day.
Working with such a small lot meant that we couldn't use our regular winemaking tools, so this lot is truly handcrafted in every sense of the word. And with only 12 cases available, we've made it an exclusive for our Cartograph Circle members.
So how does it taste? Here's my tasting note.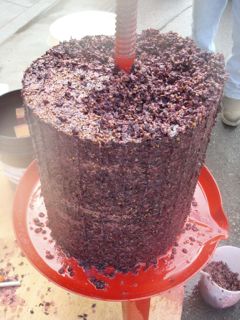 2012 Green Valley Pinot noir (Harlan Vineyard)
Green Valley sits at the west end (cold end) of the Russian River Valley appellation. You can recognize the bing cherry aroma that you often find in Russian River Pinots but this wine also has hints of cedar, mint, and dried leaves in its complex aromatics. The wine is light on the palate with ample acid. And the flavors are also a nice balance of bright red cranberry fruit and a pronounced earthiness. Like the best cool-climate Pinots this wine has a certain taughtness or edginess to it. Imagine a violin string beginning to vibrate and sing.
Alan
Recent Posts
July 29, 2014

July 15, 2014

July 10, 2014

June 30, 2014

June 22, 2014

June 17, 2014

June 14, 2014

June 12, 2014

May 22, 2014

April 22, 2014
Blog Categories
Blog Archives
Our Writers