Blog
Welcome to our blog! This is where we post the stories and pictures in greater detail than the nuggets on Twitter and Facebook. Enjoy! - Alan & Serena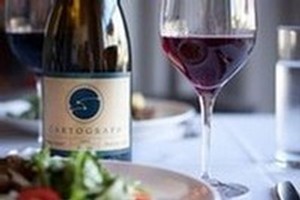 We love November as it ushers in the holiday season. A chance to enjoy delicious meals with friends and family and linger in front of the fire sharing a bottle of wine. It's a wonderful time filled with rich flavors and delicious scents. We are grateful that we get to spend this Thanksgiving with dear friends and have time to reflect on what an amazing year it's been, particularly in the past several months seeing our vision for the new tasting room come to life and to open the doors. The response from the local community, the Cartograph Circle, friends and family, and from new visitors to the tasting room has been wonderful and has made this step in the journey exhilarating.
For this year's meal, we're going to use as many ingredients from the Cartograph garden. What are you serving at your table this year? We'd love to hear if you have any dishes in particular that match our wines as we'd like to develop a holiday recipe series for Cartograph.
Here's our menu:
Winter squash soup with gruyere croutons - The brightness and crisp dryness of the 2012 Rosé of Pinot Noir would be great with this
Juniper and heb roasted turkey - Either the 2011 Perli Vineyard Pinot Noir or the 2012 Floodgate Vienyard Gewürztraminer - the Perli woudl play beautifully with the juniper especially if there was a chanterelle gravy and the Gewürztraminer always works with Thanksgiving turkey
Challah, sausage, and dried cherry stuffing - I think this would be great with the 2011 Floodgate Vineyard Pinot Noir or the 2010 Russian River Pinot Noir
Wild mushroom Tart - I'd serve the 2011 Anderson Valley Pinot Noir with this one
Mashed potatoes with truffle butter
Green beans
Amazing dinner rolls from our local baker (Downtown Bakery)
Cranberry sauce from Downtown Bakery
Pumpkin pie with homemade whipped cream
A fruit gallette from Downtown Bakery
May you all have a wonderful Thanksgiving filled with laughter and love. We wish you could join us at our table. Happy Thaksgiving!
- Serena

Some photos of the ever evolving tasting room. Eventually there will be art work behind the bar and the television screen will go into the reserve room for use for private tastings.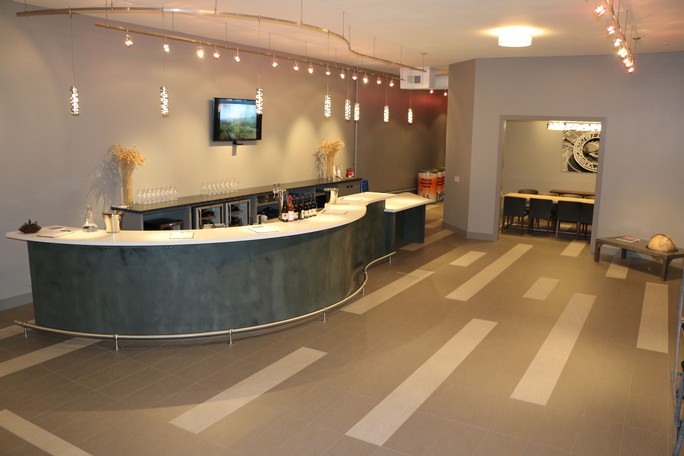 This is a fun spot to sit in and peruse the Sunday New York Times. We found some great walnut bar stools which make hanging out in the window seat comfortable.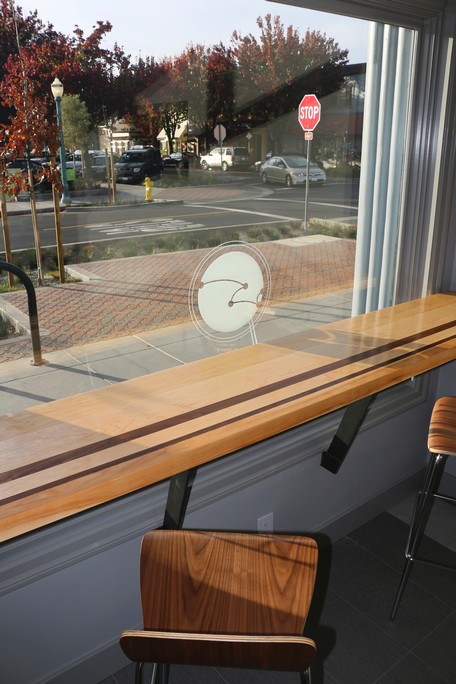 The temporary couch on loan to us from the store from which we ordered the orginal couch. Why a temporary couch ... because our couch did not ship and won't be arriving until January. At least, with the temporary couch there is a place to sit and relax and enjoy one of our Erlenmeyer flasks of Rosé.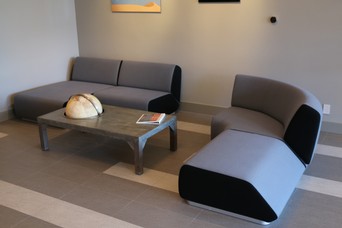 It's still a work in process but we are truly excited to have the doors open. Hope you'll come visit soon.
- Serena

Watching the vineyards throughout the summer made it clear that we'd be picking early this season. In August, we had a spell of cool weather that slowed things down a bit and helped us build good flavors. We kicked things off on Aug. 16 by picking Chardonnay for our first-ever sparkling wine, which is now just about ready to go back to bottle for its secondary fermentation. A couple of weeks later began an absolute avalanche of Pinot.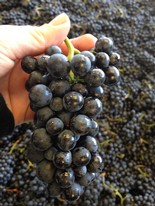 We picked four of our five Pinot vineyards in the first six days of September and wrapped up picking Pinot on Sept. 11. Yes, we were incredibly sleep-deprived for a while, but we were very encouraged by the fruit that came in. As I taste the Pinot in barrel, I'm thinking that this will be a year of subtle red fruits in most lots, and it's definitely a high-acid year. This will likely be a vintage that's lively and elegant when young, but the wines should age very well.
After the Pinot we had three picks left. The Gewürztraminer came in on Sept. 16, a good three weeks earlier than last year. I kept the temperature quite low on this fermentation to protect the wonderful aromatics. Seems like it worked: as I write, the wine has just gone dry in the tank and is very aromatic with citrus and floral notes aplenty.
After the Gewürz pick we had a bit of a waiting game for the last two picks. Our Riesling and Sangiovese vineyards are both in remote areas of Mendocino County. We had a couple of good rains during the wait, which always makes us nervous, but the Sangio can handle it thanks to its loose clusters and thick skins.
Riesling, on the other hand, is pretty fragile, and Botrytis is always a factor. This fungus (also called "noble rot") is almost always present to some extent in Riesling; vineyard conditions dictate how much. When it really takes over a vineyard, vintners will often make a sweet, Botrytisized version of Riesling that can be incredibly tasty (and often quite expensive). However, that wasn't our goal—so as soon as we saw evidence that Botrytis was starting to spread, we picked the fruit and had the crew leave the heavily affected clusters for a later pick, when we'll use them to make a sweet wine. This wine is slowly fermenting in tank and should go dry around the end of the month. It's full of black-tea and peach-pit aromas right now.

We picked the Sangiovese the day after we picked the Riesling and the berries looked amazing—unaffected by the rains other than a bit of a slowdown in sugar accumulation. In fact, as you can see in the video blelow, the fruit was in such good shape that we had to foot-trod the fermentation bin for several days to free up some juice so the fermentation could begin. The fruit is full of bright cherry flavors and some serious tannins coming out of the thicker skins. We'll release the 2012 Sangiovese next summer and will release the 2013 in the summer of 2015.
The early start to the growing season and a bit of a cooldown in August had many varieties ripening at the same time, so we had moments where we didn't think we had space for all the fruit in the winery (we use the great facility at Punchdown Cellars)—but with a bit of luck, it all came together. I feel like this year will be a high-water mark for us. Watching those perfect berries roll off the high-tech sorting line at Punchdown was so exciting, because our best shot at making perfect, ethereal Pinot is to get those berries into the tank in the best shape possible.
I need to wrap up these ferments and get the winter garden prepped so we have goodies to give away when you visit the new tasting room. Hope to see you there soon.
Cheers, Alan

Now we are seeing some of our style decisions actually happening and it's really neat to see the concept truly coming to life.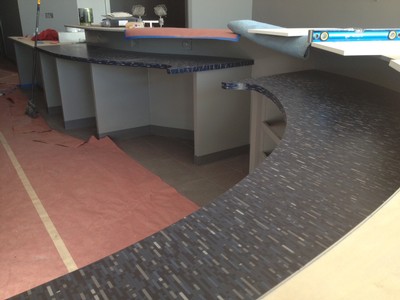 Take for example, the back bar and the lower level of the main bar. We decided to use a modern, slightly busy pattern that also evokes old school kitchen counters. We based that decision on a sample that was 2 x 2 inches.
Now seeing it laid out in 8 foot lengths, we're loving it!
The rectangular lines are then further mimicked in the tile on the floor (which is hidden under the paper right now) and the pendant lights. It's all coming together and creating a modern look that plays with curves and lines for the our new tasting room.
Can't wait to have you visit and see it in person.
- Serena

Having had a crazy busy begining of September with all the Pinot picks, it was nice to have a little bit of a lull towards the end of September where instead of picking grapes we could harvest the Cartograph Garden.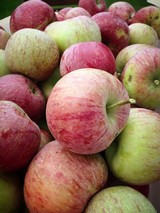 It's been an amazing year for tomatoes and we have about 40 pounds of tomatoes that we peeled and seeded and froze to make pasta sauces this winter. French green beans had an incredibly prolific month and we ate about 6lbs of them and blanched and froze the rest to enjoy this winter. We've picked about 5 lbs of shelled cannelini beans which will be such a treat this winter.
While the melons were not prolific by any means, we so enjoyed our two baby watermelons and the three Charentais melons. But getting back to prolificness, the Graventstein apple tree was a rockstar this year and fed many many people. This year was also our most successful pepper year - a zillion padrones which we could not share fast enough, bell peppers that grew to a decent size instead of flailing, jalapenos, anaheim peppers, habaneros ... all still going strong. Last but not least, the eggplants, delicata squash, cucumbers, and zucchini were all stunning in their ability to produce.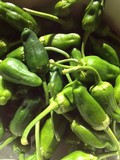 Next fall when the tasting room is open, produce from the Cartograph Garden will be brought in so that people can help themselves to the veggies. This year we shared the veggies by having a cooler out by the front door and encouraged people to help themselves to whatever was in the cooler. That turned out to be a very successful way to catch up with friends during harvest season when we rarely emerge from the winery.
Hope all of your gardens brought you much happiness and prdouce this summer. - Serena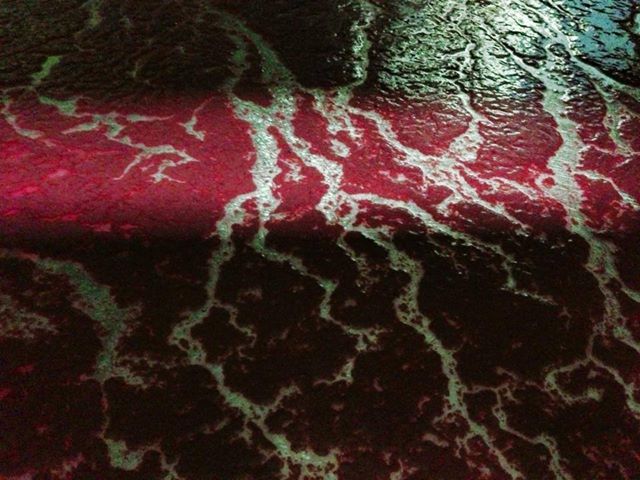 I think the photo captured it perfectly.
Cheers, Alan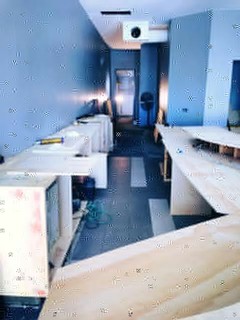 Things are moving in the right direction. The design Alan created for the floor is turning out to be really great and mimics the design of our new lights. The bar is in process and has really changed the room now that the mockup is up. We've chosen a fun bar top and counter, we'll see what you think when you see it. Those are being built now and will most likely be put on the bar during the first week of October.
We're focused on getting the furniture and building some tables and doors. We'll most likely open without all the furniture in place but at least the bar will be there so we can start tastings again. Opening date is still to be determined as we need to have a final inspection from the City of Healdsburg before we can open.
Cheers to progress!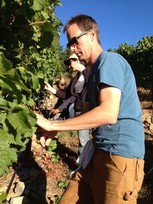 Harvest season is upon us and we're excited that we have nine different picks this year: five Pinot noir picks and one pick each of Chardonnay, Riesling, Gewürztraminer, and Sangiovese.
In August we picked the Chardonnay that went into our very first sparkling wine (which Alan described here). What a fun way to celebrate our five years of harvests in Healdsburg!
In the first eleven days of September, we picked almost 18 tons of Pinot noir. Luckily, we had a solid crew at each vineyard and additional help from Deb and Tina, our new Cartograph hospitality team.
We started at 4 a.m. on Labor Day in the Russian River Valley and picked two different Pinot clones (115 and 2A) that came in at a little over four tons. Wednesday at 5:30am we headed to Green Valley at the far western edge of the Russian River Valley and picked three different clones of Pinot (Pommard, Swan, Heritage), about four tons total. Thursday we were up in Mendocino Ridge for the Perli Vineyard sunrise pick and picked two tons of Pinot (clones 667 and 777); and wrapped up that week on Saturday on the flats at Floodgate Vineyard at 4a.m., picking almost five tons of Pinot (clones 667 and Pommard). We finished the Pinot pick on Sept. 11 at Mariah Vineyard in the Mendocino Ridge appellation where we picked just over 2 tons of Pinot (clones 115 and 777).
After each pick, we brought all this Pinot to our new winery home at Punchdown Cellars, where we sorted and destemmed the grapes-otherwise known as the "crush" and got them into their tanks to cold soak before fermentation. (More info about the pick process here and the cold-soak process.)
Alan spent the days after each pick gearing up for the next one by tasting and sugar-sampling the fruit in our other vineyards, while I focused on our tasting room project.
After we finished picking the Pinot, we had a few days off before picking the Gewürztraminer from Floodgate Vineyard on Sept. 16. Next up: our Sangiovese and Riesling, which are both a bit behind the Pinot, so those picks will likely happen in late September or early October.

Please welcome the second member of the Cartograph hospitality team! Minnesota native Tina Cloutier spent many years sipping only hops and barley . . . until a dinner party where she tasted a bottle of 2002 J Winery Pinot Noir made in Healdsburg. She discovered that not only was she in love with the taste, but she was also intrigued by how the wine was made. She spent the next several years learning about wine and winemaking, taking sommelier courses and exploring wine regions.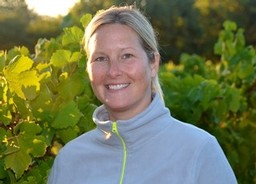 Bitten by the wine bug and knowing that she wanted to be amid wineries and vines, Tina ventured into Minnesota wine country and worked at a winery in Stillwater in exchange for wine. After several harvests there, she'd set her sights on moving to California wine country when she met a California winemaker at one of her favorite Minneapolis restaurants. Three weeks later, she was packing her car and heading to Healdsburg for an internship during the 2009 harvest. Tina spends most of her time these days immersed in the world of wine, but you might also spot her on the beach in Bodega Bay reading a good old murder mystery.
You'll find Tina in the Cartograph tasting room Tuesdays through Saturdays—please come by and introduce yourself!
Photo credit: Glen Sauber

It's almost unfathomable that every last Cartograph Pinot Noir grape from the 2013 vintage was in the tank by Sept. 11. We knew that we were in for an early season, but to pick every lot of Pinot in an 11-day stretch is pretty amazing—and pretty cool, really.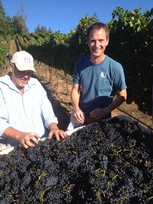 Some years you have the luxury of picking a vineyard, getting that wine on its way, then focusing on the next pick. This year, once we started picking, I was out early each day to get samples from far-flung vineyards, then headed back to the winery to check on the juice and do all the prep that's necessary to nudge fermentations along slowly on their way to becoming wine. Then it was grab a bite, get a little sleep, and bolt out early to do it all again or ride the tractor for a pick.
It's hectic, but I'm not complaining. I love bounding around wine-country back roads while the countryside is alive with harvest activity. The energy is great and I'm always blown away both by the beauty of where we live and by the wonderful people with whom we get to work. Watching the sun rise over pine-topped ridges or looking down from those ridges as deep fog coils in the valley below is an experience like no other . . . and there are few places I'd rather be than on the tractor at 5 a.m. with a big moon in the sky and ice-cold grapes filling the bins.
I'm a lucky guy. Getting through a few sleepless weeks is a small price to pay for all the wonderful things that harvest brings.
Cheers,
Alan
Recent Posts
November 26, 2013

November 17, 2013

October 24, 2013

October 3, 2013

September 26, 2013

September 19, 2013

September 19, 2013

September 18, 2013

September 16, 2013

September 12, 2013
Blog Categories
Blog Archives
Our Writers