Experience Cartograph Wines
Come discover the essence of Sonoma County wine country at the Cartograph tasting room, located just one block north of the Healdsburg Plaza.
Cartograph is known for small-lot, elegant Pinot Noir; dry Alsace-styled Riesling; and sparkling wines from acclaimed Northern California appellations including the Russian River Valley and Mendocino Ridge. Owners Alan Baker and Serena Lourie designed and built the tasting room to be the culmination of this region's legendary wine experience, bringing guests together in a modern and welcoming space that spotlights masterfully crafted wines available by the glass, by the bottle or on tap.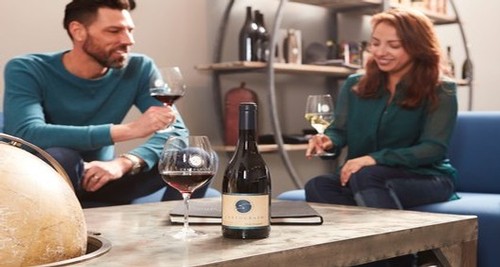 340 Center Street, Healdsburg, CA
707.433.8270
Tues - Sat., by appointment
---
Upcoming Events
In the heart of wine country just off the Healdsburg Plaza, Cartograph is offering special tasting events to explore Pinot noir in depth. These experiences take place at the Cartograph tasting room in Healdsburg and the Russian River Valley estate vineyard.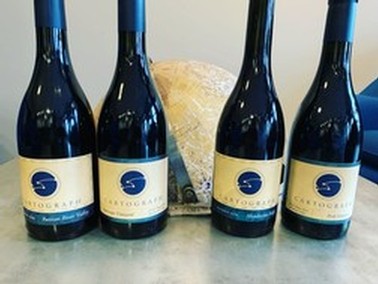 Tasting Flight: August 1 - 31
Reservations required, $30 tasting fee, complimentary for Cartograph Circle members
2021 Rosé of Pinot Noir
2020 Gould Family Vineyard Riesling (dry)
2019 Russian River Valley Pinot Noir
2018 Starscape Vineyard Pinot Noir (library)
2019 Perli Vineyard Pinot Noir (library)
Alternate Tasting Flights on Fridays & Saturdays
Reservations required, $30 tasting fee, complimentary for Cartograph Circle members
August Alternate Tasting: Perli Vineyard Vertical
2019 Perli Vineyard Pinot Noir
2018 Perli Vineyard Pinot Noir
2017 Perli Vineyard Pinot Noir
2016 Perli Vineyard Pinot Noir
2014 Perli Vineyard Pinot Noir
September Alternate Tasting: Cartograph Estate
2020 Cartograph Estate Rosé
2019 Cartograph Estate Pinot Noir
2018 Cartograph Estate Pinot Noir
2017 Cartograph Estate Pinot Noir
2016 Cartograph Estate Pinot Noir
Upcoming Events
Aug: Perli Vineyard Vertical will be the alternating tasting flight
Aug: Pick blackberries at the vineyard!
Sept - November: Harvest! Join us for a pick.
Oct. 1: Fall wine release
Oct. 23 and Nov. 6: Circle Members Fall Luncheon
Green Music Center Concerts
Aug. 6: American Acoustic - Punch Brothers, Watchhouse, Sarah Jarosz
Oct 14: Cantus
Nov. 20: Julliard String Quartet
Jan. 29, 2023: Bang on a Can All-stars
April 7, 2023: 32 Sounds
April 27 - 29: Clear Creek Creative
Cartograph Circle members: Use your code to get a discount on tickets and let us know you are coming so we can see you in the donor lounge and enjoy wine (ours!) and small bites together.
---
COVID UPDATE 6.01.22
Masks are optional for guests. Our team will continue to wear masks as we serve you just to air on the side of caution. We have limited our indoor capacity to five seating areas with no more than 20 guests in the tasting room at a time.
---
PETS
Pets are allowed in the tasting room but must remain on leash and on the floor, they are not allowed on the furniture.
---
FOOD
Unfortunately, the tasting room does not have a license that allows food to be consumed on premise. We're happy to recommend great local restaurants where you can get a bite after your tasting.