Winemaking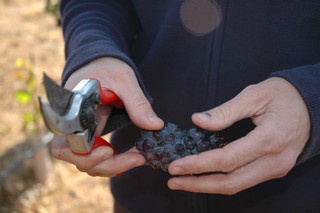 There is a basic formula for making wines of unique character and complexity: start with grapes that deliver a unique character and true complexity. Cultivating grapes of this type also begins with a basic formula: planting varieties that are perfectly suited to a location with a specific climate and soil. These basic principles are followed by winemakers across the globe who seek to produce wines of quality that can be called great, unique, memorable and meaningful. And, it is the most important element of our winemaking at Cartograph.
In the pursuit of making fine wine it helps to love the process of turning grapes into wine. We do. In fact, we believe that it is our love of the entire winemaking process, from carefully handling and selecting grapes and giving our undivided attention to each lot to scrubbing out tanks and barrels, that leads to producing wines that year in and year out consistently represent the unique vineyards they portray in the bottle.
Pinot Noir is our primary focus at Cartograph and we believe this wine is most satisfying and most intellectually intriguing when the winemaking emphasis is placed on balance, nuance and complexity, rather than power and intensity. This calls for a light hand in the cellar. In our view it also calls for picking grapes slightly earlier than most others who may be seeking to produce big, extracted wines. Our light touch and emphasis on balance and complexity also, we believe, produces wines that pair well with, rather than overwhelm, meals. Finally, our goal is to produce a wine that will age and transform into something new with each year in the bottle.
Our white wines, Gewürztraminer and Riesling, and Rosé are modeled on the great white wines produced in France's Alsace region. We shepherd our grapes through a winemaking process that leads to a wine that is dry, crisp and of moderate weight on the palate to, again, deliver a wine that will pair well with foods and all seasons. - Alan Baker, Winemaker & Co-owner