Sign Up For our Email Newsletter

Cartograph: Our Journey In Wine
Great wine takes you places. It takes you to the region where the grapes grew, to the time and place where you first tasted that wine, and conjures memories of sharing wine with friends and family.
Cartograph is itself a destination, a road map and a journey. That journey is represented in the imagery that adorns the Cartograph label. Look closely and you'll see where we've been, where our paths have crossed and the circumstances of several careers and experiences that defined who we are, how we think, how a passion for great wine was instilled within us and, finally, how Cartograph was created.
When you enjoy a Cartograph wine, our journeys come together. Where were you when you had your first taste of Cartograph? Where were you when a glass of wine truly captured your attention? Where is your favorite wine from? Share your stories with us and join our growing community of wine lovers at Cartograph.


Becoming a Cartograph Circle member will give you exclusive access to our wines and the very tiny lots that are only released to the Circle members. To see all the benefits and start your Circle membership CLICK HERE.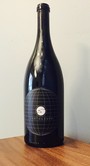 Magnums have arrived
We love magnums — 1.5-liter bottles of wine, equal to two standard bottles. Not only does bringing out a magnum make a party more special, but magnums also age wine more slowly due to the ratio of the volume of wine to the headspace in the bottle. In 2011, we started bottling magnums of our vineyard-designate Pinots. We had so much fun hand-bottling magnums of our 2011 Floodgate Vineyard and 2011 Perli Vineyard Pinot Noir that we did it again the following harvest . . . and so began the Cartograph magnum program.

#gotime is over!
Harvest 2015 was amazing! It felt like two separate harvests - one for Pinot and an all together different one for the Riesling, Gewürztraminer and Sangiovese. Alan put the last juice into barrel on Tuesday on October 20, 2015 and officially called our harvest over. It's early to be done but more on that soon.

Upcoming Events
We hope you can join us!
November 14: Winemaker Tasting: Inside Pinot - sold out
Jan 23: Winemaker Tasting: Floodgate Vineyard Vertical
Jan. 30: Superbowl Pouring, San Francisco
Feb. 20: International Alsace Varietals Festival
March 20: Third Annual Pass the Pigs Olympics
March 30: Cartograph CIrcle: Spring Wines Preview, Minneapolis, MN
April 15: Cartograph Circle: Spring Wines Preview, Chicago, IL
April 16: Pinot Days Chicago
Curious about the rest of the year? More details here

Visiting Our Tasting Room
We spotlight masterfully crafted cool-climate Pinot noir (from both the nearby Russian River Valley and the remote Mendocino Ridge) and Alsace-style whites, by the glass/bottle or on tap—a first for Healdsburg. No reservations are needed for the signature tasting at the tasting room bar. If your party is more than 6 people, please contact us for a reservation.
Location: 340 Center St., Healdsburg (half a block north of the plaza)
Hours: 12 - 6:30 pm daily (Closed Thanksgiving Day)
Telephone: 707.433.8270
Learn more on Trip Advisor and Yelp





Fall Release Wines
We focus exclusively on two superb AVAs - the Russian River Valley and Mendocino Ridge. All of our wines are vineyard designates with the exception of our one blend: the Russian River Valley Pinot Noir. These are the six wines we released this fall: