Sign Up For our Email Newsletter

Cartograph: Our Journey In Wine
Great wine takes you places. It takes you to the region where the grapes grew, to the time and place where you first tasted that wine, and conjures memories of sharing wine with friends and family.
Cartograph is itself a destination, a road map and a journey. That journey is represented in the imagery that adorns the Cartograph label. Look closely and you'll see where we've been, where our paths have crossed and the circumstances of several careers and experiences that defined who we are, how we think, how a passion for great wine was instilled within us and, finally, how Cartograph was created.
When you enjoy a Cartograph wine, our journeys come together. Where were you when you had your first taste of Cartograph? Where were you when a glass of wine truly captured your attention? Where is your favorite wine from? Share your stories with us and join our growing community of wine lovers at Cartograph.

Join us in the Cartograph Circle
We created the Cartograph Circle to give you exclusive access to our limited production wines. Becoming a Cartograph Circle member will not only give you access to our wines and the very tiny lots that are only released to the wine club, you will be invited to participate in special events with Alan and Serena. To see all the club benefits and start your Circle membership CLICK HERE for full details.

It's Raining, It's Pouring, Winemakers are Roaring!
The storm door is finally wedged open here in Northern California and you've never seen so many folks wandering around dripping wet with big smiles on their faces. The big storm that hit the L.A. area last week nearly blew us off a cliff into the Pacific while we were pouring at the recent World of Pinot Noir tasting, but not only were we glad for the rain, we also saw many familiar faces and met some wonderful new fellow Pinotphiles. Thanks to everyone who made the World of Pinot Noir such a great event. - Alan & Serena

Our Stories
Previous blog posts

Next Event: Pass the Pigs Olympics
March 23, 2014
Join us when Cartograph Wines becomes Cartograph Swines at noon on Sunday, March 23, for the first annual Pass the Pigs Olympics.
More information

Visiting our tasting room
This new tasting room spotlights masterfully crafted cool-climate Pinot noir (from both the nearby Russian River Valley and the remote Mendocino Ridge) and Alsace-style whites, by the glass/bottle or on tap—a first for Healdsburg. No reservations are needed for the signature tasting at the tasting room bar. If your party is more than 6 people, please contact us for a reservation.
Location: 340 Center St., Healdsburg (half a block north of the plaza)
Hours: 12 - 6:30pm daily
Telephone: 707.433.8270
Learn more on Yelp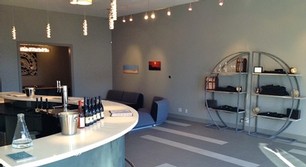 Current Releases
We're excited to present a breadth of terroir from Sonoma County through the Russian River Valley north to Anderson Valley and west to Mendocino Ridge. The appellation Pinot Noir wines capture the essence of the valleys in which the grapes grew, whereas the Perli and Floodgate Pinots are true reflections of their unique vineyards.
2011 Floodgate Vineyard Pinot Noir, 220 cases produced
2011 Perli Vineyard Pinot Noir, 125 cases produced
2011 Anderson Valley Pinot Noir, 55 cases produced
2011 Sonoma County Pinot Noir, 107 cases produced
2011 Russian River Pinot Noir, 169 cases produced
2012 Floodgate Vineyard Gewürztraminer, 185 cases produced
2012 Rosé of Pinot Noir, 80 cases produced