Hello!
Now that spring has officially given way to summer, we're definitely seeing some hotter days. Luckily, we have our 2014 Rosé of Pinot Noir and 2014 Gewürztraminer on tap in the tasting room — both of which are refreshing warm-weather treats. Locals can also get a glass of our 2014 Rosé on tap at the Shed.
RECENT MENTIONS
Check out pages 14–15 of the Spring 2015 issue of Sonoma Discoveries for a nice writeup about Cartograph from wine writer Mary-Colleen Tinney, who calls our Rosé of Pinot Noir "perpetually one of my favorite Rosés of the year."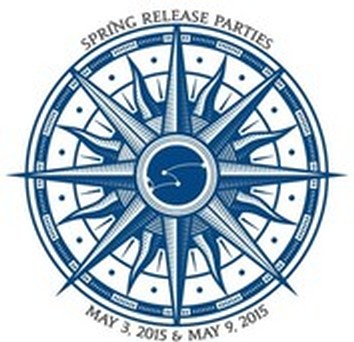 We quadrupled our fun this spring with not one but four release parties: two in Healdsburg, one in Chicago and one in St. Paul. We had a great time connecting with Cartograph Circle members . . . such a great time, in fact that we were too busy talking to take many photos. We did get a few; here's a gallery that documents some of the fun.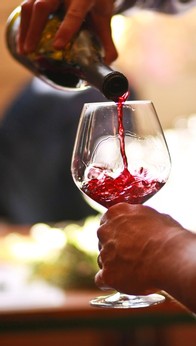 where to find us: tasting Events
We have a number of exciting events coming up this summer:
June 27-28: We'll offer a special tasting at the Cartograph tasting room during the annual Russian River Valley Passport.
July 11: Alan's winemaker tasting focuses on a four-year vertical from Perli Vineyard — a rare treat, because we're officially sold out of the 2012 Perli Pinot, but we held back several cases for this event.
July 18: Cartograph Circle members will enjoy special benefits at more than 30 tasting rooms in downtown Healdsburg during the fourth annual Wine'd Up: Circle members are club members for the day at all the participating downtown tasting rooms. For Circle members outside of Healdsburg, certain tasting rooms will offer club discounts that day on phone and web orders. If you register on Eventbrite, use the Cartograph Circle promotion code (contact Serena for the code).
July 24–26: We wrap up the month in McMinnville, Ore., where we'll be pouring at the International Pinot Noir Celebration. We're excited to catch up with Circle members there and to share our wines with Pinot enthusiasts.
August 8: We have one last winemaker tasting scheduled around harvest time. It will be a Floodgate Vineyard Vertical with Pinots from 2009 - 2012.
Once late summer/early fall roll around, we'll be spending a lot of time in the vineyards. During harvest, we'll bring grapes into the tasting room for sampling and will set up fermentations on the bar so you can follow along with what's happening to the juice.
Between picks in September, we'll get the fall release shipped out to our Circle members and celebrate the new wines with a party in Healdsburg (details and date TBD). Watch for the next series of winemaker tastings and Inside Pinot sessions on the calendar starting in November.
If you're interested in vineyard tours or private tastings for a group, please email Serena: serena@cartographwines.com.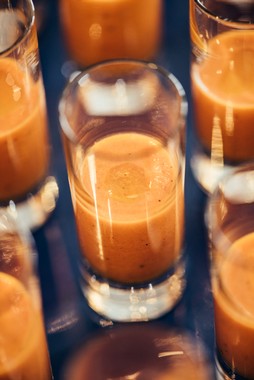 summer food & wine pairings
We had so much fun figuring out pairings and tasting recipes to go with the spring wines (and making the food for the Healdsburg spring release parties) that we couldn't resist coming up with a list of summertime recipe suggestions.
Here are our current favorite easy summer meals paired with Cartograph wines:
Rosé of Pinot Noir
Gewürztraminer
Pinot Noir
What are some of your favorite summer food and wine pairings? We'd love to hear what you enjoy. And if you'd like more recipes, we keep adding new ones to the website (www.cartographwines.com/recipes).

from the winemaker: looking ahead to harvest
I went into the 2014 season never having picked a grape in August . . . and it turned out that we picked five of our eleven picks in August last year! Looking at the dates of budbreak this year — February, in many locations — it seems as though this is likely to happen again. (Watch the July newsletter for more on how the grapes are coming along.)
Is this a permanent weather shift? I hope not. With early picking comes early bottling to keep to our 11-months-in-barrel pattern for the Pinots, so I'm at that stage of blending trials where it feels like a five-year-old has scattered all my puzzle pieces. Some lots are singing the same wonderful tune, while others are putting on little tantrums, not wanting to settle down and play nice. The process is really about how to keep each vineyard designate wine expressing the year and location to its fullest while pulling the right components to create appellation wines that represent the best (and expected) characteristics of the appellation.
Sometimes I'll pull a sample to tweak an appellation wine, and what should have boosted the mid-palate completely tweaks the finish so it falls short. Or maybe I want a little of that Perli backbone in the Mendocino Ridge blend, only to find that adding it brings out some of the lush black fruit that Perli will likely start showing after a couple years in the bottle. How does that work? The good thing is that with another pass, trying a few small adjustments, I know that one after another the wines will lock in. After I finalize each choice, the process gets easier and easier until every drop is accounted for.
One fun project that complicates the process a bit is a wine we're calling Transverse. The idea is to completely ignore all regional and vineyard boundaries to craft a Pinot that, rather than trying to highlight the vineyard location, is a wine that's subtle and complex and evolves across the palate. Tasting the 2013 Transverse in bottle yesterday, I could tell that it has a way to go before release, but I think we hit the mark. It's a wine that is difficult to pull apart into aromatic or flavor components but has lots of layers to pull apart and think through; it certainly keeps you coming back just to luxuriate in the "Pinot-ness' of it.
By the time we release this wine I'll have better words to describe what we're trying to do; for now, it's a fun shift in thinking about what a wine should be when you're focused only on the grape and not on highlighting the site. Especially for a dirt nerd like me.
Thanks for taking this ride with us.
Cheers,
Alan

Storing your wine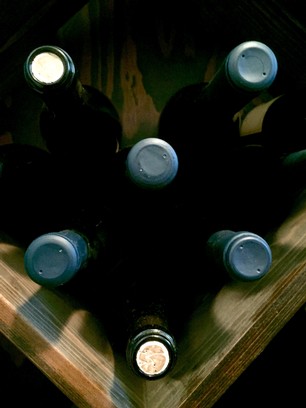 A question we get frequently in the tasting room: What's the best way to store wine?
Wine ages better in a consistent environment, and spikes in temperature can damage your wine. We recommend storing your wine in a temperature-controlled location between 55–62 degrees with approximate humidity of 60 percent (humidity can be tough to control, we know).
It's ideal to store wine in a wine refrigerator, but a cool, dark area like a closet also works. The most important thing is to try to avoid large swings in temperature. Don't worry too much about small spikes here and there; it takes time for wine temperature to rise to the ambient air temperature.
Another tip that's helpful both for you and for us: Have a lot of wine stored close together so the thermal mass is larger, thus protecting the wine from temperature swings. (Like the not-so-subliminal "buy more wine" message?)
Store Pinot noir and Sangiovese bottles lying on their sides or upside down. This allows the corks to stay damp, which is important in slowing oxidation. Your Gewürztraminer, Rosé and Riesling bottles have no corks, so they can be stored upright or on their sides.


BACK TO WORK WE GO
After we finish up our blending trials, we'll be heading out to check all the vineyards to get an idea of our potential yields for 2015. We hope to catch up with you in person soon.
Cheers,
Alan, Winemaker/Owner, and Serena, Owner