Happy New Year! We hope that your holiday season was filled with love and laughter and that you're excited about 2015. Thank you for all your help in making 2014 our best year yet—we couldn't continue the Cartograph journey without your support.
RECENT PRESS
Sonoma County blogger Carey Sweet has planned a great trip for you by picking 15 Things to Do in Sonoma County in 2015. We're delighted that Cartograph's Jan. 31 Inside Pinot tasting event made her list.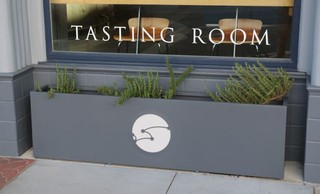 This past weekend our new planter boxes arrived! Our friend Seth Richardson has taken our drawings and turned them into sleek metal planters for the sidewalk in front of the tasting room, which Alan just filled with fragrant rosemary bushes free for the cutting.
Here's the back story: There used to be an enormous rosemary bush at the old Healdsburg post office, about 75 feet from our tasting room; everyone in town could cut as much rosemary as they wanted. When Alan moved to Healdsburg in 2005, he clipped a branch that he rooted. When he moved to San Francisco, he took that bush and replanted it, moving it with him to a couple of locations in the city, and when we left SF, we brought it with us back to Healdsburg.
The post office burned down in 2009 and the town lost the rosemary bush, but we've been propagating the plant—giving some cuttings to friends and splitting off a few to plant in the new planter boxes. Soon enough, we'll have plenty of rosemary and folks can help themselves. We'll also probably be working on some new recipes that feature rosemary and pair well with Pinot noir.
Our soil sample wall is coming to fruition: we've ordered graduated cylinders and have shelving designed. When it arrives, we'll do a field trip to our vineyards to collect soil; then, we'll develop the slideshows that will accompany each vineyard.
We also have new wine bottle display shelves fabricated and powder-coated. Now we're playing Tetris to create the perfect placement for each bottle. The shelves will display our 750ml bottles as well as several of our magnums.
What, magnums? Yes, we started making magnums with the 2010 Perli Vineyard and 2010 Floodgate Vineyard Pinot Noir. We haven't released them yet because we've been designing new labels, but they're now screen-printed and we'll begin releasing magnums in the fall.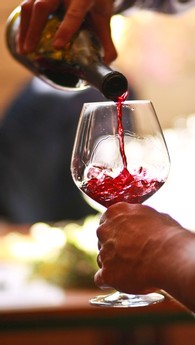 We've been having so much fun exploring our library wines that we are expanding our winemaker tastings this year. Our plan is to have 12 tastings per year, each with a maximum of 10 seats. These small, intimate tastings allow us to connect with people interested in the Cartograph journey and gives guests they chance to ask all the questions they want.
Inside Pinot (details) offers a unique experience of seeing how Pinot noir evolves from grape to glass. You'll emerge with a true understanding and appreciation of how simple grape juice becomes exquisite wine.
The Perli Vineyard vertical (details) gives you a grasp of how the tannins in the Perli Vineyard Pinot Noir silken over time while showcasing the incredible terroir of that vineyard.
The Floodgate Vineyard vertical (details) captures the essential elements of the Russian River Valley: the bright fruit, the cola undertones and the classic earth elements that Floodgate releases as it ages.
Our Mendocino Ridge vs. Russian River Valley comparison shows you the difference that altitude, soil and fog make in the growing season and flavors of Pinot from both those AVAs.
If you have a group of 10 and would like to schedule one of these tastings, email serena@cartographwines.com.

What's Up?
A big chunk of my year is spent with a furious focus on one or two aspects of our business. By late November, I've left behind the all day/every day tunnel vision on winemaking to focus on the end-of-year sales season. But as we roll past the holidays and traffic starts to slow in the tasting room, I get to widen my view to take stock of everything—big and small—that's on the horizon. Here's a quick snapshot of what's up.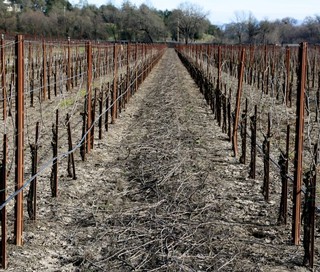 In the vineyard: Pruning is underway. The photo shows the Starscape Vineyard (Floodgate's new name after the vineyard was sold), where pruning is mostly complete. With yearly temperatures rising, it's probably smart for us to get things pruned early to be ready for an early budbreak. You can see in the picture that the pruned wood is piled in the middle of the row, awaiting mulching, and the canes just need to be tied down to the fruit wires. The vines are still completely dormant. In the picture below you can see the buds that formed last year waiting to start their spring swell and eventual budbreak.
In the winery: The 2014 Pinots are settled in for their long winter's nap, and I'm in the middle of pulling everything together for bottling the 2014 Riesling, Gewürztraminer, and Rosé along with the 2013 Sangiovese. The wines are in a great place, so I'm looking forward to getting them into the bottle early in February.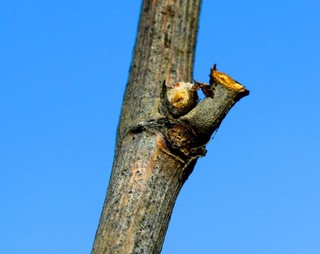 Out there: We rejoiced in early December as a series of storms dropped 15 inches of rain. However, it's been dry for a couple of weeks and we need a LOT more rain to break the severe drought. One of our vineyards will probably not produce a usable crop this year if the water conditions don't improve.
2014 will go down as the warmest year on record. It's been easy to see the evidence of this as we watched the vines take off super-early last February and now as we watch plants bloom out of season or come out of dormancy on the wrong side of the new year. As a result of this ongoing trend, we're looking at shifting some of our grape sourcing to more coastal locations, closer to the cooling influence of the Pacific.
The Cartograph garden is yielding up its winter crops of citrus and lettuces, while the garlic and fava beans are putting on slow growth preparing for a spring delivery.
Oh, and Massachusetts has approved direct sales and delivery to residents! We're all over it, but so is everybody else. As soon as we get the thumbs up, we'll send word to our friends in Massachusetts.
Cheers, Alan

This is a quick public service announcement that we are down to the last 8 cases of the 2013 Greenwood Ridge Riesling. The 2014 Riesling will not be released until Fall 2015. If you would like us to ship or hold some of this vintage for you, please let us know as soon as possible (email serena@cartographwines.com, call 707.433.8270, or order online).
How is it tasting? Delicious. Aromatically, this Riesling is full of citrus notes, including orange blossom and mandarin zest; you'll get stone-fruit and wet-slate aromas as well. On the palate, the wine is silky and very bright with pronounced acidity—almost evanescent, but with a finish that's full of minerality and that same bright citrus. 118 cases produced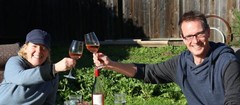 We're so excited about the new projects we're launching this year . . . and we have a couple more surprises that we'll announce later.
Cheers,
Alan, Winemaker/Owner, and Serena, Owner