It's still winter but we're seeing hints of spring around the corner. In the Cartograph Garden the daffodils have come up and bloomed and the winter lettuces are putting on their last leaves. This means the spring release is right around the corner and the new wines will be on the tasting menu in May.
RECENT PRESS
James Knight gave Cartograph a nice mention in the North Bay Bohemian recently; with our focus this month on tastings, it seems like a good thing to share. Spoiler alert: The piece is about our 2013 dry Riesling, which is now officially sold out. Watch for our 2014 Riesling, coming this summer!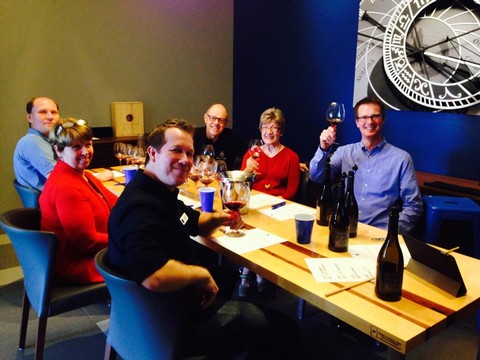 In an effort to connect more deeply with wine enthusiasts, we've begun to focus on small, intimate tasting events both in the tasting room and out in the world. We've found it rewarding because we get to spend more time with people and tell the Cartograph story. Plus, we're hearing that people enjoy the opportunity for more focused education and the chance to ask in-depth questions about how wine is made and aged.
Alan kicked off his Inside Pinot tasting series in January; it was fun to see how tasters responded to the juice and fermentation samples and compared them to the finished wine. We'll soon be adding several more Inside Pinot dates to our events calendar.
We've applied the small-group concept to our monthly Winemaker Tastings at the tasting room, with participation limited to 10 people so the tastings are more educational and conversational. We're excited for the next tasting: a Perli Vineyard Vertical this month.
In February, we participated in the International Alsace Varietals Festival in Mendocino County, which offered a great series of seminars and a tasting from a group of about 30 wineries that focus on grapes grown in the Alsace region of France. We poured our 2012 Gewürztraminer, 2013 Gewürztraminer and 2013 Riesling—the first time we've only poured white wines at an event! Fun fact: the one red grape that's allowed to be grown in Alsace is Pinot noir, so next year we'll sneak in some Pinot to pour.
Later this month, we'll be pouring our 2012 Floodgate Vineyard Pinot Noir at an invitation-only tasting and competition called Pigs and Pinot here in Healdsburg. Acclaimed chef Charlie Palmer organizes the event, which invites top chefs to pair their favorite dishes with wines from 60 carefully chosen wine brands. Wish us luck as we compete for the coveted flying pig trophy! But wait, there's more: In our own humorous nod to the Pigs & Pinot weekend, we're hosting our second annual Pass the Pigs Olympics on Sunday, March 22, with a special library wine on tap. If you're in town and want to join the fun, let us know and we'll hold a spot for you.
Speaking of competitions and tasting events, we were like giddy high school students opening our college acceptance letters when we received the letter from the International Pinot Noir Celebration (IPNC) telling us that Cartograph has been selected as a featured winery for the 2015 IPNC Festival in July—a huge honor for us, as only 70 wineries from all over the globe make the cut. We submitted our 2012 Perli Vineyard Pinot Noir and are incredibly excited to be part of what's widely thought of as the best Pinot noir festival in the world. Let us know if you'll be attending and we'll make sure we connect while in Oregon.

Stop by the tasting room to meet Anna and Andy, the two new members of the Cartograph team! They both come to us with great experience gained at other wineries; we're thrilled to have their insight as we keep working to give our customers the best tasting-room experience in wine country.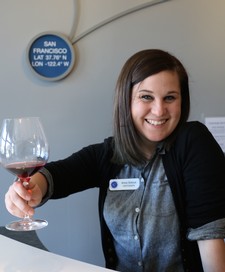 Anna Girkout, who's in the tasting room on Mondays, Fridays and Saturdays, is a California native who was working at the Coppola Café in 2007 when her bosses noticed how much time she was spending talking to customers about wine. Wisely, they moved her to the winery's tasting room, where she discovered her passion for digging deep into the winemaking process. Most recently, she managed the tasting room and wine club at Balletto Vineyards. Last year, she took a break from the wine industry (but not the wine!) to enjoy a few months with her new baby, Cordell. Anna is also a self-described "big beer geek" who bases many vacation itineraries around craft brewery locations. She loves knitting, painting, cooking and travel.
Andy Tester is our new Tasting Room Manager. He moved from Sonoma County to San Francisco to do the classic "musician waiting tables" gig when he fell madly in love with a Niebaum-Coppola Sangiovese and realized that he couldn't shake his yearning for the oak groves and rolling hills of wine country. Andy headed back to Sonoma and continued performing music while serving, managing and bartending at restaurants such as Lucy's and West County Grill; he entered the wine industry in earnest in 2007 at Seghesio Family Vineyards, where he eventually rose to become tasting room manager. You can catch Andy playing the upright bass with Mr. December, Dan Imhoff & Cahoots and the David Luning Band; he also loves hiking, sitting next to the ocean and playing with his two children.

Hey, guess what? There's just not a lot of news from the winery in early spring.
Do you care that Serena rocked our taxes and they're already in the can? No.
Do you care that we're staring at three-dimensional spreadsheets trying to predict how much fruit we should buy this year? No.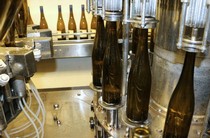 However, we did get the 2014 Riesling, Rosé, and Gewürz and the 2013 Sangiovese bottled, and we're looking at release schedules. As stressful and laden with fussy details as this process is, it just isn't very romantic to discuss. I can prove it: Just look at this exciting photo of the line in action. I'll just say it went very well. The wines are all showing wonderfully, but I'm really over the moon about the Rosé.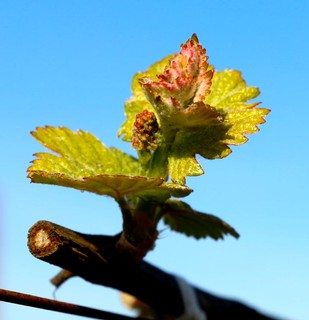 The other notable thing is that we've already had budbreak in a couple of blocks. For the 99 percent of you who don't follow these things, this is VERY early—more than a month ahead of usual. This makes our frost season more like ten weeks, versus six in most years. We're watching the forecasts, but all we can really do is cross our fingers. We do wrap our delicate citrus trees when we see a cold snap coming, though.
If you're following us on Facebook, you've probably already noted my obsessive focus on budbreak, and you've seen photos of some of the fun stuff that's coming out of the Cartograph winter garden. If not, please do friend me on Facebook or check out the Cartograph page.
Cheers, Alan


Sometimes, you just have to suck it up. Literally.
While moving some library wines around in preparation for our Perli Vineyard vertical, we found two cases of Perli 2010 "shiners"—the industry term for bottles without labels. Those labels are long gone, so we signed the wine out for home consumption.
What a treat! We've always felt that Perli is the vineyard in our portfolio that's going to age very well and prove the critics wrong: You can age domestic Pinot. And this wine is everything we'd hoped for. It's still holding on to its rich ruby color. The primary fruit characteristics have backed off and the fruit aromas are now of fresh blackberry and dark cherry, with more earthy aromas of leather and mushroom dominating the nose. On the palate, it's savory, earthy and complex.
For those who think California pinot is too overtly fruity, well, here's the reward for patience. Despite being almost five years old, this wine could still use a little time to open up and soften the still-noticeable tannins, a result of the thicker skins we get from Perli. You can still pick up some of this great wine in the Cartograph online store and in the tasting room.

Ongoing: American Wine Story documentary featuring Alan and Serena is available on iTunes
March 7: Perli Vineyard Vertical Tasting, Cartograph tasting room (seats have sold out)
March 20: Pigs & Pinot Grand Tasting, Hotel Healdsburg
March 22: Pass the Pigs Olympics, Cartograph tasting room
April 4: I Heart Wine.Walk.Healdsburg, an American Heart Association charity event
April 22: Cartograph Circle Twin Cities Spring Release Party, Mitrebox Framing Studio
May 3 and May 9: Cartograph Circle Healdsburg Spring Release Party, Cartograph tasting room
May 16: Winemaker Tasting, Cartograph tasting room

We had a great tasting with Chicago Cartograph Circle members last night and are getting ready to pour at the Sonoma in the City event today. Then, we'll pack up our suitcases and leave these frigid Midwestern temps to get back to the winery. Thanks for all your support to make what we do so rewarding and fun.
Cheers,
Alan, Winemaker/Owner, and Serena, Owner