It's almost Thanksgiving! It's our favorite holiday because it's about sharing a meal with friends and family and the focus is on being together. We started the prep work for the meal yesterday evening and as we were chopping and cooking, we couldn't help but to reflect on what an incredible first year it's been in our tasting room. Thank you for your support and belief in this journey we're on.
RECENT PRESS
Writer Kristen Hawley recently gave Cartograph a nice shout-out in a Healdsburg roundup on The Infatuation. Check it out not just for our mention, but also for lots of other excellent places to visit in our fair city.


Hard to believe, but the Cartograph tasting room has been open for one full year! People from all over the world have visited us, and we're delighted that our Cartograph Circle members now have a place where they can relax and enjoy wine as we catch up on what's been happening with them.
Because we're so close to the main square in Healdsburg, we've been lucky to become part of a supportive local business community. We're really excited to be small-business owners in this town — which, by the way, just keeps getting more and more great press as a destination.
It's been fun to look back through the photos and see how the tasting room has progressed.
This is where we started: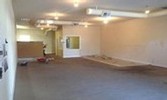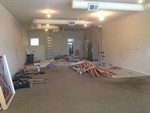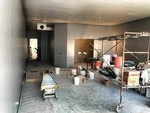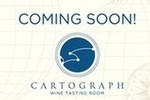 And now we are here: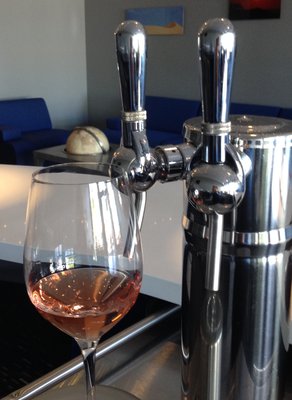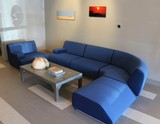 We've gotten accolades from various magazines about the look of the tasting room, which delights us. A few new touches:
Alan designed shelves to display wine bottles, which might make you think the bottles are floating on the wall.
Taking inspiration from our neighbors next door, Zin Restaurant & Wine Bar, we're making planter boxes for the front windows. They'll be filled with rosemary from a plant that was started way back in 2005 as a cutting from the huge rosemary bush in front of the old Healdsburg post office.
The soil-sample wall is still in its conceptual phase, but should be in place next spring.
We'll soon be introducing some holiday cheer — keep an eye on our space!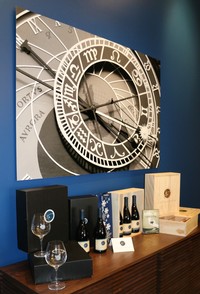 Let us take the stress out of your holiday gift-giving with our new line of Cartograph wine gifts.
Gift sets include winemaker tasting notes and tissue paper-wrapped bottles packed in a black gift box, plus a personalized handwritten note. You can make your gift even more special by upgrading to a 3-bottle wooden box for an additional $25. (Tax not included in any of the prices below.)
Now that winter has truly hit the Midwest, we recommend two-day air ($50) for any wine going across the country; we can use ground shipping for shipments on the West Coast ($15).
To order any of these gift boxes, you can:
Order though our online store
Email Serena@cartographwines.com and tell her what you'd like and where to ship it
Call us at 707.433.8270 or visit the tasting room in person to order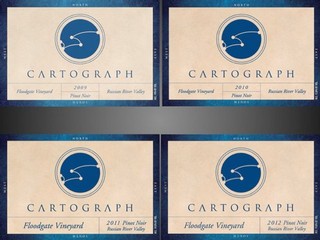 Good Parenting?
Winemaking is one of those things, like raising kids, where you don't really know whether you've made smart decisions until you're years down the road. Luckily, with wine the time frame is shorter and the stakes a lot lower. However, every once in a while I have these moments (making a call to pick, or fretting over whether we can make a bet on a new vineyard source) when I'm very aware of the potential impact of making a dumb move. The margins are too thin to accommodate bad decisions.
But it's really fun and rewarding to see (and taste) the outcomes of good decisions. We recently held a vertical tasting of Pinot noir from Floodgate Vineyard, featuring four vineyard designate wines: 2009 through 2012.
It had been quite a while since we had opened a bottle of the 2009, and both Serena and I got a surprise with this one. 2009 has always been one of our riper vintages, so we expected it to be one of the bigger wines in this tasting considering that 2010 and 2011 were really cold growing seasons. However, youthful, fruity exuberance is in this wine's past and it has moved into a place that is really compelling. Where we might have expected Bing cherry and cola, we got mushroom and forest floor. The ample acid is still there, but now the fruit on the palate is bright cherry and soft strawberry. I always shy away from using the term Burgundian — we're in California, after all — but I'd love to slip this wine into a Burgundy tasting to see whether anybody would call it out. If you have a bottle of the '09 in the cellar, check out the risotto recipe below.
The 2010 Floodgate was in a great place; the tannins have softened just a bit. If you like your Pinot with a little bottle age and still want some solid fruit on the palate, this one is for you. Out of the four wines we tasted, I'd say this was the one currently showing truly classic feminine Pinot qualities. "Finesse" would be the label I'd choose rather than "fruit."
"Fruit" would be the label for the 2012, which is definitely the wine showing the most overtly fruity nose (though none of our wines are really ever fruit bombs, even right at release). Considering the relative youth of this wine, I guess I'd expect more fruit, but with the 2009 now showing such earthy aromas I was surprised by the distance between them. And it is richer on the palate, which is testament to its warmer growing season. This is the wine that we go to when we have something a little richer on the menu.
Now let's back up a step to the 2011. While drinking nicely, I think it's still hiding a few secrets. The nose is definitely Russian River Pinot, but it's very subtle. The fruit is more dark cherry and there's the trademark RRV cola as well. It's starting to show more dried leaves and earthy notes on the nose, but all these fruit and other aromas are quite soft and light coming out of the glass. I wonder if the '10 and the '12 will hit their peak before this one?
This was a great way to dig into a single vineyard and really show how the wines from a special place share certain consistent qualities from year to year. After tasting these wines, we're feeling pretty good about our chosen path for the Pinots: The priority should be on getting the fruit into the winery while there are still good acid levels. Don't hang the grapes until the flavors are big and jammy. Use new oak sparingly. Be fanatically focused on keeping things clean. And keep your hands off the wine as much as possible while aging.
Huh, it all seems pretty simple now that I lay it out.
We'll be doing vertical tastings from other vineyards, and we're planning to repeat this one on Feb. 14. Keep an eye on our events calendar for more dates.
Cheers, Alan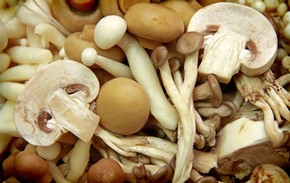 When we think of fall meals, we think of comfort foods that fill our bellies with warmth. Picture yourself in front of a roaring fire (or, in the warmer climates, maybe a little less roaring) with a glass of Pinot and a plate of warm wild-mushroom risotto . . . pure comfort!
Mushrooms and Pinot noir are a classic pairing: mushrooms highlight the earthiness of the wine without overpowering its delicate nature. Risotto, a rice dish that originates in northern Italy, gets much of its creaminess from the high starch content of the rice. You'll often see recipes that use Arborio rice, which is a short-grained, high-starch Italian rice. (Long-grain rice would create more of a pilaf-style dish.)
This risotto recipe is one of our favorites because it is very flavorful and easy to make. We received a wise tip from a chef friend (thanks, Kristen!): Don't stir the risotto constantly, which makes this dish even easier.
If mushrooms aren't your cup of tea, see the other recipes we've tested to pair with Cartograph wines here.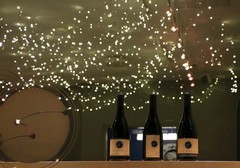 We wish you all a wonderful holiday season, and hope that wherever you are, you're celebrating with lots of love and laughter (and a glass of Cartograph wine)!
Cheers,
Alan, Winemaker/Owner, and Serena, Owner