Hello
We're back at that fabled picnic table in the vineyard, writing to you from underneath a brilliant blue sky. Since the last newsletter, we've been road warriors crisscrossing the USA, and today we're taking the day off to take in the beauty of the vineyard. We'll make one last trip at the beginning of June, and then we're firmly rooted in Sonoma County through harvest. Thanks to everyone who made time to join us at our release parties here and in the Midwest.
RECENT PRESS
Did you hear the piece Nancy Jo Saper did on Healdsburg? Listen to it here.


We'll say one thing for Cartograph Circle members: Our people really know how to party. We had five great celebrations to introduce our spring wines to Circle members.
Our release parties were the culmination of a process that began in February, when we hunkered down to decide which wines we'd be releasing. We started by tasting all the wines so we could see which would be ready for release and which needed more time. Once we picked the wines, we then tackled recipe pairings, spending several weeks cooking and tasting to make sure our recommended recipes worked well with the releases.
After we had the releases chosen and the pairings complete, we wrote up our tasting notes and headed to the Midwest to introduce the wines to our Cartograph Circle members in Chicago and the Twin Cities. Then it was back to Healdsburg for three release parties at the tasting room. We loved hearing everyone's reactions to the wine and thoughts on the food pairings — but most of all, we loved being able to spend time with our Cartograph community.
If you weren't able to make it to one of the release parties, the spring wines are on the menu in the tasting room and available for purchase on the Cartograph website. Read on for more info about each one.

2015 Rosé of Pinot Noir 100 cases produced
This Rosé's light salmon color hints at its light, bright nature. Lively aromas of ruby red grapefruit, peach, tangerine, strawberry and passion fruit greet you coming out of the glass. On the palate, flavors of soft apricot and strawberry with a bright finish will match bright flavors or cut through anything creamy. A great food wine; also a fabulous starter and wonderful to serve chilled on a warm day. This one was an exclusive release for the Cartograph Circle and is now sold out.
2015 Starscape Vineyard Gewürztraminer, Russian River Valley 145 cases produced
You'll definitely smell the classic honeysuckle and orange blossom you'd expect from a fine Gewürztraminer — but you'll also get a couple of surprises, like beeswax and a hint of something almost creamy. On the palate, this year's Gewürz is a little more lush at this age than past vintages, but it's a classic example of why we love Starscape: It performs a great balancing act by being bright and lively while still being soft and supple. Citrus and floral notes linger on the finish. More information
2014 Russian River Valley Pinot Noir, 245 cases produced
The 2014 Russian River Valley Pinot is very aromatic with Bing cherry, pepper, cedar, tobacco and wild strawberry. On the palate, it evokes a strawberry-rhubarb pie without the sweetness; it's soft and silky but also has plenty of acidity, showing sour apple and cranberry on the finish. More information
2014 Mendocino Ridge Pinot Noir, 93 cases produced
Light and crystal-clear ruby in the glass, this Pinot shows ripe cherry, fermenting grain and a soft aroma of freshly tilled earth. With medium-to-rich body on the palate, it has flavors of ripe Santa Rosa plum and baked cherry. The finish is medium length at this point in its development; soft, silky tannins coat the tongue on the finish. More information
2014 Bucher Vineyard Pinot Noir, Russian River Valley 117 cases produced
Deep ruby in color, this Pinot shows a lot of earthy notes with black peppercorn, blackberry and a spiced scent of fresh-cut wood. The earthiness also shows on the palate, with cranberry and a combination of flavors that brings to mind a fresh cherry pie. A bright, lingering finish reveals some funky undertones beneath the clean surface — we're looking forward to seeing how this one evolves in the bottle. More information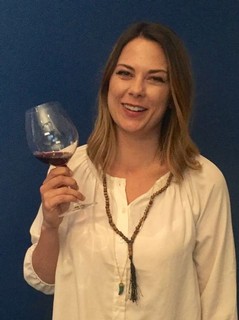 Kaylee Kraybill has joined the Cartograph team as the newest Cartograph Ambassador.
Originally from Oklahoma, Kaylee has been studying wine for the last five years since taking a wine-tasting class in college at Oklahoma State University. She chased her passion for wine education to California, landing first in Los Angeles where she was an assistant manager at a busy wine bar while taking classes and earning credentials in the Court of Master Sommeliers and Wine & Spirit Education Trust programs.
After realizing that she wanted to be closer to the grapes, Kaylee moved to Sonoma County to continue her education and career. In her spare time, Kaylee is an avid reader who enjoys running and spending time with her 11-year-old rescue pup, Tiger. Please come by the tasting room to say hello!

Earlier this month, we had the pleasure of pouring our 2013 Choate Vineyard Pinot Noir at the Class of 1991's 25th reunion at Choate Rosemary Hall, Serena's alma mater in Connecticut. Although our wine was named for vineyard owner Tim Choate, we thought it was too good a coincidence to pass up making wine from this tiny vineyard. The 2013 Choate Pinot was released last fall; it will come off the tasting menu at the end of the month to make room for a new spring release, but will still be available for sale in the tasting room and online.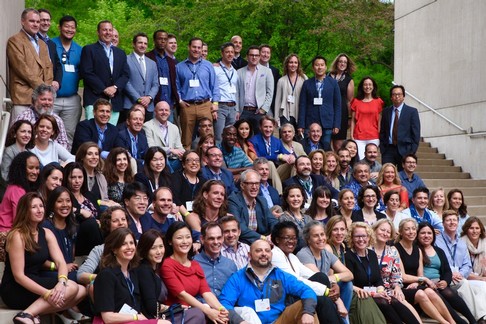 The class of 1991, photo courtesy of Stuart and Lita Laven.
Tasting notes: Located in the cool end of the Russian River Valley (Green Valley is the official appellation), Choate was a new vineyard for us in 2013. The wine is subtle and pretty with lots of different layers; on the nose, you get a dusty note with Bing cherry, strawberry, raspberry and a bit of truffle. Light on the palate, it brings some floral elements with tannins like those you might get from a dark chocolate. This is a Pinot for those who love Pinot — a great experience that doesn't have to overwhelm the senses to make a big impression. It's all about finesse. 182 cases produced.

News flash: There's a big shift when you go from being a grape purchaser to being a grape farmer. As a winemaker buying grapes from vineyards, it was always easy to say, "I see what you're doing there, but I might do it differently.…" Now, I'm walking around the vineyard looking at the vines thinking "Why the hell did I do that?"
Actually, everything is in good shape. We know that it's going to take us a couple of years to transition to a new trellising mechanism, and this year we ran with what was there rather than try to guess how the vines would grow and speculatively put in a new system. Our cane placements are functioning just as expected; the vines just aren't as pretty as they will be with everything trained into place. I'm finding that there's a lot of wisdom in only making changes that you can be assured will benefit wine quality down the road.
After some really warm days that gave the whole vineyard a huge growth spurt, the canopy was looking pretty shaggy, with canes bunched up and crisscrossing within the guide wires. After a little rain this past weekend, we're now out in the vineyard separating canes and doing some selective leaf removal. This will help us stay ahead of any mildew that could come from plant material being bunched up and slow to dry out.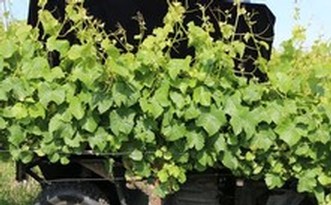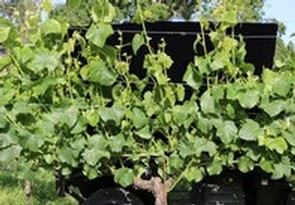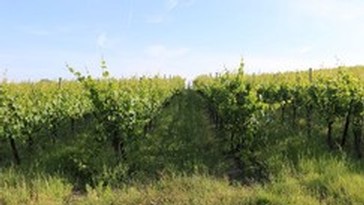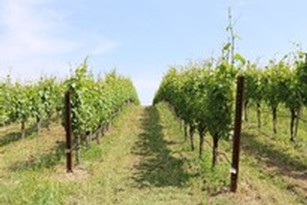 The photos above show the look before and after — maybe not too stark a change, but we needed to open up the canopy.
The photos below are grape clusters in bloom. They aren't really all that impressive, but this is a very sensitive time for the vines. If we could dial in 83 degrees, soft breezes and ample sun for a 10-day period once bloom began, it would be amazing, but that's rarely how things play out. We were about 40 percent through bloom when we got our rainy day, temps hung around 70 for a few days and now back into the 80s. We might see a slight impact on yield, but I doubt it will be anything like last year where we got clobbered by three weeks of cold weather during bloom. (Fingers crossed.)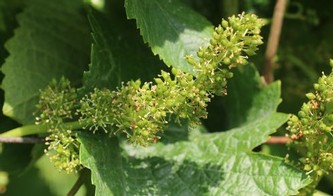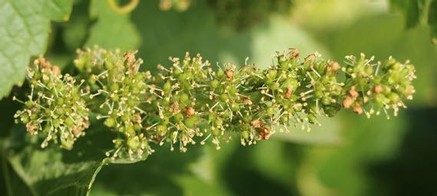 The other big task this time of year is getting our blends figured out. I spent an afternoon making tasting notes on every barrel to figure out which barrels — or portions of barrels — I'll pull for appellation wines, and which juice will stay put for vineyard designate bottling. The 2015 Pinots in barrel are all tasting like finished wines much earlier in their lives than is typical for Cartograph. My theory is that with a large variation in fruit ripeness due to last year's crazy long, cold bloom, we had some berries that were riper than I would typically see as well as some that were a little more lean. The overall chemistry averaged out, but we kept vibrant acidity while getting a little more fruit on the palate. We'll see if I come up with a completely different theory when I get initial blends put together, but I think it makes sense.
We're always happy to answer questions, so if you have things you'd like to have me talk about in this section of the newsletter, just bounce me an email.
Cheers,
Alan

On July 16, we'll be participating in Healdsburg's fifth annual Wine'd Up event. As a member of the Cartograph Circle, you'll receive club member benefits for the day at more than 30 participating tasting rooms in downtown Healdsburg. We'll have a special tasting that day, too. Tickets are complimentary for Cartograph Cirle members (total of two tickets). Please email Serena and let her know you are coming so that she has your glasses, tote bag and wristband ready.
Ongoing: American Wine Story documentary featuring Alan and Serena is available on iTunes

We're off to look at tractors…then we'll be back at the vineyard, where we'll see how the grape blossoms are faring and do some more blackberry clearing.
Cheers,
Alan and Serena