Hello
November is one of our favorite months: The chaos of harvest is over, the wines are tucked away for their winter nap and we get to enjoy one of our favorite holidays — Thanksgiving! And thanks to the early harvest we've come up for air while we still have a bit of time to get wines on their way to you for your holiday celebrations.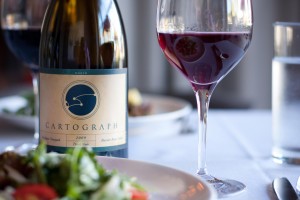 We love to cook . . . especially Thanksgiving dinner, which incorporates so many delicious flavors and spices. We thought it would be fun this year to build a meal for our friends around Cartograph wines. We're excited to get the preparations underway and fill our home with delicious smells. Read on for our menu and wine pairings:
Appetizers
Vegetables
Entree
Dessert
2013 Mariah Vineyard Pinot Noir with pumpkin pie and homemade whip cream
2014 Starscape Vineyard Gewürztraminer and 2014 Greenwood Ridge Riesling with cheese: Brillat-Savarin, Comte and Tomme Fermiere d'Alsace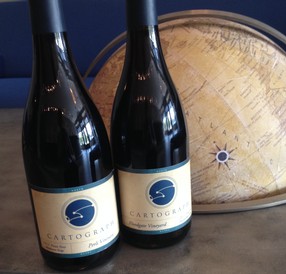 We'd love for you to enjoy Cartograph wines with your own Thanksgiving meal. We've got just enough time to get wines to you for Thanksgiving and would also encourage you to think about ordering wines for your winter enjoyment because the chill will set in soon and we won't be able to ship across the plains due to the low temps.
We're featuring a full selection of our current and library wines, as well as our newly released 2011 and 2012 magnums, which are available for order online and at the tasting room.
Order by Tuesday November 17 for standard ground delivery. For shipments within California, order by November 21.

November 14: Winemaker Tasting: Inside Pinot – SOLD OUT
January 23, 2016: Winemaker Tasting: Floodgate Vineyard Vertical
February 20: International Alsace Varietals Festival, Boonville, Calif.
March 20: Pass the Pigs Olympics Cartograph tasting room
March 30: Cartograph Circle Spring Release Party, Minneapolis; info to come
April 15: Cartograph Circle Spring Release Party, Chicago; info to come
April 16: Pinot Days Chicago, Navy Pier
April 24, April 30, May 7: Cartograph Circle Spring Release Party, Healdsburg; info to come
Ongoing: American Wine Story documentary featuring Alan and Serena is available on iTunes and VHX

As we reflect on everything we're thankful for, we want to say a special thanks to our Cartograph Circle members. Your support and enthusiasm keep us moving forward.
To all of you, our friends and family, we hope you have a wonderful Thanksgiving at your house or wherever you're celebrating. May your holiday be filled with love and laughter.
Cheers,
Alan and Serena