Happy new year! We hope your holiday season was filled with love, laughter, and much joy. We've been frightfully busy these past several weeks and can now share with you what we've been up to.


Drum roll: Just yesterday we closed on the purchase of a vineyard in Sonoma County planted to 9.75 acres of Pinot noir!
Yeah, we can hardly believe it either.
Thanks, in large part to your support, we have the faith to make this leap. Creating our own estate vineyard will allow us to control everything in our production process, from budbreak all the way to popping the cork.
Over the last seven years, we've been blessed to work with great growers who share our lofty goals for the grapes they grow for us, but it's always a bit of a tenuous position. Properties change ownership, there are staffing changes in the field and market pressures can create drastic swings in prices for the grapes we source. Going forward, we'll add fruit from our own vineyard to fruit from the vineyards that have made up the core of our offering until now. Variety is a good thing! The property is in western Sonoma County and a very cool site. (temperature cool, that is) Below is a panoramic view from within the vineyard as the last leaves were falling from the vines this past fall.

Property snapshot:
Located between Sebastapol and Cotati in western Sonoma County
14 miles inland from the Pacific Ocean
Officially located in both the Russian River Valley and Sonoma Coast appellations
14.64 acres total, 9.74 acres planted to four clones of Pinot noir
State-of-the-art irrigation monitoring and control system
180 olive trees (yes, we will be making olive oil)
A bazillion blackberries (as you're reading this, Alan is probably out waging a chainsaw battle with the epic blackberry patch that has taken over a big swath of the non-planted land)
Geeky details:
Hillside parcel on shallow benchland soil at the end of the Russian River watershed, with slopes facing north, south and west
Soil: Goldridge sandy loam
Climate: Marine fog in the morning and evening with moderate to heavy winds blowing through in the afternoon. Air temperatures are cool, rarely getting into the 90s
Pinot clones: 667, 777, 115 and Pommard
Original planting: August 1999; new block planted July 2003
Olive trees were planted in 2000, with the first harvest in 2009. Tree types are 45% Leccino, 40% Frantoio, 10% Coratina, 5% Pendolino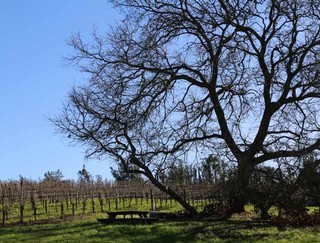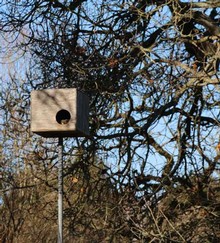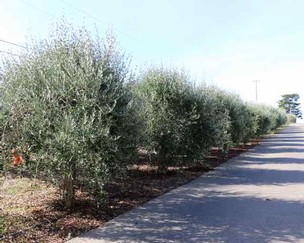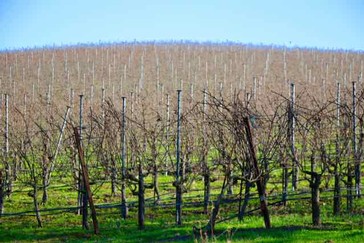 So how do you buy a vineyard?
We've been looking at properties for several years — at first, just to educate ourselves on what was out there and on how properties are valued.
We learned very quickly that prime land planted to Pinot and land that's a good candidate for planting goes to buyers with inside connections and very deep pockets before it's listed publicly. Having neither of those, we began to despair.
And we couldn't afford to purchase a property that needed a lot of problems fixed. Is there water? If not, can you build a reservoir? Are there bad bugs in the dirt? Are there bad bugs lurking nearby? Is it planted to the proper grapes/clones and on the right rootstock? Do the neighbors want vines next door? Will farming costs be manageable due to location and planting density? Will the site continue to be a prime Pinot location if temperatures increase? You can see why it's easy to lose enthusiasm for the hunt. Plus, in many cases, the dealbreaker was a big fat luxury home planted with a view of the vines, which drove prices up well beyond our reach. We love our little house in Healdsburg, so we really just wanted a chunk of dirt that could make great Pinot.
In November, we lucked out and learned about a 15-acre plot of yielding Pinot vines that was being quietly sold by its owner. After one visit, we knew it was a perfect fit and we had to act fast. We had a verbal agreement that evening and a signed agreement the next morning. With only 30 days to do our due diligence, Alan dug in immediately, lining up soil tests and working with friends in the industry to look into every facet of the property. We were thrilled to find that everything was in good shape; the owners were also very generous in providing detailed soil assays and other reports.
The vineyard was established in 1999 by Debra Friedenberg and Marne Coggan, who named it Sonatera. Lately, Siduri and Soliste wineries have been making wine from Sonatera fruit; Testarossa has used its fruit in the past. We've secured the name Sonatera, but will ponder whether there's a name that might fit better with the Cartograph story.
We're incredibly excited to take this big step — it's a huge responsibility to foster grapes that will meet our quality demands, but we can't wait to show off these beautiful vines. Our first wines from the vineyard will be the 2016 vintage, though we might sneak a little fruit into a vineyard designate Rosé for spring 2017 release. There are no structures on the vineyard, so we'll keep our tasting room in downtown Healdsburg, but we'll be organizing some vineyard tours this summer (there's a great picnic table on the property for lunch al fresco). And we promise that Alan's section of our upcoming newsletters will be packed with information about what's going on in the vineyard.
Thanks for being along for the ride as we embark on the next phase of the Cartograph journey!


We're studiously devouring information about farming Pinot and olives. In between our marathon learning sessions, we hope to connect with you either at the tasting room or at one of the events in which we'll be participating in 2016.
Cheers,
Alan and Serena