We love October! The frenetic energy of harvest is winding down, the 2016 wines are going into barrel, the air is crisp, the new fall wines are released, and we've got the wonderful smells of delicious stews filling the house. The colors are changing in the vineyards, we're busy adding compost to the soil to get the vines squared away for winter, and we're planting our winter garden at home.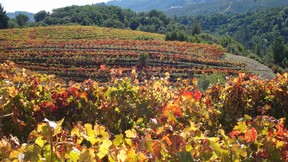 The 2016 growing season was an eventful one, beginning with an unusually early February budbreak in most of our Russian River Valley vineyards. That created a few challenges.
First, one vineyard on Trenton-Healdsburg Road saw flooding after the vines had pushed, so yields were down drastically in that Gewürztraminer block. Second, cool weather followed after bloom started in some locations, which extended the bloom period. Surprisingly, this didn't affect our yields nearly as much as the same situation did in 2015.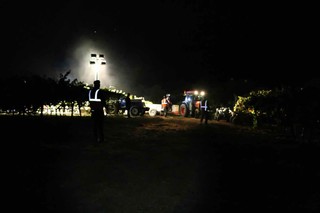 In our estate vineyard southwest of Cotati, many small berries without seeds developed in the clusters that were set during the cool portion of the bloom period. In those early-blooming blocks, we also saw a significant number of berries that split during or shortly after veraison. According to the UC Extension, this was a common problem in cooler vineyards; while there's no proven cause, it could be due to the combination of early-season sun exposure and lots of moisture overnight.
We had some concerns about mold and other issues popping up as a result of those split berries, but a solid spray program and some luck with the weather caused many of the small berries to dry up and the larger split berries to scar over. Spraying also seemed to help keep botrytis at bay, so we had to pull very little fruit off the sorting table.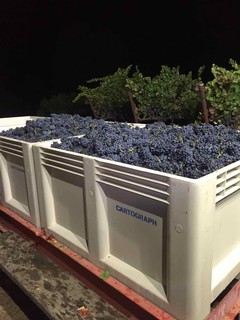 Although most blocks had small clusters, the cluster count was good across all but the one block of flooded vines. As a result, we got the yields we were hoping for in most blocks, with a few even coming in above expectations. The trickiest thing this year was sampling in some locations: Very wet fog caused some vineyards to lose a couple of brix after we had already decided to pick, leading us to reschedule picks, while other locations had sugars jumping up with no explanation.
Overall, most of the vineyards produced very good grapes with higher pH numbers than might be ideal, but with good color and very good flavors. We can deal with the pH in the winery. Our last pick was Riesling from the Green Ranch in Mendocino on Sept. 27, which meant that this year's harvest wrapped up a few days earlier than 2015.
In the winery, slow and easy was the watchword for fermentations, with no lots bolting for the finish line or throwing wacky aromas. I probably shouldn't say that since a couple of white lots are still slowly ticking away — but problem fermentations are few and far between in our wines and in others in the facility where we produce.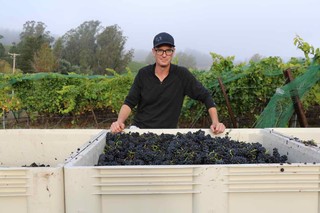 Overall, we're very happy with the Pinots going into barrel, and the whites are showing great aromatics in the fermenter. For a year that saw us almost double our yearly production, it was quite hectic getting it all into the winery — but it felt good to have predictable fermentations once we did. We're just starting malolactic conversion on most Pinots in barrel, so around Halloween we should be tucked in for a nice long winter's nap.
Cheers,
Alan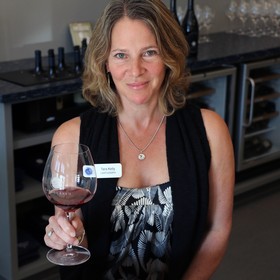 A native of rural Sebastopol, Tara Kelly spent five years on the East Coast pursuing a degree and career in the performing arts. After living in Boston, New York, Los Angeles and San Francisco, she moved back to Sebastopol in 2003.
Tara was formerly a private-school teacher and also has an extensive background in restaurant service and management. Before joining Cartograph, she poured wine at Paul Mathew Vineyards in the heart of the Russian River Valley. When she's not in the Cartograph tasting room, Tara loves hiking, dancing, reading, learning more about wine, and spending time with her friends and family.

The flavors of this fall's six new wines echo the season: The vineyard-designate Pinots have a richness and depth of flavor that remind us of fall aromas and tastes, and the Riesling is crisp and bright like a sunny fall day. Released to the Cartograph Circle in September, our Riesling and vineyard-designate Pinot noirs are now available at the tasting room and online.
The new wines are:
Club members received recipes that pair with each of the new wines; if you're not a member of the Cartograph Circle you can see the recipes here.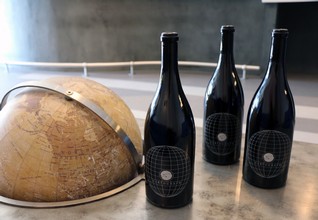 We're pleased to announce that Cartograph's 2013 Pinot noir magnums have arrived in plenty of time for holiday celebrations. We bottled 36 magnums from each of four vineyards: Floodgate, Choate, Mariah and Perli. You can buy magnums online; you can also order by calling the tasting room (707.433.8270) or by emailing Serena.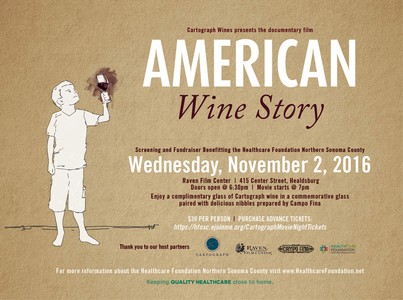 Join us for a screening of the American Wine Story documentary, featuring the Cartograph team, at the Raven Film Center in Healdsburg.
Wednesday Nov. 2, 6:30pm

The Raven Film Center, 415 Center St., Healdsburg
The screening is a fundraiser for the Healthcare Foundation of Northern Sonoma County, a nonprofit that supports the delivery of quality health care in northern Sonoma County. This is a cause that's dear to us at Cartograph — Serena is a registered nurse whose first career was spent tackling health care issues for adolescents. We believe strongly in everyone's right to health care and that health care should be focused on the community it serves.
One of our favorite local restaurants, Campo Fina, will be providing small bites at the event, and we'll pour Cartograph wines. We hope to see you there!

Many thanks to everyone who joined us in Healdsburg for the two Cartograph Circle fall release parties — we love being able to celebrate the new wines with you! In fact, we had such a great time catching up with everyone that we forgot to take any photos … luckily, we do have some to share thanks to a few Circle members who were more on the ball. (photo credit: Osadhi Reu)
Here's a recap of the menu with descriptions of Chef Tim Vallery's creations:
2015 Greenwood Ridge Riesling paired with Redwood Hill chevre panna cotta with micro-fine herbs

2014 Starscape Vineyard Pinot Noir with sous-vide Liberty duck crostini with Busalacchi Farms cherry preserve and lavender marscapone

2014 Choate Vineyard Pinot Noir with a brown clamshell mushroom arancini with provolone and thyme aioli

2014 Mariah Vineyard Pinot Noir with braised lamb orecchiette with mascarpone and Vella dry jack cheese

2014 Perli Vineyard Pinot Noir with a poached garlic and thyme bread pudding with Costeaux sourdough and spiced crème fraiche
Most member wines have now been shipped, except to some areas where the weather is still too warm (Arizona, southern California and parts of the South). For the folks living in Penssylvania, we should be receiving our shipping license in the next week. We're keeping our eyes on the forecast and will ship as soon as we can.
If you're picking up your wine, please stop by the tasting room any time this month. Longitude, Equator and Meridian members, you're welcome to taste the wines and make your selection. And Latitude members, you're welcome to add any of the new wines to your release, so please come taste! (Please note that we don't pour the Sangiovese, as there is so little of it.)
If you have any questions about your fall release, please give us a call at the tasting room (707.433.8270) or email Serena.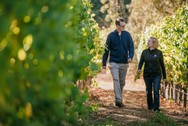 The timer on the crockpot just rang, which means that we're going to enjoy a warm, rich bowl of beef stew. Have a wonderful fall!
Cheers,
Alan and Serena