Hello
February flew by! Perhaps it was all the time we've been spending outside pruning the grapevines and the olive trees and seeing the Cartograph garden come alive that made the month fly by. It's kind of amazing that the Cartograph spring wine release is right around the corner.
RECENT PRESS
Having you been following Kara Sweet's micowineries feature? Cartograph is one of the feautred microwineries.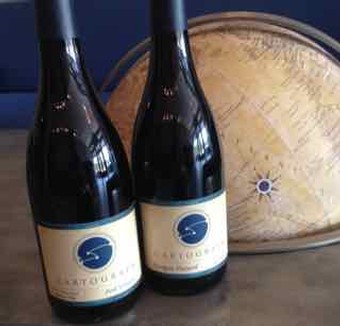 We thought we'd have some fun with library wines before the spring release, so we're opening a library wine every Friday and Saturday in the tasting room through April 15. What we love about tasting library wines is seeing how the wines change with time, so we get a sense of how each wine is aging and a vision for where the current wines will go.
We believe the Cartograph Pinots have a ten-year drinking window, if not even longer with certain wines such as the Perli. When you drink these Pinots young, you get more fruit on the nose and palate and some stronger tannins on the finish. Over time, the bright red fruit flavors (strawberry, Bing cherry, cranberry) ebb, while the the darker red fruit flavors (blueberry, blackberry, black cherry) and earthier tones emerge.


After keeping an eye on the dormant vineyards all winter, now we're starting to get really excited as the buds swell and leaves start to emerge. We've experienced budbreak all over the Russian River Valley, and Mendocino Ridge is just getting started.
The photos here are all from our new vineyard in the Sonoma Coast appellation.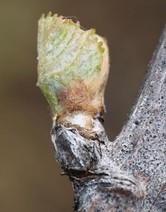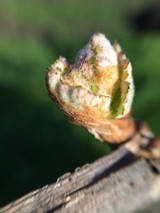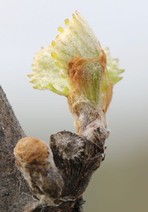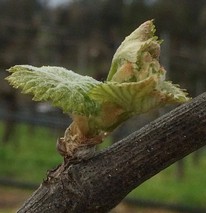 In the Russian River Valley, the buds began to swell during a warm spell in February; in our vineyard, we saw the first leaves pop out on February 28. Since this is several weeks earlier than we'd typically expect, we have to assume this is going to be another early harvest. It all depends on how much heat we get this summer. Last year we also had a very early budbreak, and in a number of ways this contributed to a very light crop. Needless to say, we'll be watching the weather closely.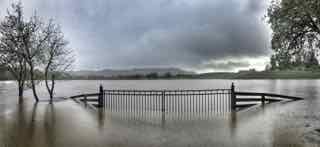 Speaking of weather, the storm door has been open for several weeks now and we're getting some solid accumulations. Lake Sonoma and Lake Mendocino, the two primary water sources for Healdsburg, are at 100 percent of where they need to be at this point in the year, and the Russian River is running fast. While that's great news for the larger drought issues, it unfortunately means that the Gewürztraminer and a couple of our Pinot blocks at Starscape Vineyard went underwater. (Perhaps you'll remember that previously this vineyard was aptly named Floodgate.) This is the first time we've seen these vines go under after budbreak, so we'll be watching to see the effects as we move into bloom. Warren Burton, who used to manage the vineyard, tells us that this has happened a number of times before; other than a few vines seeing a bit of physical damage from floating debris, it had surprisingly little impact on the vintage. (Photo of the flooded vineyard care of Steve Perkins)
The vineyard during budbreak is my happy place. There's so much beauty to the process, and the wooly buds and young leaves are wonderful to watch as they start to reveal the vine that was all queued up in the dormant bud. The shifts in color from peach to pink to green are fascinating to watch up close. The shifts are very subtle but thoroughly engrossing. And I think this is a key moment for me to witness because at this point in the season perfection is still a possibility: We haven't battled frost hits, rain during bloom or any of the little things that throw us into reaction mode. It's all pure hope and a belief that we've done everything we can to make this a great vintage.
Reading this over, it sounds like marketing copy, but now that we have our own vines to look after I realize that this is one of the things about this endeavor to which I am totally addicted.
Okay, back outside to get the macro lens on my iPhone . . . see below.
Cheers, Alan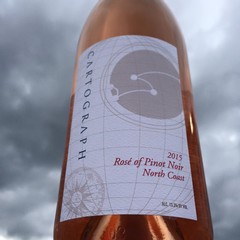 People have been asking, so here's the scoop on the release of our 2015 Rosé of Pinot Noir. We're excited by this year's vintage. It's a beautiful light salmon color with lively aromas of Ruby Red grapefruit, peach, tangerine, strawberry and passion fruit. On the palate there are flavors of soft apricot and strawberry with a bright finish. 100 cases were produced.
We'll have the Rosé on tap in the tasting room beginning April 24. After our release to Cartograph Circle members, we'll release any additional bottles to the tasting room on May 8. We know it will go fast, so we'll have bottle limits in place. We hope to increase our Rosé production in 2016, but Mother Nature and harvest will decide that for us.

March 30: Minneapolis Cartograph Circle spring release party
April 9: I Heart Wine Walk Healdburg
April 15: Chicago Cartograph Circle spring release party
April 16: Pinot Days Chicago (use discount code CRTCH16 for a 15% discount)
April 24, April 30, May 7: Healdsburg Cartograph Circle spring release party
May 21: Winemaker Tasting: Perli Vineyard Vertical
Ongoing: American Wine Story documentary featuring Alan and Serena is available on iTunes

And we're off to the vineyards to see the effect of all the recent rain on the vines. No doubt there will be a lot of mowing of the grass between the rows to do.
Cheers,
Alan and Serena