Hello from Team Cartograph!
We hope you're having a great summer. We've finished putting together the 2014 Pinot blends (a tasty creative process), and we're doing the final prep for bottling the first week of August. Considering how quickly the vineyards are moving right now, it feels good to be a little bit ahead of the curve.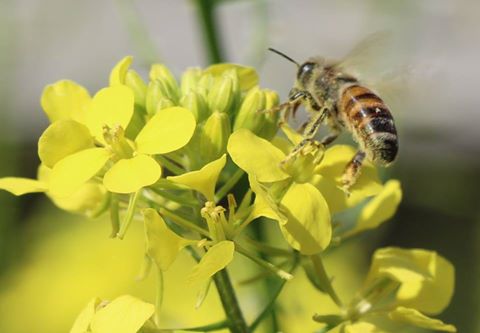 The summer garden is in full bloom. We're pulling in tomatoes, and just last night we plucked our first handful of Padrón peppers. Plus, we have a great crop of herbs this summer: basil, marjoram, thyme, cilantro, dill and chives.
The cannellini beans are filling the trellis. They're close to eight feet tall and full of white blossoms. The French green bean bushes are filling out as well, with tiny little beans growing. Our edamame plants, on the other hand, took a hit; we planted them during a furiously hot week and they've suffered quite a bit with the local watering restrictions but are slowly bouncing back. We're hoping to gather enough to be able to blanch and freeze them — a huge treat to pull out midwinter to enjoy with takeout sushi.
And those tomatoes . . . we put in quite a few plants, eight varieties in all, which are just starting to ripen. Every year we try to blanch and freeze at least 40 pounds so we can make great sauces and soups throughout the winter and spring. Last year we ran out in February, so here's hoping we can either pull in more fruit or ration our supply to make it into the new season. (We're rooting for the former, of course.)
We had great success with the peach trees this year. It was brutal to remove a lot of tiny fruit as the peaches started to grow so that we could focus the trees on growing fewer but larger peaches — but it worked! We've been making peach cobblers, peach chutney and grilled peaches, and we even find ourselves tossing peach wedges into salads. And we're enjoying two kinds of apples this year: Gravenstein and Fuji. It's the first year of Fujis from the graft that our friend Warren Burton did for us.
We often bring produce into the tasting room to share, so please stop by if you're in town.

We're delighted to introduce two new team members: Hospitality Manager Erika Bernheimer and Cartograph Ambassador Todd Curtis.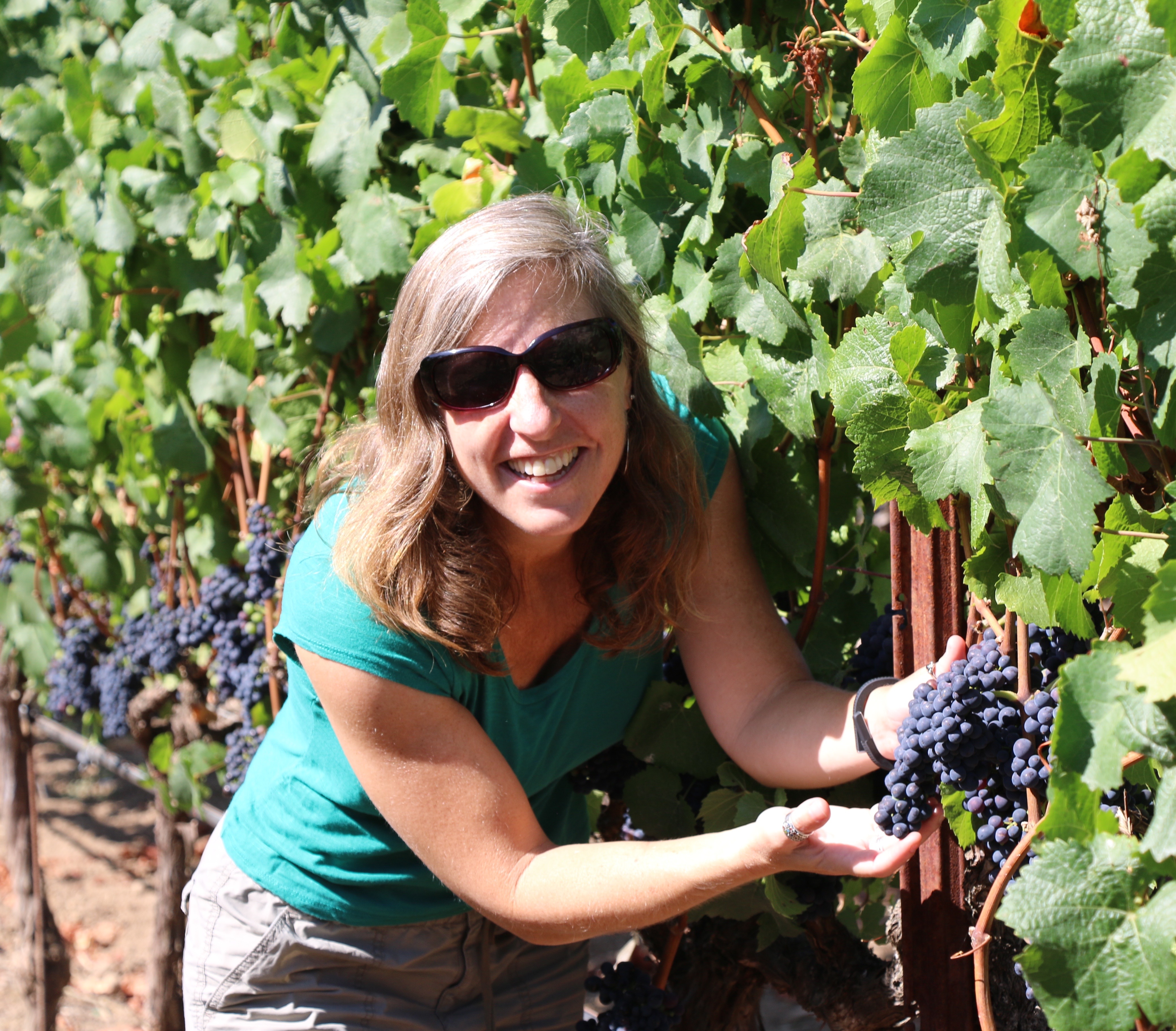 Born in LA, Erika has lived all over the world, including in Ghana, West Africa; Sweden; and London. A longtime wine lover and traveler to wine country, she left her municipal job behind and moved north from Oakland in the spring of 2014 for a job as a tasting-room associate, which evolved into a supervisory position. "I am super excited to be part of the Cartograph team," she says. "I couldn't be happier with my new life and love the fact I made it work." Aside from wine, Erika loves long-distance running; she also runs an online book business and spoils her two cats.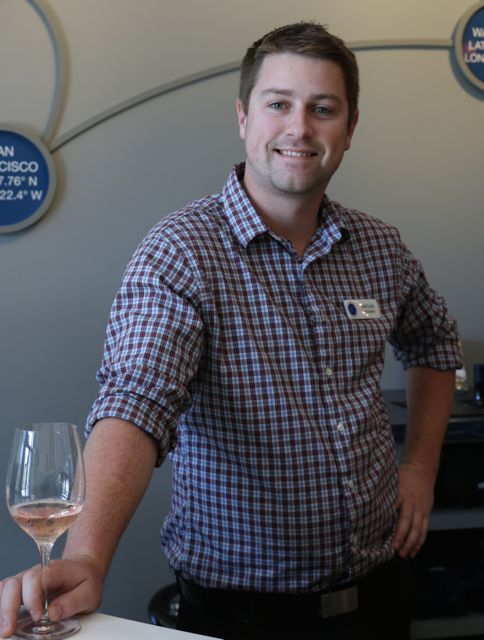 Todd has lived in West Sonoma County most of his life — mainly in Sebastopol, where he's watched the apple orchards he played in as a kid get replaced with grapevines. He started exploring wine as soon as he turned 21, visiting tasting rooms and trying to understand how fermented grape juice could be so complex and so varied. It was just a hobby for him as a wine-country kid, until he had a 2005 Peters Reserve Pinot Noir from Kokomo Winery. That wine turned his hobby into a passion. He hopes to begin taking enology classes at UC Davis this year so he can begin learning to make his own wine. He loves spending time with friends, eating sushi, listening to Eric Clapton and playing with his boxer, Mia.
We hope you'll come by the tasting room to meet Erika and Todd!

State of the Vines
Here we go again! I was running an errand last week that took me out into the Russian River Valley. Heading out River Road, I glanced out my window and was shocked to see fully purple clusters of grapes. The first week of July?!? Quickly forgetting where I was going, I took a quick right and made my way to Starscape Vineyard, which is likely the vineyard we'll start picking first. Here's what I found: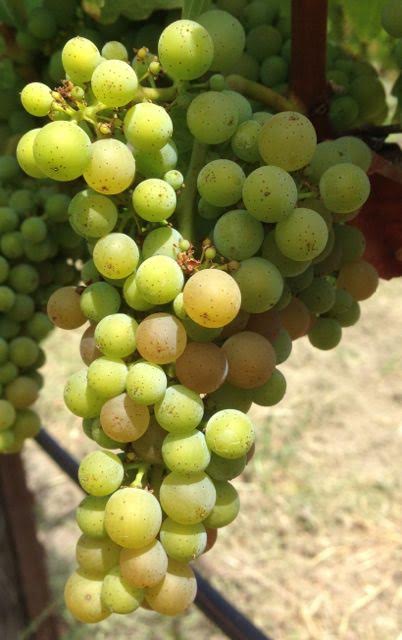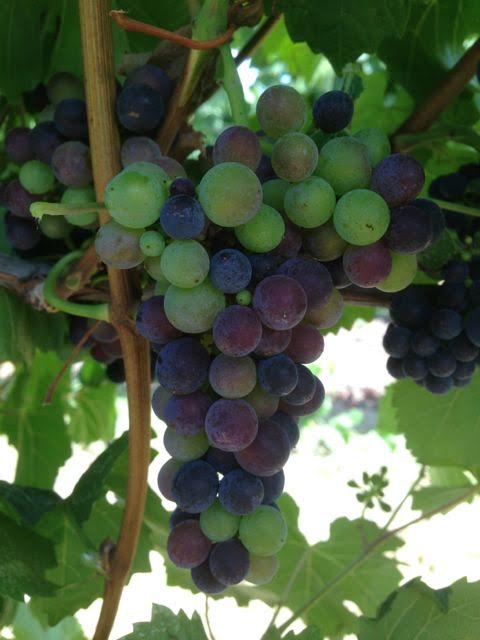 The Pinot and Gewürz blocks had all begun veraison, with some clusters 90+% through. This puts us in roughly the same spot as we were last year, which was also a very early season, so I know we'll be pulling grapes in August again this year. We're getting perfect weather to push things along; here's hoping we get a couple of cool spells between now and mid-August to help slow things down. Our vineyards in the Mendocino Ridge appellation are a little further behind but still well ahead of average.
Clusters are definitely on the small side, which we tend to like because they will often turn into a wine with nice color. While the majority of what I'm seeing looks a lot like the photo above, we also have a few blocks that didn't set full clusters. We're not thinning the clusters on these vines; that helps us make sure the crop load isn't too light, which can cause the vines to ripen too quickly.
We will have to shift gears quickly after bottling to be ready for harvest but we didn't start his crazy scheme because we wanted to sit around and think about wine, we want to Make Wine!
- Alan


We're packing our bags and getting ready to head to the International Pinot Noir Celebration in Oregon this week —we're excited to taste so many different Pinots and especially to delve into Oregon Pinot. When we come back, it'll be the deep dive into sugar sampling and harvest prep. Come by the tasting room and see us for updates!
Cheers,
Alan, Winemaker/Owner, and Serena, Owner