Hello
September and October were a whirlwind of activity with harvest and the release of our new fall wines. This year's wines are now in barrel and the last shipments are going out and being picked up, so it's time for us to catch our breath and catch up.
RECENT PRESS
We can't endorse our friend @sonomawilliam's request that you not buy too much of our 2014 Greenwood Ridge Riesling, but we're happy it helped make the time fly by on his Friday night of drudgery!


Many thanks to everyone who joined us for our Healdsburg release parties! We enjoyed catching up with you and hearing what you thought of the new wines. Check out our party photos here.
We had so much fun that we're already planning our spring release parties. Mark your calendars for these dates:
Minneapolis: March 30, 2106 at Mitrebox Framing Studio
Chicago: April 15, 2016; location TBD
Healdsburg: April 24, April 30, May 7, 2016 at the Tasting Room
Invitations will be sent in February.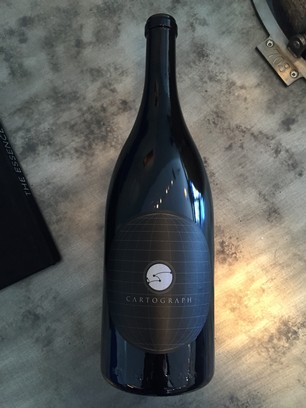 We love magnums — 1.5-liter bottles of wine, equal to two standard bottles. Not only does bringing out a magnum make a party more special, but magnums also age wine more slowly due to the ratio of the volume of wine to the headspace in the bottle.
In 2011, we started bottling magnums of our vineyard-designate Pinots. We had so much fun hand-bottling magnums of our 2011 Floodgate Vineyard and 2011 Perli Vineyard Pinot Noir that we did it again the following harvest . . . and so began the Cartograph magnum program.
All of the magnums are now ready to release, so we will release the 2011 and 2012 vintages first to Cartograph Circle members on Monday, November 9th at 12:30pm, and then to the tasting room in December.
This first magnum release will include eight bottles of each of the following: (limit one bottle of each vineyard per customer)
2011 Floodgate Vineyard Pinot Noir, 1.5L Retail: $120, Cartograph Circle: $102

2011 may have been a cool growing season, but the Floodgate team's impeccable farming practices in this perfect cool-climate growing location never fails to deliver everything you want from the Russian River Valley. Dark ruby in color, this wine is lush on the palate. If you're a fan of Floodgate, you'll recognize the wild strawberry and violet fruit notes alongside the beautiful earthy undertones that balance this wine on the palate.
2011 Perli Vineyard Pinot Noir, 1.5L Retail: $128, Cartograph Circle: $108.80

The wines from Perli Vineyard always present me with a challenge in adequately conveying such a complex sensory experience. Perli gives us wines that are slow to evolve and ride a line between subtlety and power. My best music-nerd analogy for this Pinot is that it reminds me of a petite, elegant soprano alone in the middle of a large stage who suddenly unleashes the leaps and runs of Mozart's "Queen of the Night" aria: what a surprise that such an overwhelming experience can emanate from such a small person! The nose of this Pinot is more earthy than fruity, the palate is full of dark fruit and loam, yet the wine still manages to be light on its feet. In other words, the nose is all Pinot . . . but as you take in the aromas, they evoke a big personality.
​
2012 Floodgate Vineyard Pinot Noir, 1.5L Retail: $120, Cartograph Circle: $102

​2012 definitely gave us wines with big personalities. The Floodgate Pinot Noir is that gal with the big smile who's quick to laugh and always has a sparkle in her eye. The wine's aromas are opulent and full of Bing cherry, cola, strawberry and a hint of catmint. The palate is a bit more restrained, but stands out for a Cartograph Pinot as being lush and full in the mouth. An early pick preserved the vibrant acidity that helps give this wine a complex and long finish.
​
2012 Perli Vineyard Pinot Noir, 1.5L Retail: $128, Cartograph Circle: $108.80

The 2012 Perli Vineyard Pinot Noir aromas are subtle but solidly on the dark-fruit side of things with black cherry, plum and cassis, plus a spicy note of cedar that balances out the fruit notes. It's elegant and balanced on the palate, delivering what we prize about the Perli vineyard: a wine that always rides the line between packing a lot of complexity and remaining light and racy. The inclusion of some stems in the fermentation adds a nice tannin grip that will soften over time, making this an excellent candidate for aging.
​
2012 Mariah Vineyard Pinot Noir, 1.5L Retail: $120, Cartograph Circle: $102

Our first Pinot from the Mariah vineyard shows two key elements of the Pinot experience that often don't go hand in hand. Sometimes a Pinot will be decidedly earthy or overtly fruity, but the Mariah offers subtle notes of both. Light dried-leaf aromas mingle with a strawberry-pie scent that makes this a compelling wine before it touches your tongue. On the palate, it's bright and lively, with cranberry fruit and a fresh-cut wood scent coming on the finish.
For those of you who have been eyeing the magnums on the bar in Healdsburg, just a quick note to mention that the screen printed bottles start with 2013, the 2011/2012 have standard labels.
Because the quantity is so limited, we ask that you call the tasting room (707.433.8270) to place your order for shipping or pickup. And stay tuned for our release of 2013 vintage magnums sometime in 2016.

Holy cow, what a year! After much hand-wringing and head-scratching we were able to get all the grapes in, and while volume is down we have incredible color and intensity this year. More on that in a bit.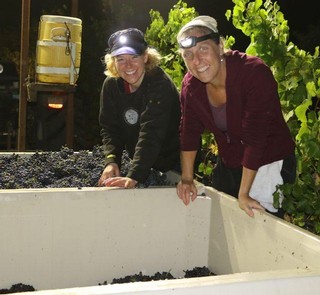 Thanks to a very early budbreak and a warm summer, we started picking Pinot on Aug. 14 — the earliest we have ever picked fruit — and as a result we wrapped up early as well. For comparison, while this year we finished picking Pinot on Sept. 8, in 2011 we didn't even start picking until Sept. 22.
This change is directly attributable to rising temperatures and the ongoing drought. When the soil is wet, the vines know it's still winter even when temperatures warm a bit. But the combination of a dry root zone and a warm January/February tricked the vines into thinking it was spring, and they took off. The longer we're in the business, the better we get about not freaking out over variables that are out of our control, but I do tend to fixate on the next thing that can possibly go wrong. With vines growing in February, our thoughts turned to frost, assuming we'd get whacked — but, miracle of miracles, we saw no frost anywhere.
The next big event we watch for is bloom, which was the defining event for wine grapes this season across most of California. Bloom started, then we cooled way down and got some rain, which interrupted the bloom. As a result, we saw lots of shatter (grape clusters with fewer pollinated berries); berries that were pollinated were also sometimes pollinated weeks apart. Our cluster count was fine, but the amount of fruit per vine was way down and the berries were smaller. Some vineyards saw such poor fruit set they decided not even to pick what little was there. We fared better than most; all told, we were down 20 percent across all varieties. The picture below shows an extreme example of shatter in the Greenwood Ridge Riesling. It wasn't all like this but it illustrates the shatter issue.
The shatter was a problem, but more important was that long delay in bloom. As we started to see fruit reach maturity, it was clear that we had very curious conditions to deal with: Walking the vines, we'd see clusters with near-ripe fruit alongside berries that were not even fully colored up, sometimes within the same cluster.
Because we work in a co-op environment, it was pretty interesting to see all of us winemakers trying to figure out what to do. Do we make multiple passes? No way could the crew distinguish the ripe-enough fruit from the fruit that looked good but was still underripe. Pull the trigger on harvest and get some decent fruit but get crazy high acids and green tannins from the rest? Wait it out and try to split the difference, with some fruit a little riper than we might ideally want but with a portion slightly behind?
The decisions varied by vineyard — and often block by block within vineyards — but what became clear early on was that the smaller crop, smaller berries and variation in the fruit gave us intense wines with a lot of color. The Pinots in particular are deep ruby in color; they're already vibrant and lush on the palate even though they've only been in barrel for a month. I think these will be wines bursting with fruit, but we also have great acidity thanks to the fruit that was lagging a bit behind.
The Starscape Gewürztraminer developed its golden color and wonderful aromas very early this year. The fruit set was light but more consistent than the Pinot, so we were able to let it hang and grab it at the perfect moment. I'm still waiting to see how the acid level resolves, but it seems very zippy at this point (just after fermentation).
The Greenwood Ridge Riesling crop was significantly reduced, but Frank and Alan Green were kind enough to carve off some of their take to limit our pain. We're only off 20 percent, but the vineyard was easily 50 percent off normal. The Riesling is bubbling along slowly at about 56 degrees F, and is just now reaching the end of fermentation, in a textbook ferment with lovely aromatics and fun peach and black-tea aromas.
The last fruit we pulled in was the Sangiovese. The Upton Vineyard is further inland and saw a much more consistent fruit set, so crop load was only off about 10 percent — but berry size was small and the resulting wine is pretty intense. The Uptons managed to limit the critter damage that has lowered our yield in years past, so we should have enough to meet demand for this Cartograph Circle–only wine.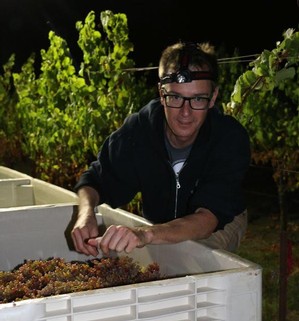 Looking back, it feels like we had two harvests in a single year. All the Pinot and Gewürz was in the winery by Sept. 8, and the Riesling and Sangiovese didn't come in until the end of September. It was odd to have most everything pressed and in barrel while I was still making vineyard visits. We're coming to realize that there really is no "normal" anymore.
Even with all the curve balls, we have a lot to be grateful for. We had the help of a great crew in our tasting room, and an outstanding crew and set of interns at Punchdown Cellars where we make our wine.
I have to thank Serena for keeping it all organized and being the most productive person I've ever met. Even though we were on the tractor sorting overnights and mornings, organizing a release schedule and club pickup parties, shipping dozens and dozens of boxes of wine and keeping up with visitors in the tasting room, we always had a good meal coming out of the freezer, and even a little time to catch our breath while sipping wine in the garden.
We feel really lucky to have your support so we can continue to build this business we're so proud of.
Thanks,
Alan

November 4: Single Vineyard Night, San Francisco (use code CARTOGRAPHSVN15 for a 20% discount on tickets)
November 14: Winemaker Tasting, Cartograph tasting room – SOLD OUT
January 23, 2016: Winemaker Tasting: Floodgate Vineyard Vertical
February 20: International Alsace Varietals Festival, Boonville, Calif.
March 30: Cartograph Circle Spring Release Party, Minneapolis; info to come
April 15: Cartograph Circle Spring Release Party, Chicago; info to come
April 16: Pinot Days Chicago
April 24, April 30, May 7: Cartograph Circle Spring Release Party, Healdsburg; info to come
Ongoing: American Wine Story documentary featuring Alan and Serena is available on iTunes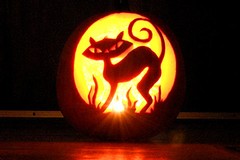 As we catch our breath and let go of harvest activities, we'll now turn our focus to the upcoming holidays and start planning wine pairings for Thanksgiving! Of course, before that we'll be doling out candy to our neighborhood pint size kids. Happy Halloween.
Cheers,
Alan, Winemaker/Owner, and Serena, Owner