Hello!
We're excited to have the 2014 Pinots in bottle. Our lots will age for another 12 months before we start tasting to set their release dates, but we know that the vintage is bright and lively across the board.
Now our attention is full throttle on harvest: Alan has been in the vineyards checking on the vines and sugar-sampling the grapes, while Serena has been collecting the supplies we need during harvest. We hope that you've been enjoying a relaxing summer, soaking up some sunshine and stocking up on a little Rosé (unlike us; we sold every bottle we had).
RECENT PRESS
We were happy to bring wine fan and blogger Mykha'el Wilson back into the fold of Rosé drinkers. Click here to read his post about Cartograph's 2014 North Coast Rosé of Pinot Noir.


After a rigorous selection process involving multiple blind tastings, we were thrilled when Cartograph was invited to be a featured winery at the prestigious annual International Pinot Noir Celebration (IPNC) in McMinnville, Oregon, last month. We were one of 68 Pinot producers selected to be part of a roster that included 34 Oregon producers, 15 from California, two from Canada, seven from Burgundy, four from Italy, one from Australia, two from New Zealand and one from South Africa.
The event is an incredibly intense affair, beginning daily at 8 a.m. and continuing all day with educational seminars, tastings and wonderful meals, all in the company of event guests and fellow wine producers.
Day 1
After the opening ceremonies, we headed to Red Ridge Farms, where Paul Durant guided us through how Pinot grows on his family's property. After the agricultural tour, Alan joined Paul and two other winemakers to lead the group through a tasting focused on Pinot clones, followed by a delicious lunch that gave us some ideas about future recipe pairings for our Pinot.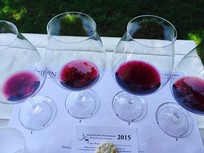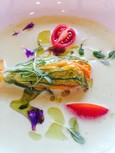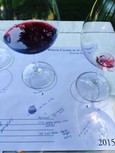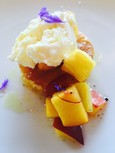 That afternoon, we poured our 2013 Floodgate Vineyard Gewürztraminer for the aromatic whites tasting, followed by an alfresco tasting of 34 Pinots from across the world. We had the pleasure of tasting some Oregon wines we know and love (Penner-Ash, Soter, Eyrie, Bethel Heights); finding new and notable wines (Tyee Wine Cellars, Beau Freres); and tasting wines from our fellow movie stars, Boedecker Cellars.
Day 2
After another bountiful breakfast with guests, we attended a special seminar on sparkling wines, celebrating 50 years since the first planting of Pinot noir and Chardonnay in the Willamette Valley. The seminar was particularly interesting for us because we are figuring out how and when to release our sparkling.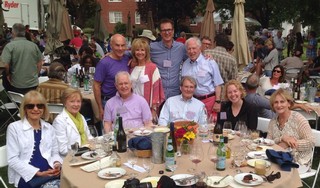 After all that sparkling, lunch was a welcome affair. At our table, we began with the 2013 Floodgate Vineyard Gewürztraminer, a great palate refresher. We had a delightful table of guests from the DC area (particularly fun for Serena, who went to school in DC and Virginia).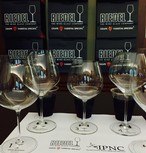 After lunch we had the pleasure of doing a Riedel glass tasting with the master himself, Georg Riedel, tasting pinot from Burgundy, Oregon and New Zealand in three flights across six different types of glasses. It was a great lesson in how the architecture of the glass influences where the wine hits your palate and how it can enhance aromas and tannins.
Then it was off to the alfresco tasting, where this time we poured the 2012 Perli Pinot noir. To say that it was beloved at the tasting would be an understatement: Winemakers and industry people were coming back to taste it multiple times. The French producers were beside themselves that it was a California Pinot . . . and did all their exclaiming in French, not realizing that Serena understood every word. Case orders came flying in and, to many people's disappointment, we only had two cases left. We did pull several cases for library wines, which we'll have available for Cartograph Circle members beginning today.
That night's Salmon Bake showcased wild salmon roasted over alder stakes placed in a huge fire pit. The sommeliers taking care of the tables brought out a variety of library wines from producers who had poured at IPNC in the past, and guests were allowed to bring whatever wines they wanted from their own cellars. As you might imagine, wine flowed freely! It was great to taste such a variety of wine paired with incredible Columbia River King Salmon. (photos below courtesy of IPNC.org)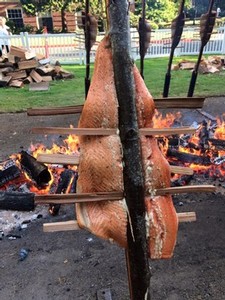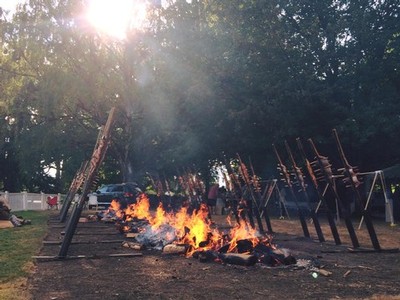 Day 3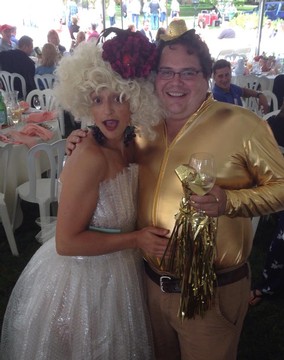 Pinot noir and Riesling ice cream were part of the Sparkling Finale Brunch. While the food was incredible, it was spectacular to have four different sparkling wines on the table, one from right here in Healdsburg and the other three from France. You can see that the sommeliers really got into the "bubbles" theme — yes, that is a dress made of bubble wrap.
We then packed up our bags and got ready to pour at our last event, the Passport to Pinot, where we were delighted to catch up with a number of Circle members. At this event, the wineries that poured at both alfresco tastings during the weekend poured the wines that got them into IPNC. That meant another pouring of the 2012 Perli Vineyard Pinot Noir — word spread like wildfire and we were poured out of the entire case in under an hour.
Our final dinner was a delicious meal overlooking the Columbia River with a wonderful bottle of 2012 Eyrie Vineyards Pinot Noir. Thank you, Oregon!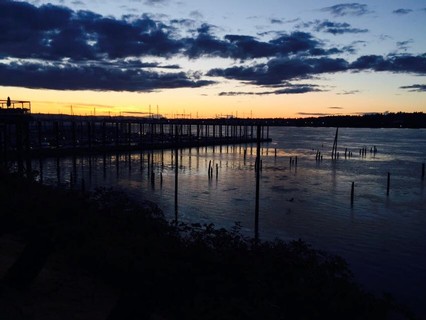 We'll tell you all about the new wines in the next newsletter, but for now we'll say that we're excited to showcase six new wines this fall:
2014 Greenwood Ridge Riesling, Mendocino Ridge
2013 Floodgate Vineyard Pinot Noir, Russian River Valley
2013 Choate Vineyard Pinot, Green Valley
2013 Mariah Pinot Noir, Mendocino Ridge
2013 Perli Vineyard Pinot Noir, Mendocino Ridge
2013 Upton Vineyard Sangiovese, Redwood Valley (Cartograph Circle exclusive)
We'll release the wines to Cartograph Circle members in September (Circle members, save September 20 and 26 for the release parties). After the parties, we'll update the tasting menu and have the new wines available in the tasting room and via our webstore.

What's up in the vineyard?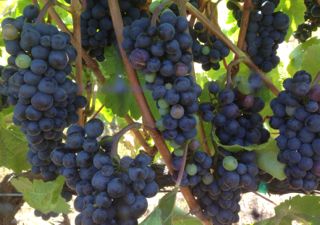 A few weeks ago, I was sure I'd be announcing in this newsletter that we had just picked our first Pinot — but some moderate temperatures have helped slow things down and the vines are starting to even out. As I look at the vines, I can see variation between them (and even between clusters on the same vine), a sign that the fruit is not really ready. Tasting the grapes confirms they are starting to sweeten up, but the skins are still pretty thick and the Pinot just does not taste like Pinot yet. Maybe we'll pick our first Pinot around the 16th?
One very cool thing about this year is that for whatever reason, the Gewürztraminer had tons of flavor several weeks back and the skins are turning that lovely copper brown that distinguishes Gewürz from other white grapes. This typically means that we will have an abundance of aromatics; with wonderful flavors and aromas at lower sugars, we can pick a bit early and get all the loveliness we hope for in a lower-alcohol wine. Pour me another glass!
The vineyards up in the Mendocino Ridge are a little behind Russian River Valley, so hopefully we'll be able to spread out our harvest days to manage the chaos a bit. The picture above is from the Perli vineyard on August 7. Just a few berries need to finish changing colors and then we can get serious about figuring out when to get our northern lots into the winery.
Cheers,
Alan

August 15 – October 30: Harvest is on!
September 20 and 26: Fall release parties for Circle members, Cartograph tasting room (invitations will be in the mail soon)
November 14: Winemaker Tasting, Cartograph tasting room
December – March 2016: Winemaker Tastings; dates to be released soon
March 30: Spring release preview party in the Twin Cities; info to come
April 15, 2016: Spring release preview party in Chicago; info to come
April 16, 2016: Pinot Days Chicago
Ongoing: American Wine Story documentary featuring Alan and Serena is available on iTunes

We're sharpening our pick knives and freezing some dinners so we're ready for our first pick, which could be any day now!
Cheers,
Alan, Winemaker/Owner, and Serena, Owner