October 3, 2013 | Serena Lourie
Tasting Room Update
Now we are seeing some of our style decisions actually happening and it's really neat to see the concept truly coming to life.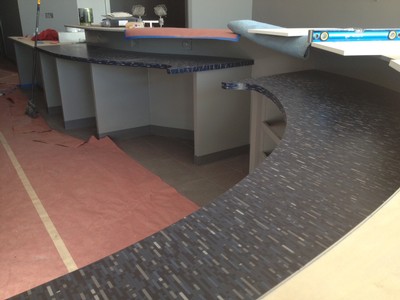 Take for example, the back bar and the lower level of the main bar. We decided to use a modern, slightly busy pattern that also evokes old school kitchen counters. We based that decision on a sample that was 2 x 2 inches.
Now seeing it laid out in 8 foot lengths, we're loving it!
The rectangular lines are then further mimicked in the tile on the floor (which is hidden under the paper right now) and the pendant lights. It's all coming together and creating a modern look that plays with curves and lines for the our new tasting room.
Can't wait to have you visit and see it in person.
- Serena
Comments
Commenting has been turned off.