Trade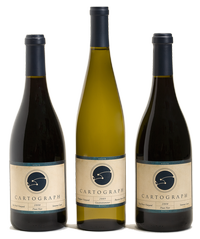 We focus primarily on Pinot noir at Cartograph. We believe this wine is most intellectually intriguing and most satisfying when the winemaker emphasizes balance, nuance and complexity over power and intensity. This approach calls for a light hand in the cellar; it also means picking grapes slightly earlier than wineries that want to produce big, extracted wines. Our light touch produces wines that pair well with food rather than overwhelming it.
Our goal is to produce a wine that will age and transform into something new with every year it spends in the bottle.
In addition to Pinot noir, we make two white wines, Gewürztraminer and Riesling, that are modeled on the great white wines produced in the Alsace region of France. We shepherd our grapes through a process that leads to a dry, crisp wine of moderate weight on the palate, pairing well with many foods and all seasons.
Our wines are available to our mailing list and select retail and restaurant accounts. Information on our wines and vineyard sources is below. If you have specific questions not addressed in the resources below, please feel free to contact us by phone (707.433.8270) or email.

Bios
Alan Baker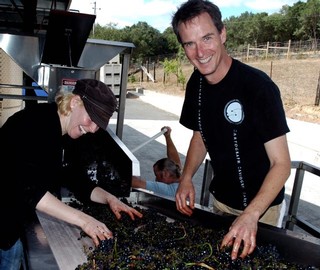 In 2005, Alan Baker quit his award-winning career in public radio, sold his home, loaded everything into a truck and moved from Minnesota to California. It was a well-developed passion for wine, the wine industry, its visionaries and that seemingly magical process of transforming grapes into great wine that led to this radical life change.
Upon arriving in Northern California, Alan immediately sought work in the wine industry. Taking positions at Unti Vineyards and Peterson Winery he immersed himself in all aspects of the trade, from vineyard and cellar work to sales and service. The idea was to learn as much as he could take in.
At the same time, Alan employed his radio production talents to create "Ratcasts From the Cellar Rat," a National Public Radio sponsored podcast that gave an inside look at all aspects of the wine business. His podcasts, writings and interviews with members of the industry quickly developed a loyal following—a following that would eventually lead to the production of his first wine.
Alan's wine education took him next to Crushpad, the startup urban winery in San Francisco, where he was involved in sales, marketing and production — and where he launched his first commercial wine brand, Cellar Rat Cellars, with the support of his podcast listeners. At Crushpad, he met Serena, who shared his interest in creating a life centered around wine.
In 2009, Alan left Crushpad and moved with Serena to Healdsburg in the heart of Sonoma County, where they founded Cartograph. Today, he spends his days in the vineyards and in the cellar, overseeing the magical process of turning grapes into wine.
Serena Lourie
The winding path that brought Serena Lourie first to Crushpad in San Francisco then eventually to Healdsburg, California to launch Cartograph echoes the global trajectory of Cartograph's wine label.
Growing up in a bicultural household, with one foot in France and the other in the United States, meant that the cornerstone of the day was the family meal. Friends and guests would pull up chairs alongside the relatives and, with the first pour, the storytelling would commence. Invariably, the evening would end with someone pulling out a dust-coated bottle from Grandfather's cellar with a toast: "To family!" Such evenings made the distance between far-flung friends and family members seem not so far, and created a tradition that Serena carries on wherever she travels.
In college Serena dedicated her studies and ultimately her career to caring for society's most vulnerable as a registered nurse, specializing in child and adolescent mental health. Recognizing the inefficiencies in the healthcare system, Serena pursued her Master's degree in healthcare administration and an MBA and developed innovative adolescent mental health programs adopted in hospitals and schools nationwide.
Eager to explore business practices of other industries, Serena joined a Japanese tech company in Silicon Valley and honed her skills in customer service, operations, and user experience. Thriving on the energy of startup culture but seeking to accelerate her learning, Serena joined the founding team at Lowercase Capital whose mantra echoed her own trajectory: "we enable startups, fuel the ambitions of their entrepreneurs, help them grow as people, and marvel at the audacity of their insistence upon changing the world."
When not working, Serena explored California's wine regions. As her typical curiosity and determination took hold, she found herself not just sampling the wares, but meeting the growers and winemakers and learning the nuances of fruit and fermentation. The call was too strong to ignore. Wine tastings and classes only encouraged Serena to learn more about the process of wine-making and she soon headed to the groundbreaking urban winery, Crushpad. There she met Alan Baker who guided her first winemaking venture. In producing those barrels, their lives, their thoughts on wine, and their desires to make a life in the wine industry melded together.
By 2009, they founded Cartograph, with the winding arcs of its label mirroring the diverse locales and experiences that underpin the colorful and eclectic textures of Cartograph's wines. Today, Alan's primary focus is making the wine and Serena manages the daily operations and both look forward to sharing wine with you.Our goal is to produce a wine that will age and transform into something new with every year it spends in the bottle.

Winemaking and media inquiries:
Alan Baker
Alan@cartographwines.com
Sales and trade account inquiries:
Serena Lourie
Serena@cartographwines.com