Trade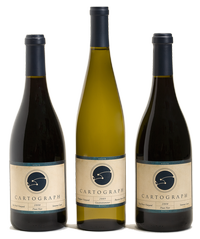 We focus primarily on Pinot noir at Cartograph. We believe this wine is most intellectually intriguing and most satisfying when the winemaker emphasizes balance, nuance and complexity over power and intensity. This approach calls for a light hand in the cellar; it also means picking grapes slightly earlier than wineries that want to produce big, extracted wines. Our light touch produces wines that pair well with food rather than overwhelming it.
Our goal is to produce a wine that will age and transform into something new with every year it spends in the bottle.
In addition to Pinot noir, we make two white wines, Gewürztraminer and Riesling, that are modeled on the great white wines produced in the Alsace region of France. We shepherd our grapes through a process that leads to a dry, crisp wine of moderate weight on the palate, pairing well with many foods and all seasons.
Our wines are available to our mailing list and select retail and restaurant accounts. Information on our wines and vineyard sources is below. If you have specific questions not addressed in the resources below, please feel free to contact us by phone or email.

Winemaking and media inquiries:
Alan Baker
Alan@cartographwines.com
Sales and trade account inquiries:
Serena Lourie
Serena@cartographwines.com