Blog
Welcome to our blog! This is where we post the stories and pictures in greater detail than the nuggets on Twitter and Facebook. Enjoy! - Alan & Serena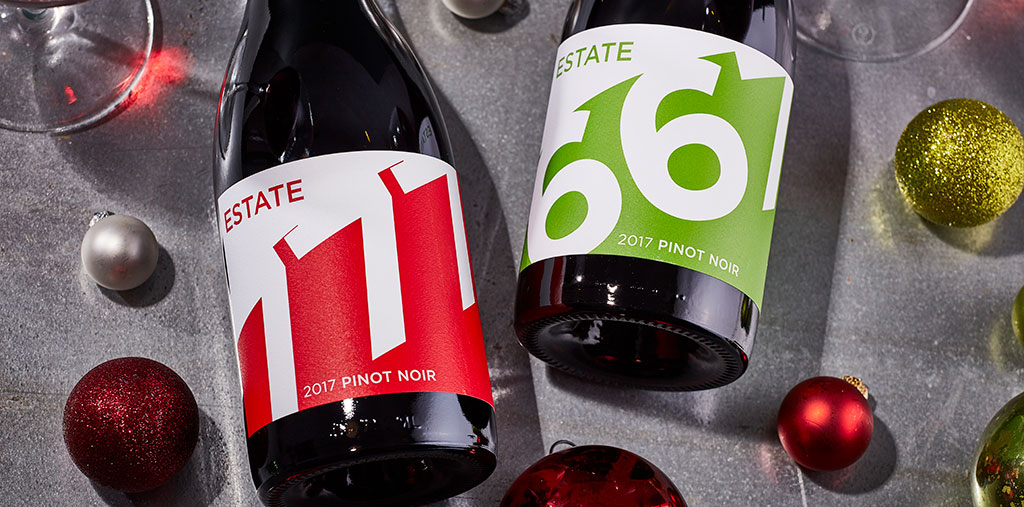 If you want to order gifts of Cartograph wine for friends, family and clients, now's the time—and don't forget to stock up for your own holiday celebrations! Whether you have Pinot lovers on your gift list or just need to make sure you have your own stash of the good stuff hidden from Uncle Jack, we've got you covered.
---
Holiday Recommendations
The holidays are a perfect time to order a gift set or a library magnum. Some of our favorite gift sets this year: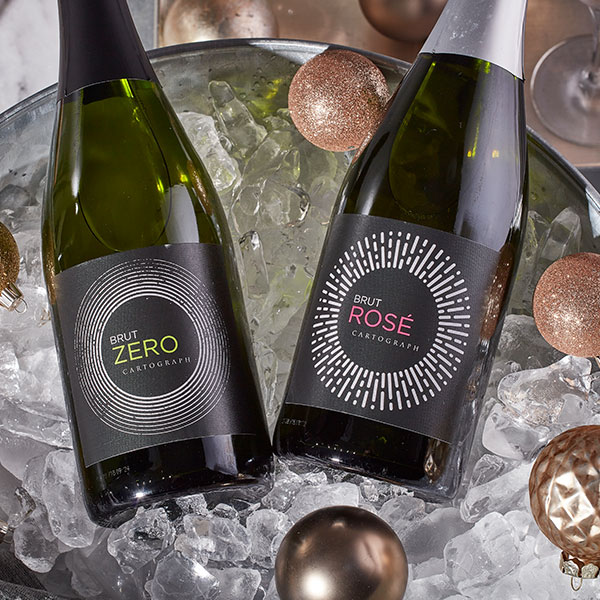 Celebrate sparkling: 2013 Brut Zero and the 2013 Brut Rosé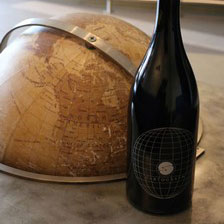 And don't forget one of the most amazing gifts you can give: A Cartograph magnum!
---
Holiday Shipping
We're still able to ship all over the country via UPS 2nd-Day Air, and can still do ground shipping to West Coasters. As our holiday gift to you, we'll cover the difference between ground shipping and 2nd-Day Air on orders of six bottles or more to locations that require faster shipping.
Holiday shipping deadlines:
Christmas delivery (arrives by Dec. 24)

Ground shipping:

Midwest and East Coast: Order by Dec. 14
West Coast: Order by Dec. 18

2nd-Day Air: Order by Dec. 18



New Year's delivery (arrives by Dec. 30)

Ground shipping:

Midwest and East Coast: Order by Dec. 20
West Coast: Order by Dec 23

2nd-Day Air: Order by Dec. 26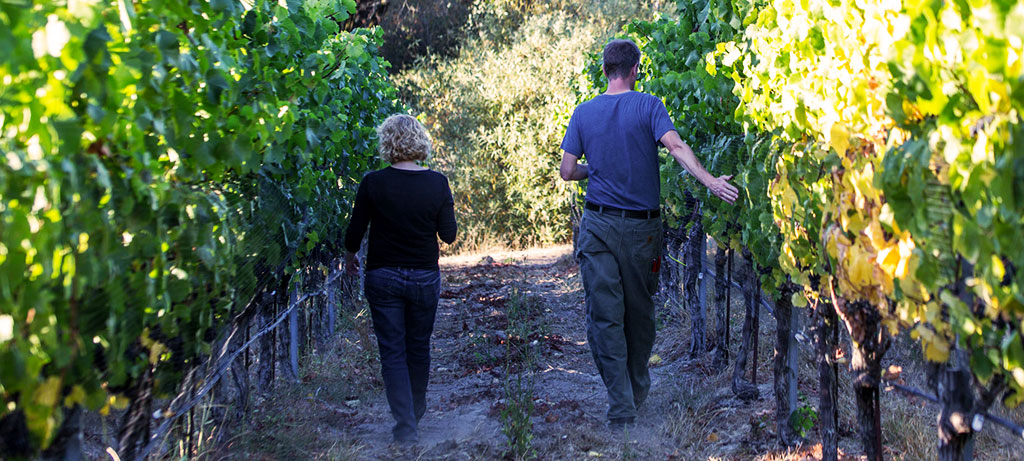 As we look back on 2019, we wanted to share some of our favorite moments of each month. Every season brings its annual tasks, but every year they're slightly different. Here are some of our fondest memories from 2019.
---
January
Think January is the dead of winter and there's not much going on? In reality, there's a lot of work going on behind the scenes to make sure the Rosé and white wines are all cleaned up and ready to bottle. It's our last chance to make sure we're setting up each wine for a successful life in the bottle.
---
February
Brut Rosé for Valentine's Day! We needed an excuse to open the Brut Rosé, and this seemed like a good occasion.
---
March
The Cartograph Estate vineyard received its sustainable certification!
---
April
Budbreak!!! We love budbreak, because it sets the markers for our harvest timetable and kicks off the excitement of the growing season. It's a time of pure optimism. At this time of year, the vines hadn't suffered any slights like a late rain or long heat spell, so we could look ahead and dream of an ideal growing season.
---
May
We greeted spring by planting veggies and cleaning up the vineyard to get it ready to support the new vines.
---
June
Spending as much time as possible at the outdoor office.
---
July
Every couple of years, we showcase Cartograph at a tasting venue outside of Sonoma County. This year, we had the pleasure of returning to the International Pinot Noir Festival (IPNC) in McMinnville, Ore., with our 2016 Cartograph Estate Pinot Noir.
---
August
This year, we were twiddling our thumbs during most of August, when we'd normally be driving all over Sonoma and Mendocino counties sugar sampling and getting everything ready for harvest. We discovered it's just as stressful to wait around not doing those tasks as it is to be buried by them. Who knew?
---
September
The frenetic of energy of harvest means you have to fire on all cylinders to make sure everything gets done. This year was crazy, with five days straight of all the Pinot fruit coming in.
---
October
We had our epic adventure to Oregon to get Riesling, and our last grape pick was Oct. 25. It's always a bittersweet combination of joy at wrapping up harvest and sadness that our days in the vineyard are ending for the year. This year, though, we're looking back with gratitude and relief that our fruit came into the winery before the Kincade fire.
---
November
We continued the tradition of our end-of-harvest celebration lunch with Cartograph Circle members! And Virginie Boone gave us a wonderful 92-point review of the 2013 Brut Rosé. (harvest lunch) We also picked olives for curing at home. While we have 200 olive trees, most of them produced few to no olives this year, so we didn't even pretend that we could press oil. We will have some nice snacks in a few weeks, though, after the curing olives mellow out.
---
December
This chapter is being written right now, but we look forward to spending time with friends and family this holiday season.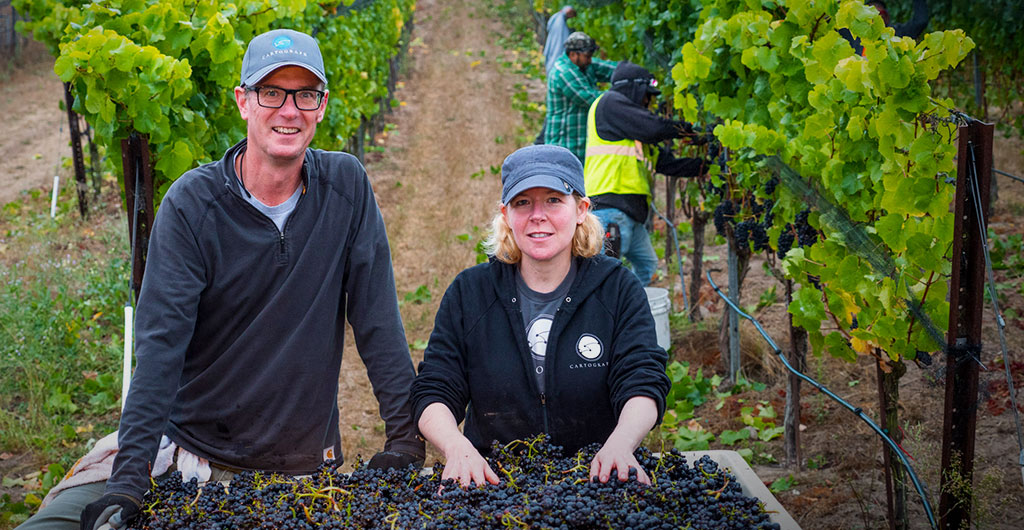 This was a unique growing season, so harvest was interesting in a number of ways. The Pinots are all showing well; I feel like they've come together quickly, considering that we harvested almost a month later than usual. And as of this writing in early December, the Rieslings are still fermenting! That's a first.
The biggest factor affecting the 2019 grape harvest in Northern California was our cold, wet spring, which got the vines off to a very slow start. With moderate high temps all summer long, the fruit just didn't catch up, so we picked very late in the season: Our last Pinot pick was September 28, and the last Riesling didn't come in until October 25.
Cool temps throughout the summer meant that flavor accumulation was slow, and with the days getting shorter and cooler as we approached harvest, we found we needed a little extra hang time to get our flavor profile right. The Pinots all seem to be right around the 14% mark for alcohol, which makes sense — that extra hang time to get flavors up meant that we got a bit more sugar accumulation as well. We have some pretty fruity Pinot in barrel at this point, but they'll be quite elegant and balanced by the time we're ready to release them. The Pinots are almost all tucked in for the winter.
Our Riesling Run—the road trip to Oregon that we took to get Riesling from Brooks Winery in Willamette Valley—was a hoot, but a lot of driving. We actually inoculated the juice in the tank on the trailer before heading back south to California. Towing a big sloshing tank of fermenting grape juice made for some white-knuckle moments on a few mountain passes, but we made it home with everything in great shape. That fruit was a dream to work with — we didn't have to do anything more that tweak the tank temperature to ensure a slow, even fermentation. It's close to dry in the winery now, and extremely bright on the palate.
(Photos: Jillian Barnhart)
The Riesling from Marin County is a different animal altogether. It's a little hard to tell with neither Riesling actually finished fermenting yet, but this lot will have a little broader palate weight. The fruit also had a lot of copper-colored, partially dried berries that went into the press, which gave the wine a nice golden color.
Having these Rieslings still fermenting so late in the year might cause a bit of a problem trying to get them ready for bottling in February. We'll need to get them settled out, heat-stable and cold-stable in time to get them filtered and ready for the bottling line.
Because we won't have Gewürztraminer to release in the spring, I did secure more juice for Rosé. It will be a mix of Pinot pressed directly for Rosé with some Pinot juice that we snuck out of other lots that we were harvesting. The palate weight is just a little more full than last year's Rosé, though still light on the palate, with a slight bright-pink hue.
I'm happy to have all the wines clean and heading into winter with very intriguing flavors and aromas. However, with all the waiting to get fruit in, it felt like a strange harvest, and it was a little hard to get into the groove. I'm not looking for any more of those 36-hour days of yore, but I do hope that the new normal will look a little more like the old normal.
Cheers,
Alan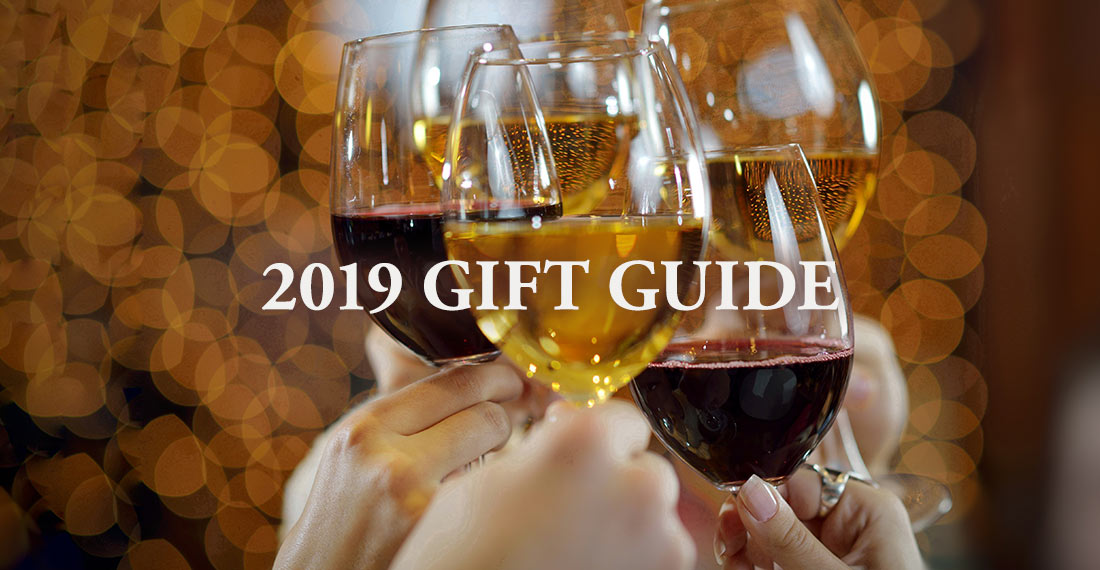 For a little holiday table inspiration we've created a gift guide with a few of our favorite wines and recipe pairings.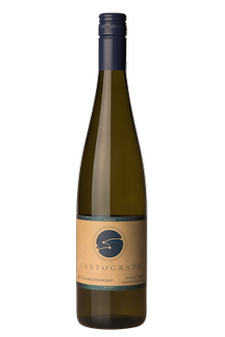 The ultimate Thanksgiving wine! The 2018 Starscape Vineyard Gewurztraminer brightens the flavors of turkey while cutting through the richness of the meal.
SHOP
---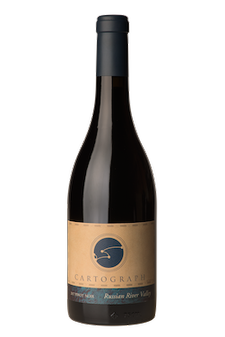 Our favorite holiday pairing: Roasted Butternut Salad with Warm Cider Vinaigrette. This salad will be coming with us this year to our Thanksgiving celebration!
SHOP
---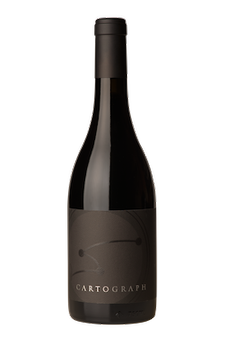 For those looking to serve an alternative to Turkey this holiday season, this wine pairs beautifully with Roasted Duck Breasts with Pomegranate Sauce. The sauce highlights the cranberry and cherry in the Pinot and the richness of the duck breast complements the earthy elements in the wine.
SHOP
---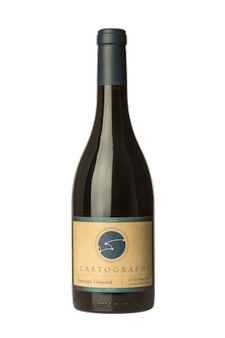 Pairing with Pinot and especially this vintage of Starscape brings out the lovely earthy aromatics of this: Wild Mushroom Risotto
SHOP
---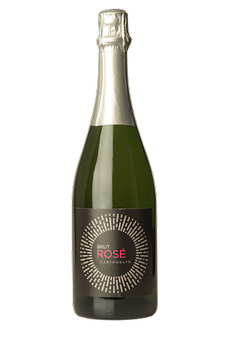 Bubbles work in almost any holiday setting but if you're looking for a food match try this: Crab Salad with Endive
SHOP
---
Holiday Shipping Deadlines
For guaranteed arrival by Thanksgiving, please place order by Sunday, November 24. For guaranteed arrival by Christmas, please place order by December 15 (Shipping is weather dependent and may require 2-day air shipping depending on location and temperatures)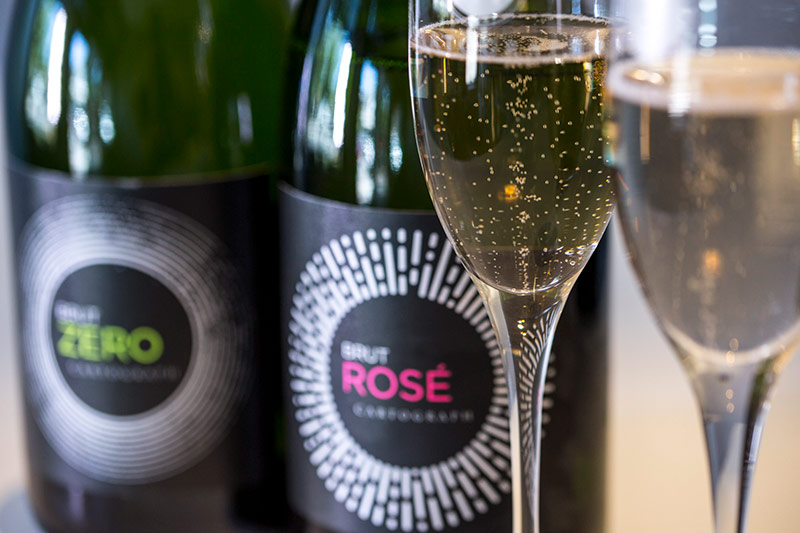 We're Breaking Out the Bubbles!
Featured Wine Tasting: Sparklings for your Holidays
Join us for a special tasting of our 2013 Brut Zero and 2013 Brut Rosé sparkling wines.
Whether you are proposing a toast or wrapping up a meal with the perfect sweet treat, these sparklers will elevate your celebration and top off the perfect meal.
Saturday, December 7, 2019 from 12 - 4pm
Cartograph Tasting Room, 340 Center Street, Healdsburg, CA
Cartograph's first Willamette Valley Riesling is in the tank.
As our Pinot noir harvest wound down in the Russian River Valley, this past week we packed our bags and headed north to Oregon's Willamette Valley for our first Riesling Run mission.
Over the past six years, Riesling has become a trademark for Cartograph and we continue to fall in love with this special grape with each passing vintage. We, unfortunately, lost our favorite Riesling source in Mendocino last year. As we were telling the story to our friends at Brooks winery in the Eola-Amity Hills region of the Willamette Valley this spring we hatched a plan to keep great Riesling in our portfolio by purchasing some of their estate grown Riesling. We couldn't resist the opportunity to get our hands on fruit from what has become known as one of the top Riesling appellations in the West.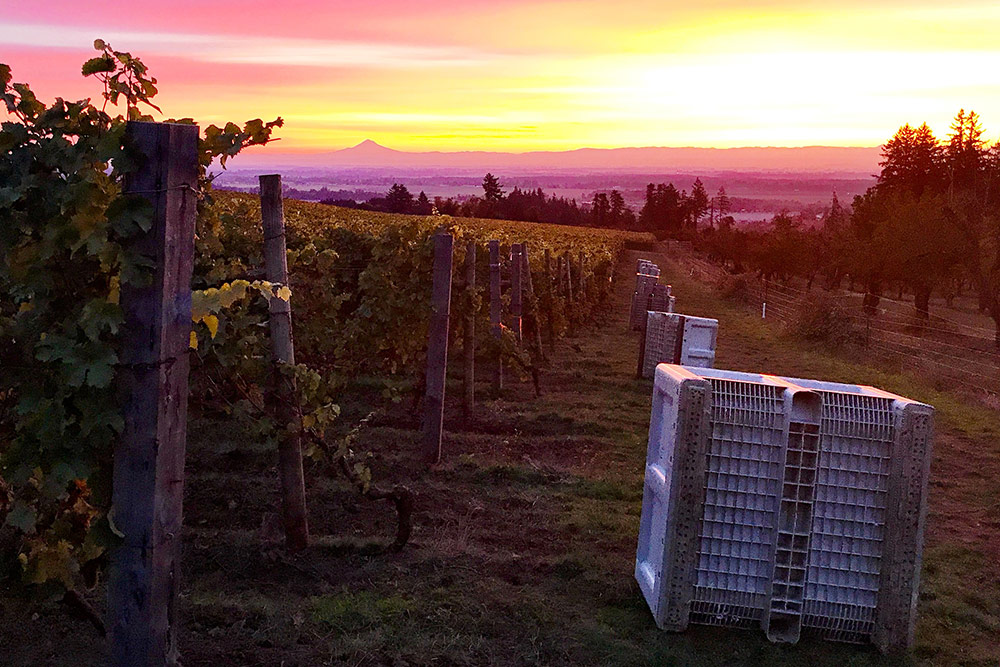 (Photos: Jillian Barnhart)
Brooks farms their estate biodynamically. This Demeter certified biodynamic block of Riesling is 45 years old and growing on its own roots, not grafted to another rootstock. This will be the first biodynamically farmed fruit we have worked with and are excited to move beyond the sustainable farming we practice at our estate to work with fruit that is grown in a way that not only sustains the land but improves soil health and habitat around the vineyards.
(Photos: Jillian Barnhart)
After an 11 hour journey up the coast to Oregon, we were welcomed by two beautiful tons of Riesling—we pressed the fruit at Brooks and after settling the tank for 48 hours we backed the trailer with our 350 gallon stainless tank up to the winery door and racked 320 gallons of clean juice into it without even pulling the tank off the trailer. We had all sorts of contingency plans for weather, tank movement on the trailer, etc but it worked like a charm. I don't know if you know this about winemakers but we're sort of paid to worry about what might go wrong so you always have a plan to recover before it really hits the fan. We inoculated the tank with yeast right there on the trailer, double checked and tightened the straps on the tank, and hit the road. It was a different experience driving through the mountains with 320 gallons of juice sloshing around behind us but moving slow and steady got us back to Healdsurg about 10 PM.
(Photos: Jillian Barnhart)
Back home, the Riesling is off the trailer and plugged into cooling here in Sonoma and smells lovely as it is just getting to that point where all the stone fruit aromas start to develop. Stay tuned for more on what will be Cartograph's first wine made from fruit sourced outside of California. This is sure to be a gorgeous wine and we are excited to have you along for the ride on this new adventure. #RieslingRun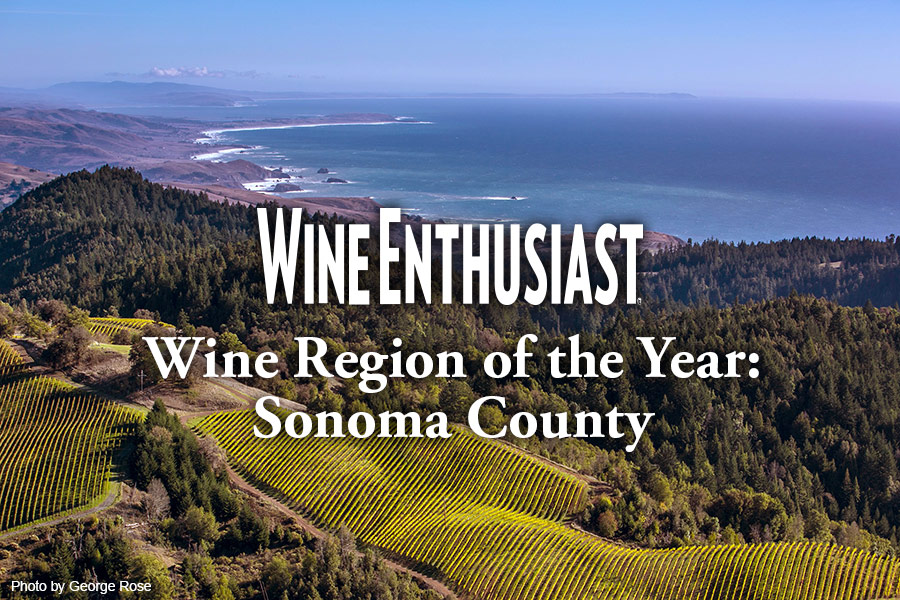 The Wine Enthusiast's Wine Star Awards recognizes Sonoma County as the 2019 Wine Region of the Year! Wine Enthusiast's Editor Virginie Boone calls Sonoma County "The most dynamic and resilient wine region in America right now, it's as complex as its outstanding wines."
As we start our tenth harvest as Cartograph, I look back at the many growers and winemakers who helped us learn our craft and grow our small brand with gratitude. I'm glad to see others feel as strongly as we do about this wonderful place we've made our home." - Alan Baker

My learning lesson this week in the vineyard: wind damaged vines (grrr). So our new vineyard is in a particular part of Sonoma county that is notorious for it's afternoon winds. Every afternoon with the precision of a Swiss watch, the winds start to blow and then finish their wailing around dusk. The effect of that in May when the canes are growing is cane breakage.
So, I spent an afternoon going row by row (108 rows) to pull off the wind damaged canes (damaged canes breakdown which leads to rot and other potential issues).
Holy eye opening experience from an agricultural side (i.e. how do we prevent this loss in the future?) and from a financial perspective (i.e. how do we prevent this loss in the future?). ‪#‎vineyardlearning‬ ‪#‎livingthelife‬ - Serena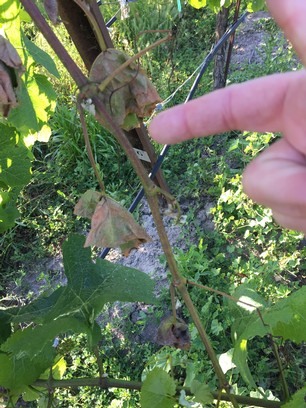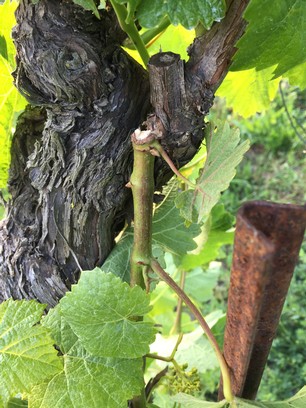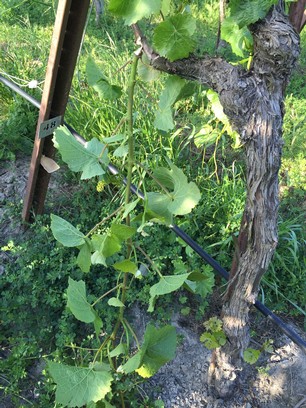 Timpano is in the oven, we're sipping on the soon to be released Cartograph blanc de blanc bubbles and we're enjoying this beautiful blue sky as the sun sinks on the final day of 2015. Here's to a wonderful year to come! - Alan & Serena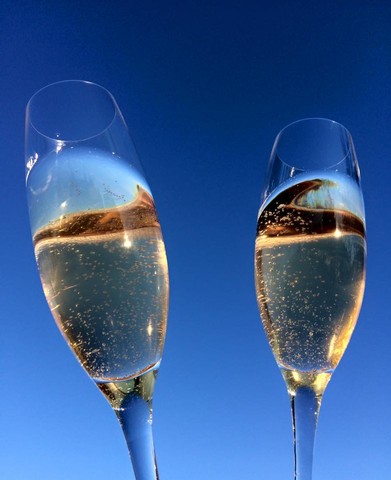 Team Cartograph wishing you all a happy new year! - Serena