October 3, 2012 | In the Winery | Serena Lourie
Cold soaking the Pinot Noir
We picked two different lots of Pinot noir last week. Both lots went from the vineyard to the winery for crushing/de-stemming and then into tanks to undergo a cold maceration ("cold soak"). Keeping the grape juice and skins in a cool environment for a couple of days makes several things happen:
compounds from the grapes get extracted into the must
color is extracted from the skins which helps create a darker colored juice
the aromatics of the wine are increased as elements from the skins, seeds, and grape body seep into the juice
it reduces the chances of a spontaneous fermentation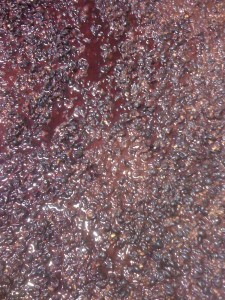 In one of our lots, a spontaneous fermentation began on day 3 so we let it kick off for a day before inoculating it with yeast. We'll go into detail about inoculation in another post.
- Serena
Comments
Commenting has been turned off.