July 17, 2012 | Out & About | Serena Lourie
An awesome adventure for a 2009 Perli bottle
One of the fun things about making wine is that people will share bottles with friends and then tell us about when the wine was opened. Recently, we received this great photo: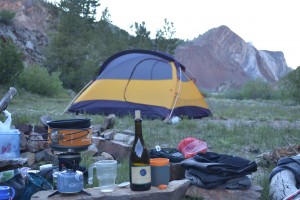 A friend had given a bottle of our 2009 Perli Vineyard Pinot Noir to another friend as a gift. That bottle ended up on a backcountry adventure to the High Sierras. This is a fun photo of where it was enjoyed - near Lake Dorothy just below McGee Pass. It's really fun for me to think about people sharing our wine and the adventures of each bottle. I was smiling all day thinking about this picture so I wanted to share it with you. I hope on your next adventure, Cartograph will be packed in your bag too. - Serena
Comments
Commenting has been turned off.