September 18, 2013 | In the Vineyard | Serena Lourie
Harvest Update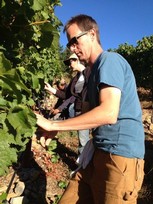 Harvest season is upon us and we're excited that we have nine different picks this year: five Pinot noir picks and one pick each of Chardonnay, Riesling, Gewürztraminer, and Sangiovese.
In August we picked the Chardonnay that went into our very first sparkling wine (which Alan described here). What a fun way to celebrate our five years of harvests in Healdsburg!
In the first eleven days of September, we picked almost 18 tons of Pinot noir. Luckily, we had a solid crew at each vineyard and additional help from Deb and Tina, our new Cartograph hospitality team.
We started at 4 a.m. on Labor Day in the Russian River Valley and picked two different Pinot clones (115 and 2A) that came in at a little over four tons. Wednesday at 5:30am we headed to Green Valley at the far western edge of the Russian River Valley and picked three different clones of Pinot (Pommard, Swan, Heritage), about four tons total. Thursday we were up in Mendocino Ridge for the Perli Vineyard sunrise pick and picked two tons of Pinot (clones 667 and 777); and wrapped up that week on Saturday on the flats at Floodgate Vineyard at 4a.m., picking almost five tons of Pinot (clones 667 and Pommard). We finished the Pinot pick on Sept. 11 at Mariah Vineyard in the Mendocino Ridge appellation where we picked just over 2 tons of Pinot (clones 115 and 777).
After each pick, we brought all this Pinot to our new winery home at Punchdown Cellars, where we sorted and destemmed the grapes-otherwise known as the "crush" and got them into their tanks to cold soak before fermentation. (More info about the pick process here and the cold-soak process.)
Alan spent the days after each pick gearing up for the next one by tasting and sugar-sampling the fruit in our other vineyards, while I focused on our tasting room project.
After we finished picking the Pinot, we had a few days off before picking the Gewürztraminer from Floodgate Vineyard on Sept. 16. Next up: our Sangiovese and Riesling, which are both a bit behind the Pinot, so those picks will likely happen in late September or early October.
Comments
Commenting has been turned off.