November 20, 2012 | Serena Lourie
What are you having for Thanksgiving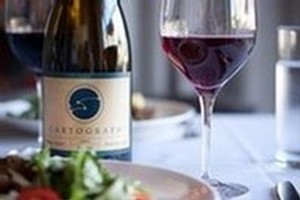 My favorite part of Thanksgiving is coming together with friends and family and sharing a meal. Everybody slows down a bit for a couple of days and we appreciate the time spent together and the delicious smells and tastes of the meal. Beyond the beautiful colors and flavors of the meal, I love how the wines Alan makes dance with a Thanksgiving dinner. Here are our Thanksgiving menus based on the Floodgate Vineyard and Perli Vineyard Pinot Noirs:
Floodgate Vineyard Thanksgiving
Start with the 2010 Floodgate Pinot Noir then open the 2009 Floodgate Pinot Noir
Mushroom and leek soup
Spinach & persimmon salad
Green beans with ginger and cashews
Spiced tea cranberry sauce
Traditional herbed turkey with gravy (vegetarian option: Wild mushroom and butternut squash bread pudding)
Sourdough, wild mushroom, and bacon stuffing
Soft herb rolls
Pear-cherry pie with an almond crust
Spiced pumpkin layer cake with cream cheese frosting
Perli Vineyard Thanksgiving
Start with the 2010 Perli Pinot Noir then open a 2009 Perli Pinot Noir
Spiced pumpkin soup
Harvest salad with butternut squash, pomegranate, and pecans
Juniper and herb roasted turkey (vegetarian option: Sweet potato gnocchi with mushrooms and spinach)
Fig and sausage stuffing
Cranberry, fig chutney
Roasted beets with a hint of cinnamon
Squash dinner rolls
Pumpkin pie
Pecan pie
We also always have Gewürztraminer on the table. It's a great way to start things off but also is dynamic enough to sip on throughout these meals. This year it'll be the 2011 Floodgate Vineyard Gewürztraminer. The beautiful honeysuckle, citrus nose and dry finish will compliment the spices used across all the Thanksgiving dishes and tastes delicious with turkey.
As for the leftovers the day after, make turkey sliders and open a bottle of the 2010 Russian River Pinot Noir.
Happy Thanksgiving!
Serena
Comments
Commenting has been turned off.