Blog
Welcome to our blog! This is where we post the stories and pictures in greater detail than the nuggets on Twitter and Facebook. Enjoy! - Alan & Serena


I found myself out in the Russian River Valley today so I swung into Floodgate Vineyard to check on the Pinot Noir and Gewürztraminer blocks. After a slow start to the growing season with late rains and cool temps through May and into June, we are now catching up with mid eighties in the daytime. The overnight temps have also been quite warm compared to normal so we're gaining some ground back towards normal. These two pictures are from our block of 777 Pinot Noir.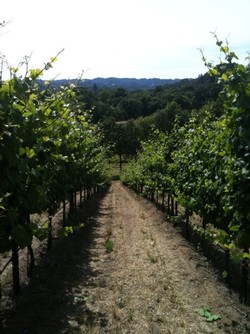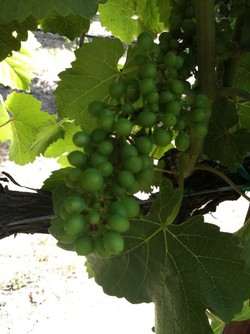 One thing that the abundant rainfall has given us is a lot of canopy growth. The vines are already well above the top trellis wire in many rows. The clusters look to be medium sized and fairly uniform. The slight berry size variations should even out as the season progresses.
Fruit set looks good in the Pinot Noir and maybe slightly lighter than normal in the Gewürztraminer due to rains that fell during bloom. This lighter set might be a good thing since loose clusters are much less likely to have mildew problems.
Leaf pulling is mostly complete in the Gewürztraminer block.
Below is the Pinot 777 block which goes into the C. Donatiello Floodgate Vineyard designate Pinot.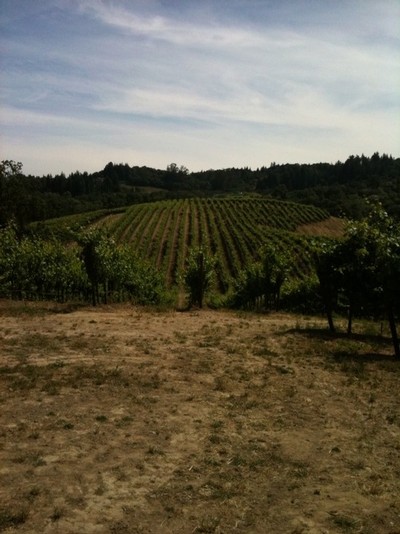 This is such a beautiful vineyard. I'm glad I have reason to visit more frequently now that there are decisions to be made.
- Alan

Maybe it's a sign that I've found the right line of work but I'm continually amazed at how beautiful the vineyards are as they come to life each spring. Here are a few random shots of the young vines from several of our vineyards this spring.
Cheers, Alan
[youtube]http://www.youtube.com/watch?v=Au9T1XvtocU[/youtube]

Professional bottle shots done
Tech sheets done
Web content done
Wine is labeled and tastes awesome (am biased)
.... only about 50 more things to do in the next nine days! Can't wait to share these wines with everyone!!
- Alan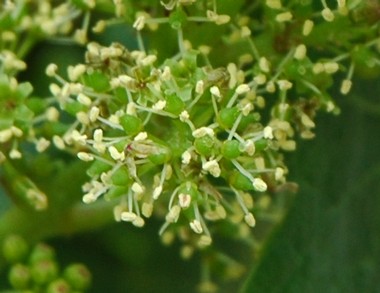 Serena and I took a swing through the Gewürz block of the Floodgate Vineyard today to see how bloom was progressing. We've had a long cool spring and so bloom was delayed approximately ten days. Also we've seen rains moving through recently. We'll have to come back and check to see what pollination rates are for various blocks but I expect there to be a slightly reduced yield. It's a little tough to see but in the photo you can see the bloom. Grape blooms aren't very showy really but they self pollinate so they are very efficient at making sure they set a solid crop in the right conditions. The rains tend to make some of the caps stick shut so they don't pop open to be pollinated. This condition called shatter produces a cluster with missing grapes. We're not worried at all about these Gewürz grapes because a loose cluster has less tendency to hold moisture which could cause mildew. Also we'll have to drop less fruit to balance the fruit to canopy ratio later in the season. We're quite please to see an even set of potential cluster. We'll get an update posted as soon as we can see the berries coming to size.
In the picture below you can see what look like tiny grapes but they are really clusters with the caps still covering the blooms. These are the caps we want to be dry so they pop off and expose the bloom for pollination.

Grape Cluster with Caps Still in Place
Cheers for now.
- Alan

We have been working feverishly to be ready to release three wines for Cartograh's inaugural release and to get our new Cartographwines.com website up and operational. It's been a fabulous experience getting our first vintage of Cartograph wines to bottle. Now, we are focused on getting our online store set up to make the wines available to all the great folks who have been so supportive of this adventure.

In late spring/early summer we will announce the inaugural Cartograph release which will consist of these three wines:
2008 Split Rock Vineyard Pinot Noir - Sonoma Coast
2008 Two Pisces Vineyard Pinot Noir - Sonoma Coast
2009 Floodgate Vineyard Gewürztraminer - Russian River Valley

You can keep up on all things Cartograph by becoming a fan of Cartograph on facebook or sign up for email updates. More release details coming soon ...

- Serena

The new labels for the three Cartograph wines that will be released first have arrived! The back label is a data driven timeline that shows you the lifecycle for that wine. We added a final dot on the timeline for you to fill in called "Drink." You can fill in the date you drank the bottle or when the bottle should be drunk by or whatever date is important to you in conjunction with the wine. It's another step closer to the release...
- Serena


Bottling is a loud, joyous, flurry of activity. It reflects the culmination of months or even years of work you've done on one particular wine. All the decisions about when to pick, how to ferment the grapes, what the aging regimen will be, and so on are all over on this day. The wine gets bottled and it evolves on its own without your assistance. Your only remaining decisions are when will you open it and, perhaps, if you will decant it or share it with others. (Remember, sharing is good).
Prior to the actual bottling day you are besieged by numbers for pH, acidity, dissolved oxygen, a couple different sulfur numbers, final alcohol percentages... and the list goes on. You're trying hard to hit the window of time when the chemistry of the wine, as well as, the tastes and aromas are all at their best possible point. With all three wines we bottled things went very well. The 2008 Pinot benefited from some extra time in barrel (16 months rather than the typical 11) and the 2009 Gewürztraminer was bottled just as the body of the wine started to flesh out but the aromas and acidity are both quite vibrant.
Bottling is a gadget intensive process (which my inner tech geek loved). Once you're ready to go, boxes of bottles are dropped on a conveyor belt that corrals the bottles into a line where some version of a big circular frame sucks them up and sparges them with nitrogen gas in order to remove oxygen and any dust that may be in the bottle. The bottles enter a filling chamber where up to 20 bottles at a time are placed on a revolving carousel of pistons that push the bottles up to the filling spout which kicks off the flow of wine into the bottle. (side note: the wine has been pumped or fed via gravity from the barrels or tanks to the fill basin above the filler spouts). From there the filled wine bottle is then sent off via conveyor to get the cork, foil, and label and then the conveyor belt runs it over to the packing line where the bottle is inspected and boxed.
Mobile Bottling Line in Action
Throughout this process, there are numerous quality checkpoints to assess the fill level, the cork depth, the label straightness etc. And, on the Pinot noir bottling line, there was a laser which etched a code onto each bottle (totally awesome!), which is particularly great if you are bottling shiners (bottles without a label).
For the Gewurztraminer we used a mobile bottling line which was housed inside a semi truck. It was really neat to see the wine brought in via gravity flow from the steel tank to the bottling line in the semi truck. The back of the truck was open so that one side received the empty bottles and the other side pushed out the boxes with filled bottles. Check out this video of the inside of the truck in operation it's amazing how they can pack this many spinning, squirting, whirling parts into a trailer.
Slideshow of Both Days of Bottling
So, while there are a thousand details to keep in mind as you are prepping for and then running the bottling process, your constantly smiling as you see your wine go from tank/barrel to bottle. We'll keep you updated on the release but we're currently thinking that both the 2008 Pinot and the 2009 Gewurztraminer will be released towards the end of April/May.
Cheers, Serena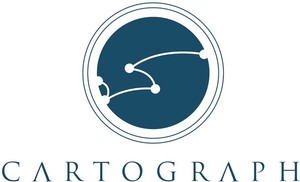 It's Official, We're a Winery!
It's almost unbelievable but after months of questionnaires, finger printing, background checks, trademark battles, and registering with about a dozen government agencies, we're legit, and can start selling wine under our new label. We'll be laying out the cool concept behind Cartograph and publishing our new website soon so please stay in touch.
We're excited by this new venture and hope you'll come along for the ride.
- Alan Baker and Serena Lourie