December 10, 2019 | Cartograph Wines Alan & Serena
From the Winemaker: Harvest Wrap-Up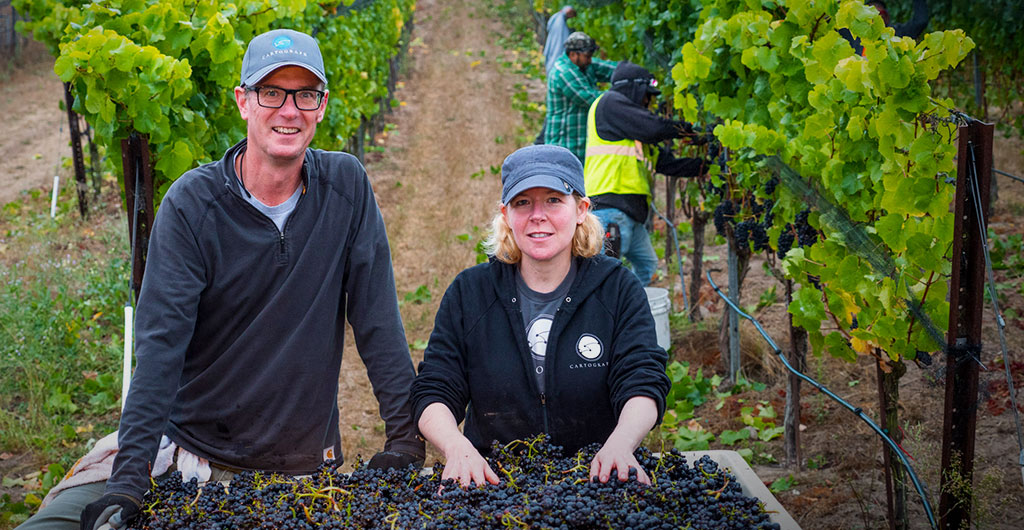 This was a unique growing season, so harvest was interesting in a number of ways. The Pinots are all showing well; I feel like they've come together quickly, considering that we harvested almost a month later than usual. And as of this writing in early December, the Rieslings are still fermenting! That's a first.
The biggest factor affecting the 2019 grape harvest in Northern California was our cold, wet spring, which got the vines off to a very slow start. With moderate high temps all summer long, the fruit just didn't catch up, so we picked very late in the season: Our last Pinot pick was September 28, and the last Riesling didn't come in until October 25.
Cool temps throughout the summer meant that flavor accumulation was slow, and with the days getting shorter and cooler as we approached harvest, we found we needed a little extra hang time to get our flavor profile right. The Pinots all seem to be right around the 14% mark for alcohol, which makes sense — that extra hang time to get flavors up meant that we got a bit more sugar accumulation as well. We have some pretty fruity Pinot in barrel at this point, but they'll be quite elegant and balanced by the time we're ready to release them. The Pinots are almost all tucked in for the winter.
Our Riesling Run—the road trip to Oregon that we took to get Riesling from Brooks Winery in Willamette Valley—was a hoot, but a lot of driving. We actually inoculated the juice in the tank on the trailer before heading back south to California. Towing a big sloshing tank of fermenting grape juice made for some white-knuckle moments on a few mountain passes, but we made it home with everything in great shape. That fruit was a dream to work with — we didn't have to do anything more that tweak the tank temperature to ensure a slow, even fermentation. It's close to dry in the winery now, and extremely bright on the palate.
(Photos: Jillian Barnhart)
The Riesling from Marin County is a different animal altogether. It's a little hard to tell with neither Riesling actually finished fermenting yet, but this lot will have a little broader palate weight. The fruit also had a lot of copper-colored, partially dried berries that went into the press, which gave the wine a nice golden color.
Having these Rieslings still fermenting so late in the year might cause a bit of a problem trying to get them ready for bottling in February. We'll need to get them settled out, heat-stable and cold-stable in time to get them filtered and ready for the bottling line.
Because we won't have Gewürztraminer to release in the spring, I did secure more juice for Rosé. It will be a mix of Pinot pressed directly for Rosé with some Pinot juice that we snuck out of other lots that we were harvesting. The palate weight is just a little more full than last year's Rosé, though still light on the palate, with a slight bright-pink hue.
I'm happy to have all the wines clean and heading into winter with very intriguing flavors and aromas. However, with all the waiting to get fruit in, it felt like a strange harvest, and it was a little hard to get into the groove. I'm not looking for any more of those 36-hour days of yore, but I do hope that the new normal will look a little more like the old normal.
Cheers,
Alan
Comments
Commenting has been turned off.