January 21, 2014 | In the Tasting Room | Serena Lourie
Winter Wineland 2014
Winter Wineland is an annual event put on by an organization called The Wine Road. It's a celebration of winter and wine. Our theme for the event was "A Winter's Starry Night" so Alan covered the ceiling with hundreds and hunders of tiny white lights. It was an uncharacteristically warm and sunny winter day so we had the shades drawn which created an atmosphere of intrigue as you could not see in to the tasting room but once inside, you could see the people outside pressing their noses against the window to see what was happening.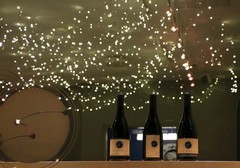 We created four stations to give people the Cartograph experience. The first stop was "Wine on Tap" where Tina was pouring the 2012 Floodgate Vineyard Gewürztraminer, and being such a warm day it was met with much delight. Besides people being pleasantly suprised by the crisp nature of our dry Gewürztraminer, they also really enjoyed hearing about the green aspect of our keg program. The next station was in the reserve room where we were pouring the latest wine to join our list - the 2011 Sonoma County Pinot Noir. The bright cranberry and strawberry seemed to shine on such a warm day and it is showing an incredible earthines that had folks refrencing Burgundy quite a bit. The third station was staffed by Circle club members which was really fun and they poured a library wine - the 2010 Russian River Pinot Noir. People loved the wine but truly enjoyed hearing from the Circle members about why they joined the Circle and what their experience of Cartograph was. The fourth station was Deb's conciege station where she answered all sort sof questions, directed people to their next visit, signed up Circle members and ran a raffle for a Cartograph jacket. Alan milled about the crowd and answering questions and sharing the Cartograph story and Serena and another Circle member were the greeters at the front.
All in all, it was a very fun, lively weekend and we met all sorts of new people who we hope will continue to support Cartograph. Perhaps you'll join us next year?
- Serena
Comments
Commenting has been turned off.