January 21, 2015 | Alan Baker
What's up?
A big chunk of my year is spent with a furious focus on one or two aspects of our business. By late November, I've left behind the all day/every day tunnel vision on winemaking to focus on the end-of-year sales season. But as we roll past the holidays and traffic starts to slow in the tasting room, I get to widen my view to take stock of everything—big and small—that's on the horizon. Here's a quick snapshot of what's up.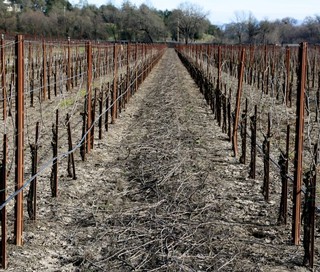 In the vineyard: Pruning is underway. The photo shows the Starscape Vineyard (Floodgate's new name after the vineyard was sold), where pruning is mostly complete. With yearly temperatures rising, it's probably smart for us to get things pruned early to be ready for an early budbreak. You can see in the picture that the pruned wood is piled in the middle of the row, awaiting mulching, and the canes just need to be tied down to the fruit wires. The vines are still completely dormant. In the picture below you can see the buds that formed last year waiting to start their spring swell and eventual budbreak.
In the winery: The 2014 Pinots are settled in for their long winter's nap, and I'm in the middle of pulling everything together for bottling the 2014 Riesling, Gewürztraminer, and Rosé along with the 2013 Sangiovese. The wines are in a great place, so I'm looking forward to getting them into the bottle early in February.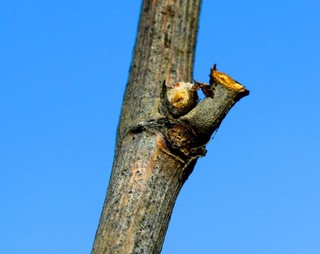 Out there: We rejoiced in early December as a series of storms dropped 15 inches of rain. However, it's been dry for a couple of weeks and we need a LOT more rain to break the severe drought. One of our vineyards will probably not produce a usable crop this year if the water conditions don't improve.
2014 will go down as the warmest year on record. It's been easy to see the evidence of this as we watched the vines take off super-early last February and now as we watch plants bloom out of season or come out of dormancy on the wrong side of the new year. As a result of this ongoing trend, we're looking at shifting some of our grape sourcing to more coastal locations, closer to the cooling influence of the Pacific.
The Cartograph garden is yielding up its winter crops of citrus and lettuces, while the garlic and fava beans are putting on slow growth preparing for a spring delivery.
Oh, and Massachusetts has approved direct sales and delivery to residents! We're all over it, but so is everybody else. As soon as we get the thumbs up, we'll send word to our friends in Massachusetts.
Cheers, Alan
Comments
Commenting has been turned off.