June 14, 2014 | Serena Lourie
Welcome Emily Somple!
We're delighted to introduce you to our new Cartograph Ambassador, Emily Somple.
Emily is a wine-country native, raised by two entrepreneurial parents in St. Helena, Calif. She began her career in the service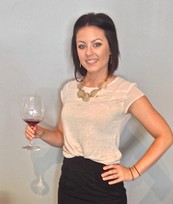 industry at age 15 and continued to wait tables and bartend at some of the best restaurants in Napa Valley and Sonoma County while she completed her degree in music at Sonoma State.
Over the next dozen years, Emily traveled the world, performing on countless stages as a professionally trained singer while continuing her education in wine and food—but she always returned to wine country. While working at a bistro in Calistoga, Emily discovered that wine, food and music could be complementary art forms, and managed to create a position within the restaurant as a server/bartender/performer who waited on customers and sang with the house band during her breaks.
Emily came to us at Cartograph to take the next step in immersing herself in the wine business. Business is in her DNA, and a passion for wine is in her veins. We hope you'll stop by the Cartograph tasting room to meet her.
Comments
Commenting has been turned off.