October 29, 2015 | In the Tasting Room | Serena Lourie
Twice as Nice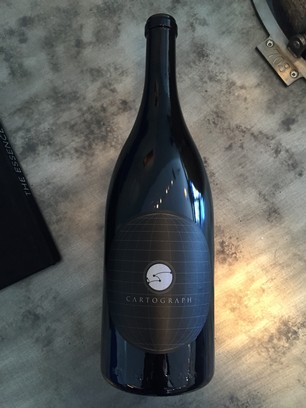 We love magnums — 1.5-liter bottles of wine, equal to two standard bottles. Not only does bringing out a magnum make a party more special, but magnums also age wine more slowly due to the ratio of the volume of wine to the headspace in the bottle.
In 2011, we started bottling magnums of our vineyard-designate Pinots. We had so much fun hand-bottling magnums of our 2011 Floodgate Vineyard and 2011 Perli Vineyard Pinot Noir that we did it again the following harvest . . . and so began the Cartograph magnum program.
All of the magnums are now ready to release, so we will release the 2011 and 2012 vintages first to Cartograph Circle members on Monday, November 9th at 12:30pm, and then to the tasting room in December.
This first magnum release will include eight bottles of each of the following: (limit one bottle of each vineyard per customer)
2011 Floodgate Vineyard Pinot Noir, 1.5L Retail: $120, Cartograph Circle: $102
​2011 may have been a cool growing season, but the Floodgate team's impeccable farming practices in this perfect cool-climate growing location never fails to deliver everything you want from the Russian River Valley. Dark ruby in color, this wine is lush on the palate. If you're a fan of Floodgate, you'll recognize the wild strawberry and violet fruit notes alongside the beautiful earthy undertones that balance this wine on the palate.
2011 Perli Vineyard Pinot Noir, 1.5L Retail: $128, Cartograph Circle: $108.80
The wines from Perli Vineyard always present me with a challenge in adequately conveying such a complex sensory experience. Perli gives us wines that are slow to evolve and ride a line between subtlety and power. My best music-nerd analogy for this Pinot is that it reminds me of a petite, elegant soprano alone in the middle of a large stage who suddenly unleashes the leaps and runs of Mozart's "Queen of the Night" aria: what a surprise that such an overwhelming experience can emanate from such a small person! The nose of this Pinot is more earthy than fruity, the palate is full of dark fruit and loam, yet the wine still manages to be light on its feet. In other words, the nose is all Pinot . . . but as you take in the aromas, they evoke a big personality.
2012 Floodgate Vineyard Pinot Noir, 1.5L Retail: $120, Cartograph Circle: $102
​2012 definitely gave us wines with big personalities. The Floodgate Pinot Noir is that gal with the big smile who's quick to laugh and always has a sparkle in her eye. The wine's aromas are opulent and full of Bing cherry, cola, strawberry and a hint of catmint. The palate is a bit more restrained, but stands out for a Cartograph Pinot as being lush and full in the mouth. An early pick preserved the vibrant acidity that helps give this wine a complex and long finish.
2012 Perli Vineyard Pinot Noir, 1.5L Retail: $128, Cartograph Circle: $108.80
The 2012 Perli Vineyard Pinot Noir aromas are subtle but solidly on the dark-fruit side of things with black cherry, plum and cassis, plus a spicy note of cedar that balances out the fruit notes. It's elegant and balanced on the palate, delivering what we prize about the Perli vineyard: a wine that always rides the line between packing a lot of complexity and remaining light and racy. The inclusion of some stems in the fermentation adds a nice tannin grip that will soften over time, making this an excellent candidate for aging.​
2012 Mariah Vineyard Pinot Noir, 1.5L Retail: $120, Cartograph Circle: $102
Our first Pinot from the Mariah vineyard shows two key elements of the Pinot experience that often don't go hand in hand. Sometimes a Pinot will be decidedly earthy or overtly fruity, but the Mariah offers subtle notes of both. Light dried-leaf aromas mingle with a strawberry-pie scent that makes this a compelling wine before it touches your tongue. On the palate, it's bright and lively, with cranberry fruit and a fresh-cut wood scent coming on the finish.
For those of you who have been eyeing the magnums on the bar in Healdsburg, just a quick note to mention that the screen printed bottles start with 2013, the 2011/2012 have standard labels.
Because the quantity is so limited, we ask that you call the tasting room (707.433.8270) to place your order for shipping or pickup. And stay tuned for our release of 2013 vintage magnums sometime in 2016.
- Serena
Comments
Commenting has been turned off.