November 26, 2013 | Serena Lourie
Thanksgiving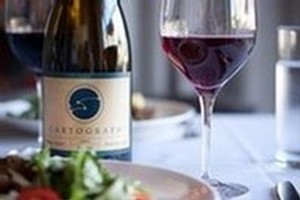 We love November as it ushers in the holiday season. A chance to enjoy delicious meals with friends and family and linger in front of the fire sharing a bottle of wine. It's a wonderful time filled with rich flavors and delicious scents. We are grateful that we get to spend this Thanksgiving with dear friends and have time to reflect on what an amazing year it's been, particularly in the past several months seeing our vision for the new tasting room come to life and to open the doors. The response from the local community, the Cartograph Circle, friends and family, and from new visitors to the tasting room has been wonderful and has made this step in the journey exhilarating.
For this year's meal, we're going to use as many ingredients from the Cartograph garden. What are you serving at your table this year? We'd love to hear if you have any dishes in particular that match our wines as we'd like to develop a holiday recipe series for Cartograph.
Here's our menu:
Winter squash soup with gruyere croutons - The brightness and crisp dryness of the 2012 Rosé of Pinot Noir would be great with this
Juniper and heb roasted turkey - Either the 2011 Perli Vineyard Pinot Noir or the 2012 Floodgate Vienyard Gewürztraminer - the Perli woudl play beautifully with the juniper especially if there was a chanterelle gravy and the Gewürztraminer always works with Thanksgiving turkey
Challah, sausage, and dried cherry stuffing - I think this would be great with the 2011 Floodgate Vineyard Pinot Noir or the 2010 Russian River Pinot Noir
Wild mushroom Tart - I'd serve the 2011 Anderson Valley Pinot Noir with this one
Mashed potatoes with truffle butter
Green beans
Amazing dinner rolls from our local baker (Downtown Bakery)
Cranberry sauce from Downtown Bakery
Pumpkin pie with homemade whipped cream
A fruit gallette from Downtown Bakery
May you all have a wonderful Thanksgiving filled with laughter and love. We wish you could join us at our table. Happy Thaksgiving!
- Serena
Comments
Commenting has been turned off.