September 3, 2013 | In the Tasting Room | Serena Lourie
Tasting room update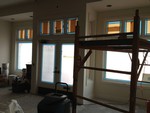 Over the weekend, the tasting room was prepped for painting. I personally find that the task of taping everything is painfully tedious. However, the end result of the perfectly straight lines and not having to clean paint off windows, is wonderful. Look in the corner of the photo and you'll see some of the buckets of paint, ready and waiting to be applied.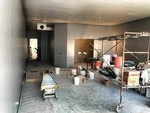 Yesterday, the painting started! The walls are being painted first in a warm, light gray color. Next will be the baseboards and then the ceiling. Then, we'll focus on painting the outside of the building. We're still figuring out where the Cartograph blue will go, but that may happen several weeks after we open and get a better sense of the lighting in the space. By the end of this week the inside painting will be complete which means the floor starts being installed the following week!
Cheers to progress.
- Serena
Comments
Commenting has been turned off.