December 17, 2013 | Serena Lourie
Tasting Room: Day 53
The paper that covered our windows for six months came down on Oct. 26 when we held a tasting of our new releases—and a sneak peek at our new tasting room—for Cartograph Circle members. On Oct. 27, in conjunction with the Pinot on the River Festival in downtown Healdsburg, we opened our doors to the public.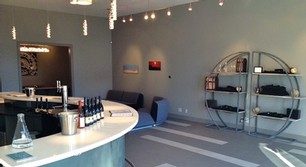 Our furniture is still arriving one piece at a time and we're finalizing some design details, but we should have everything completed in January. Once it's finished, we'll have a grand-opening celebration in February so we can all celebrate together at long last.
The response from our neighbors and visitors has been wonderful and we haven't stopped smiling. If you've visited the tasting room and had a great experience, we'd be eternally grateful if you would share your thoughts on Yelp and Trip Advisor. Reviews on these two websites—the most popular sites for planning trips to wine country—will help us get the word out about our new location.
We hope to make every visit to our tasting room wonderful, and we're delighted that so far that's the word on the street. Please come see us if you're in the area: We're open every day from noon to 6:30 p.m.
- Serena
Comments
Commenting has been turned off.