December 23, 2013 | Serena Lourie
Reflections on 2013
What a year 2013 has been! After our production hit 1,000 cases with the 2012 harvest, we decided to make a leap and launch our own space where we could tell the Cartograph story and share our wines. We kicked off the year looking for a new tasting room closer to Healdsburg's main square.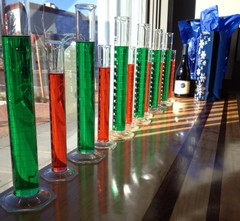 Once we had our space, the creative juices flowed as we made drawings of what we wanted it to look like. Today, as we look around and see how those drawings came to life, we're absolutely thrilled with how the tasting room became a true reflection of Cartograph.
In the spring, we presented our wines at Pebble Beach Food and Wine, at the Food & Wine Classic in Aspen and at SF Chefs in San Francisco. It was a pleasure to see how well the wines were received outside our circle of friends and longtime supporters; our little brand is getting great recognition from critics and sommeliers.
Locally, we got more involved in what's happening in downtown Healdsburg. Serena was asked to join the Downtown Business District Advisory Board, which guides strategy for downtown growth and helps to direct marketing efforts for downtown businesses. We've also been working to establish an alliance of downtown wineries called Wine.Walk.Healdsburg. Stop in at our tasting room for a map, or click the link for a look at all the downtown wine-tasting options.
Harvest was admittedly a bit of a blur, but 2013 delivered an amazing crop. With its moderate late-season temps, the long summer gave us great hang time without destroying the vibrant acidity that is so crucial to our style of winemaking. We're very excited by what we've got in the winery.
Cheers,
Serena & Alan
Comments
Commenting has been turned off.