August 17, 2014 | In the Vineyard | Alan Baker
Picking Pinot in August?
Picking Pinot in August?
No way!
WAY!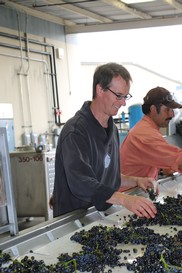 We've never picked Pinot noir in August, but this year we picked two blocks of Bucher Vineyard Pinot on the 16th! Last year was an early year and our first Pinot came in on September 2. I woke on the 15th thinking I might call a pick in one block on the 18th, but after pulling some sugar samples and tasting the flavors I really wanted to get the grapes picked ASAP.
I started the wheels in motion; 16 hours later, at 4 a.m., we were in the vineyard picking. We couldn't have done it without the crew at Bacchus Vineyard Management; grower John Bucher; and the flexible team at Punchdown Cellars, our winemaking facility. You'd think that this whirlwind of activity hitting so quickly would have been stressful, but we now have enough picks under our belts that we were able to check our list of things to organize, get some sleep, and hop on the tractor to get started sorting.
It was nice that the surprise start meant we didn't have time to agonize over pick dates, weather and crew availability. Plus, first picks always find the weak link in the system; that night, it was a blown fuse on the lighting boom, so we worked with headlamps (which we know by now that you must have on hand always) and it didn't even slow things down much. After watching, waiting and maybe even praying a little, we're always thrilled to get out of the truck and into the vines.
Some people think we're crazy, but we love night picks. It's a magical time to be in the vineyard, shrouded by fog, all the activity taking place in a little bubble of moving light. And it's nice to have a single job while riding the tractor: grab anything that goes into the bin that isn't a grape, and chuck it. It's a good shift to go from worrying about the seemingly infinite matrix of possibilities to a laser-like focus on one task. And it doesn't hurt that just as we're wrapping up, the sun starts to lighten the eastern sky to give us another beautiful sight.
The first pick of the season is often a harbinger of things to come. And if this is how things are going to go this year, bring on the grapes.
Cheers,
Alan
Comments
Commenting has been turned off.