November 18, 2015 | Photo of the day | Serena Lourie
Photo of the day - Nov. 18, 2015
Great staff + celebrating the end of harvest and our awesome team with a delicious dinner at Valette Restaurant = a perfect evening.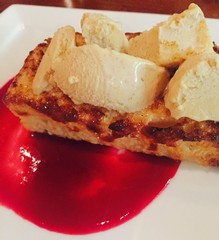 And for your viewing pleasure, this is a spectacular dessert that encompasses all the tastes I love: Bread, butter, and jam. Hibiscus jam, toasted brioche (almost bread pudding like), with salted brown butter ice cream (and yes we did wait for it to melt a bit which is why this is the only photo of the stunning meal). - Serena
Comments
Commenting has been turned off.