November 5, 2014 | Serena Lourie
Perfect Pairings for Thanksgiving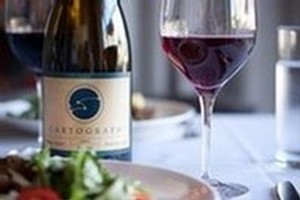 Thanksgiving is one of our favorite holidays because it's all about sharing a meal with friends and family. With Thanksgiving three weeks away, it's time to talk about wines that might pair well with your menu.
Riesling and Gewürztraminer are both classic wines for Thanksgiving, since they both complement dishes that are spicy, salty, or sweet. The Riesling's bright citrus and stone-fruit aromas plus its vibrant acidity make it a great pairing with sweet potatoes, turkey, and spicy or herb-filled stuffings. The Gewürz, with its hugely aromatic nose and spicy palate, can stand up to the rich flavors of both the turkey and the gravy. Both are high in acidity, which helps cut the richness of the meal.
Pinot noir is also a traditional favorite for Thanksgiving for several reasons: its combination of earthy undertones with bright red fruit plays well with the traditional aromas and flavors of Thanksgiving, and high-acid Pinots (like ours) cut through richness without sacrificing flavor. Pinot also tends to be lower in alcohol than bigger wines such as Cabernet and Zinfandel, which can be a good thing for a meal that lasts a few hours.
What to pick: Pinot from the Russian River Valley or from Mendocino Ridge? If your meal includes flavors like figs, beets, butternut squash, and pumpkin, we suggest Mendocino Ridge. If you're planning on flavors like persimmons, spinach, green beans, and pears, then go with the Russian River Valley.
And a curveball: Rosé of Pinot Noir. It's the wine we sip as we are preparing the meal because its bright, lively flavors dance across the palate without overwhelming the food we're tasting. During the meal, we like it between courses as a palate refresher.
Our recomendations:
For a Russian River Valley Thanksgiving:
2013 Floodgate Vineyard Gewürztraminer (for a more lush white wine, go with the 2012 vintage)
2011 Floodgate Pinot noir (if your guests prefer more fruit right up front, then go with the 2012)
2010 Russian River Pinot noir
For a Mendocino Ridge Thanksgiving:
2013 Greenwood Ridge Riesling
2011 Perli Vineyard Pinot Noir
2012 Mariah Vineyard Pinot Noir
Comments
Commenting has been turned off.