April 12, 2013 | In the Tasting Room | Alan Baker
Our favorite summer sipper is here: 2012 Rosé of Pinot Noir
Very light and refreshing, the 2012 Russian River Valley Rosé of Pinot Noir is just barely pink, with soft aromas of wild strawberry, ruby-red grapefruit, and cranberry. The wine is both bright and silky, with tart cherry on the palate and a subtle touch of white peach on the finish. You'll also sense a minerality and pronounced acidity that will bring you back for another glass.

We make our rosé by sneaking a bit of our pinot-noir juice out of a few of the fermentation tanks after the grapes have been destemmed and the juice has been held a short time in contact with the grape skins. (This process - known as saignée, or "bleeding"- is sometimes done to concentrate a wine, but we do it simply because we love to drink rosé!) The wine's light color means that the juice had minimal skin contact: the longer juice stays in contact with the skins, the darker it grows and the heavier it feels on the palate. Our goal is a bright, lively rosé that will bring a smile to your face on a warm summer day. Fermentation and aging is all done in stainless steel, and we bottle just four months after fermentation is complete.

2012 Russian River Valley Rosé of Pinot Noir will be available to Cartograph Circle members and in our tasting room - if you're not nearby or a club member, drop us a line to order some (limit four bottles per customer; no limit for club members).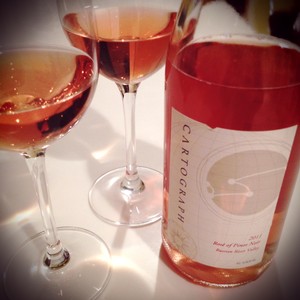 Comments
Commenting has been turned off.