October 23, 2019 | Cartograph Wines Alan & Serena
Operation Riesling Run
Cartograph's first Willamette Valley Riesling is in the tank.
As our Pinot noir harvest wound down in the Russian River Valley, this past week we packed our bags and headed north to Oregon's Willamette Valley for our first Riesling Run mission.
Over the past six years, Riesling has become a trademark for Cartograph and we continue to fall in love with this special grape with each passing vintage. We, unfortunately, lost our favorite Riesling source in Mendocino last year. As we were telling the story to our friends at Brooks winery in the Eola-Amity Hills region of the Willamette Valley this spring we hatched a plan to keep great Riesling in our portfolio by purchasing some of their estate grown Riesling. We couldn't resist the opportunity to get our hands on fruit from what has become known as one of the top Riesling appellations in the West.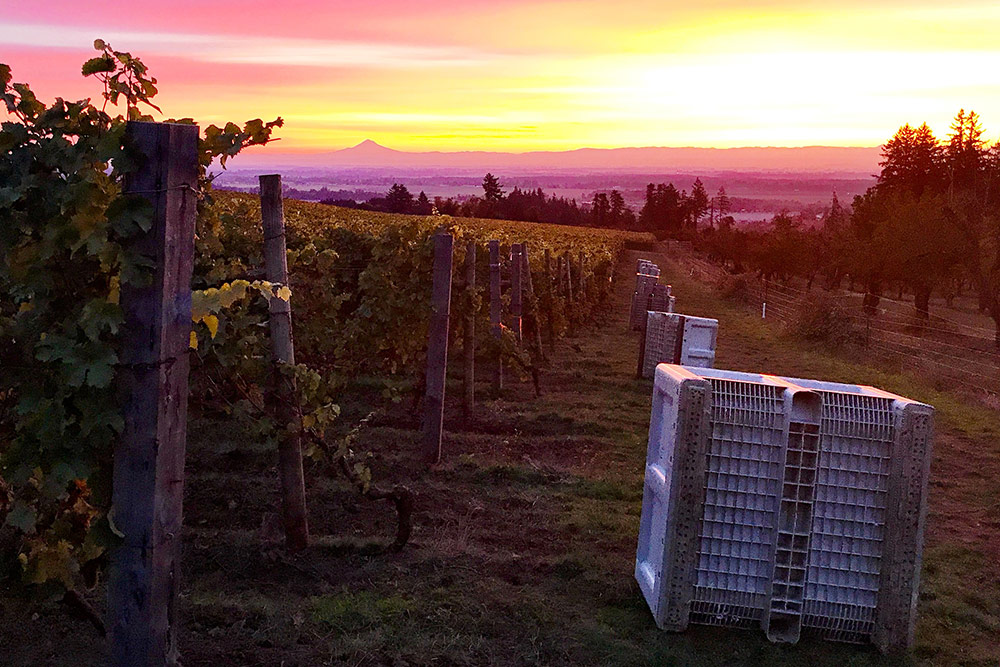 (Photos: Jillian Barnhart)
Brooks farms their estate biodynamically. This Demeter certified biodynamic block of Riesling is 45 years old and growing on its own roots, not grafted to another rootstock. This will be the first biodynamically farmed fruit we have worked with and are excited to move beyond the sustainable farming we practice at our estate to work with fruit that is grown in a way that not only sustains the land but improves soil health and habitat around the vineyards.
(Photos: Jillian Barnhart)
After an 11 hour journey up the coast to Oregon, we were welcomed by two beautiful tons of Riesling—we pressed the fruit at Brooks and after settling the tank for 48 hours we backed the trailer with our 350 gallon stainless tank up to the winery door and racked 320 gallons of clean juice into it without even pulling the tank off the trailer. We had all sorts of contingency plans for weather, tank movement on the trailer, etc but it worked like a charm. I don't know if you know this about winemakers but we're sort of paid to worry about what might go wrong so you always have a plan to recover before it really hits the fan. We inoculated the tank with yeast right there on the trailer, double checked and tightened the straps on the tank, and hit the road. It was a different experience driving through the mountains with 320 gallons of juice sloshing around behind us but moving slow and steady got us back to Healdsurg about 10 PM.
(Photos: Jillian Barnhart)
Back home, the Riesling is off the trailer and plugged into cooling here in Sonoma and smells lovely as it is just getting to that point where all the stone fruit aromas start to develop. Stay tuned for more on what will be Cartograph's first wine made from fruit sourced outside of California. This is sure to be a gorgeous wine and we are excited to have you along for the ride on this new adventure. #RieslingRun
Comments
Commenting has been turned off.