April 22, 2014 | Alan Baker
Turning a tough harvest into a beautiful wine
Green Valley Pinot Noir: So few grapes, so much love.
A grower friend of ours swung by the tasting room one day in July 2012 and told us about a tiny vineyard in the Green Valley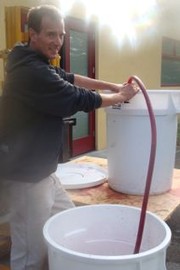 AVA that he was helping to manage for a couple who had recently purchased the property. We chatted about the challenges of working with such a small property; I told him that if the couple had any questions about winemaking, I'd be happy to help.
Fast forward: Life got busy and the owners, Tom and Ruth, asked if I would like to harvest the grapes. Having already committed ourselves to five vineyards, we were a little hesitant to take on another one . . . but our friend Rich was overseeing it, and Green Valley is a new and intriguing appellation for us, so I decided to throw caution to the wind and jump in without having set eyes on the vines. We were hoping to get a full ton of Pinot noir.
Our first visit to the property revealed that we were in for quite a ride. Birds had already picked one section clean and were methodically working their way across the block. With bird damage comes all sorts of other challenges; namely, the spread of botrytis and bacteria. Ruth started making daily passes to pull damaged clusters as we prayed for some heat to finish ripening the fruit. The weather stayed cold and the birds continued to feast.
Finally, the grapes got ripe and we picked the vineyard ourselves with help from the owners, the vineyard manager and some of their friends, all armed with pails, gloves, shears and knives. I showed everyone what kind of clusters to pick and which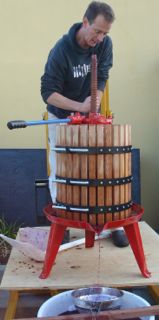 clusters to leave behind due to bird and wasp damage. As the picking pails started filling up, Serena moved to the harvest bin to be the final QA person, sorting each cluster and tossing the ones that didn't meet our expectations.
The owners cringed as Serena tossed out about 50 percent of what they were delivering. However, tough love is the only way to ensure that you have something worth worrying over for the next year. By the time the final sort was complete three hours later, we had exactly 500 lbs. of Pinot. Ugh!
Given the small quantity of fruit, we thought we might get laughed out of the facility where we produce the rest of our Pinot, so we took the fruit to the Cartograph tasting room and fermented the wine in the back room (we're a bonded winery, so it was all legit.) You never know about the batches of wine that come from a difficult pick, but the wine smelled nice and clean through fermentation and we pressed it with a small hand-powered press borrowed from a friend's winery—just a tasting-room prop for them, but it did the job for us. We got the last basket pressed and the place cleaned up just in time to open the tasting room for the day.
Working with such a small lot meant that we couldn't use our regular winemaking tools, so this lot is truly handcrafted in every sense of the word. And with only 12 cases available, we've made it an exclusive for our Cartograph Circle members.
So how does it taste? Here's my tasting note.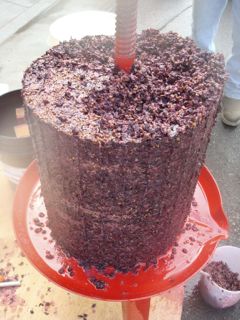 2012 Green Valley Pinot noir (Harlan Vineyard)
Green Valley sits at the west end (cold end) of the Russian River Valley appellation. You can recognize the bing cherry aroma that you often find in Russian River Pinots but this wine also has hints of cedar, mint, and dried leaves in its complex aromatics. The wine is light on the palate with ample acid. And the flavors are also a nice balance of bright red cranberry fruit and a pronounced earthiness. Like the best cool-climate Pinots this wine has a certain taughtness or edginess to it. Imagine a violin string beginning to vibrate and sing.
Alan
Comments