June 22, 2014 | Serena Lourie
Meet Corey Fine
We're delighted to introduce you to our new Cartograph Ambassador, Corey Fine.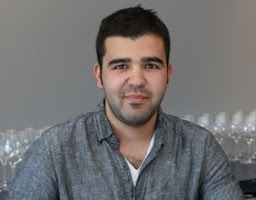 A native of Boston, Mass., Corey is a graduate of the University of Denver's Fritz Knoebel School of Hospitality Management. During his four years in Denver, Corey spent his free time exploring the area's wide array of ski slopes, hiking trails and microbreweries.
After graduation, Corey headed to New York City, where he worked for legendary New York restaurateur Danny Meyer at Union Square Hospitality Group. Corey was part of the opening team of the Upper East Side Shake Shack and experienced what it takes to grow a business quickly.
Corey's next gig was back in Boston, where he managed Vino Italiano, a wine store devoted to exploring Italian wine and culture. It was there that Corey discovered his passion for wine—and his love of working for family-owned businesses. On Corey's 25th birthday, he made his first trip to Napa and fell in love with wine country.
He moved here and enrolled at the Culinary Institute of America's Greystone Campus in St Helena, graduating with honors from the Accelerated Wine and Beverage Program and earning the Certified Wine Professional designation. Corey is incredibly excited to bring his passion for food and wine to the team at CartographWines. We hope you'll stop by the tasting room to meet him.
- Serena
Comments
Commenting has been turned off.