September 16, 2013 | In the Tasting Room | Serena Lourie
Introducing Tina Cloutier
Please welcome the second member of the Cartograph hospitality team! Minnesota native Tina Cloutier spent many years sipping only hops and barley . . . until a dinner party where she tasted a bottle of 2002 J Winery Pinot Noir made in Healdsburg. She discovered that not only was she in love with the taste, but she was also intrigued by how the wine was made. She spent the next several years learning about wine and winemaking, taking sommelier courses and exploring wine regions.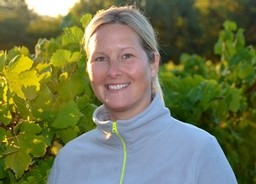 Bitten by the wine bug and knowing that she wanted to be amid wineries and vines, Tina ventured into Minnesota wine country and worked at a winery in Stillwater in exchange for wine. After several harvests there, she'd set her sights on moving to California wine country when she met a California winemaker at one of her favorite Minneapolis restaurants. Three weeks later, she was packing her car and heading to Healdsburg for an internship during the 2009 harvest. Tina spends most of her time these days immersed in the world of wine, but you might also spot her on the beach in Bodega Bay reading a good old murder mystery.
You'll find Tina in the Cartograph tasting room Tuesdays through Saturdays—please come by and introduce yourself!
Photo credit: Glen Sauber
Comments
Commenting has been turned off.