March 11, 2014 | Serena Lourie
In Search of Perfect Pairings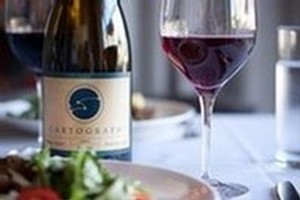 For the past several months, we've been exploring recipes that pair well with our wines. We're delighted to say that we've had many successes, thanks in part to the guidance we've received from our chef friends and the wonderful wine/food pairing books we've received from friends andCartograph Circle members.
Why is it important to know what foods go well with which wines? So you don't create a bad flavor profile that makes your wine taste flat or dull. For example, asparagus is a notoriously hard flavor to pair with wine—so don't center a meal around asparagus and plan to serve a wine that you've held in the cellar for several years.
Our winter garden is yielding only lettuces and spinach these days, so we feel lucky that we froze so much garden produce last summer. We've used fresh spinach in combination with cannellini beans and tomatoes from the summer harvest to create some tasty pork, salmon and halibut dishes that work well with Pinot. With the winter rains, mushrooms have started to emerge in Sonoma County; we know that Pinot and mushroom dishes tend to pair delightfully, so we're excited to find local mushrooms. As we continue toexplore recipes, we'll make them available in the tasting room and post them on our website so you can see what we're playing with.
Do you have any recipes that you enjoy pairing with Cartograph wines? We'd love to hear about them. Email them to us or send us a link at info@cartographwines.com.
- Serena
Comments
Commenting has been turned off.