December 10, 2014 | In the Winery | Alan Baker
Good parenting?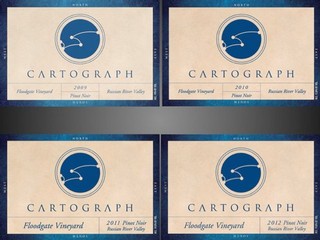 Winemaking is one of those things, like raising kids, where you don't really know whether you've made smart decisions until you're years down the road. Luckily, with wine the time frame is shorter and the stakes a lot lower. However, every once in a while I have these moments (making a call to pick, or fretting over whether we can make a bet on a new vineyard source) when I'm very aware of the potential impact of making a dumb move. The margins are too thin to accommodate bad decisions.
But it's really fun and rewarding to see (and taste) the outcomes of good decisions. We recently held a vertical tasting of Pinot noir from Floodgate Vineyard, featuring four vineyard designate wines: 2009 through 2012.
It had been quite a while since we had opened a bottle of the 2009, and both Serena and I got a surprise with this one. 2009 has always been one of our riper vintages, so we expected it to be one of the bigger wines in this tasting considering that 2010 and 2011 were really cold growing seasons. However, youthful, fruity exuberance is in this wine's past and it has moved into a place that is really compelling. Where we might have expected Bing cherry and cola, we got mushroom and forest floor. The ample acid is still there, but now the fruit on the palate is bright cherry and soft strawberry. I always shy away from using the term Burgundian — we're in California, after all — but I'd love to slip this wine into a Burgundy tasting to see whether anybody would call it out. If you have a bottle of the '09 in the cellar, check out the risotto recipe below.
The 2010 Floodgate was in a great place; the tannins have softened just a bit. If you like your Pinot with a little bottle age and still want some solid fruit on the palate, this one is for you. Out of the four wines we tasted, I'd say this was the one currently showing truly classic feminine Pinot qualities. "Finesse" would be the label I'd choose rather than "fruit."
"Fruit" would be the label for the 2012, which is definitely the wine showing the most overtly fruity nose (though none of our wines are really ever fruit bombs, even right at release). Considering the relative youth of this wine, I guess I'd expect more fruit, but with the 2009 now showing such earthy aromas I was surprised by the distance between them. And it is richer on the palate, which is testament to its warmer growing season. This is the wine that we go to when we have something a little richer on the menu.
Now let's back up a step to the 2011. While drinking nicely, I think it's still hiding a few secrets. The nose is definitely Russian River Pinot, but it's very subtle. The fruit is more dark cherry and there's the trademark RRV cola as well. It's starting to show more dried leaves and earthy notes on the nose, but all these fruit and other aromas are quite soft and light coming out of the glass. I wonder if the '10 and the '12 will hit their peak before this one?
This was a great way to dig into a single vineyard and really show how the wines from a special place share certain consistent qualities from year to year. After tasting these wines, we're feeling pretty good about our chosen path for the Pinots: The priority should be on getting the fruit into the winery while there are still good acid levels. Don't hang the grapes until the flavors are big and jammy. Use new oak sparingly. Be fanatically focused on keeping things clean. And keep your hands off the wine as much as possible while aging.
Huh, it all seems pretty simple now that I lay it out.
We'll be doing vertical tastings from other vineyards, and we're planning to repeat this one on Feb. 14. Keep an eye on our events calendar for more dates.
Cheers, Alan
Comments
Commenting has been turned off.