July 10, 2014 | Serena Lourie
Gatherings: Recipes from the Rustic Soul of Healdsburg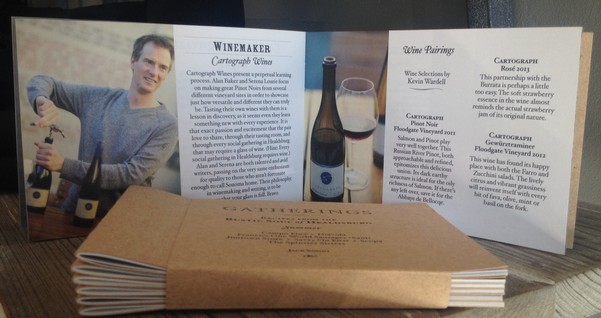 Something we've been excited about for some time finally came together at the end of June: Cartograph is featured in Gatherings: Recipes from the Rustic Soul of Healdsburg, a beautiful book by Jack Sonni that pairs Healdsburg wineries with local restaurants. We're teamed up with the awesome new Spinster Sisters in Santa Rosa, named one of the 100 best wine restaurants in the country by Wine Enthusiast.
You can pick up a copy of Gatherings in the Cartograph tasting room or online. Its release inspired us to create a number of recipe pairings for our wines—watch for them soon on our website and in the tasting room.
- Serena
Comments
Commenting has been turned off.