June 17, 2014 | Alan Baker
From the garden to the vineyard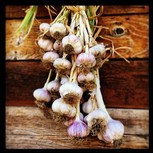 The winter citrus and spring lettuces are almost a distant memory and the garden is moving fast in this warm weather. I dug close to 90 heads (!) of garlic recently; it's now curing, and we'll have some for you in the tasting room soon. The beans, melons, tomatoes, cukes, and more are putting on a lot of growth in the abundant sunshine. (We're hoping to create some delicious cannellini bean recipes to pair with our Pinot release this fall.)
While the hyacinth, tulips and daffodils have faded, the apple, cherry and peach trees bloomed ferociously and the fruit is just starting to show. Our Fuji graft onto the Gravenstein should yield fruit for the first time this year!
In the vineyards, our early spring and above-average temperatures have everybody scrambling to keep up. There seems to be no such thing as a "typical" growing season anymore—we're definitely seeing spectacular early summer growth already. Most vineyards would be making several passes to sucker, get the canes trained into the trellis, and then pull laterals (secondary canes that keep moisture in the fruit zone and shade the fruit), but in many places we've had to do this all at the same time while wrestling canes that are much longer than would normally be expecting. All that adds up to slow going in the vine rows.
Cheers,
Alan
Comments
Commenting has been turned off.