November 3, 2014 | Alan Baker
Looking back at Harvest 2014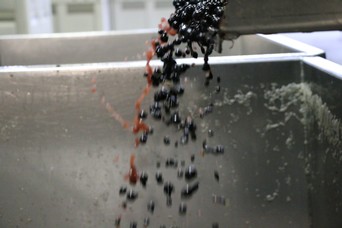 I'm always a bit too superstitious to talk about harvest until the wines are really resting for the winter. Well, this year we put our last Pinot in barrel the first week of October. At that time last year, we were still picking—this year, we picked our first fruit August 16! We've never picked a grape in August before this year. It truly was an unprecedented season.
After all the handwringing and worry about the early budbreak and fast-moving growing season, as soon as we started picking I began to relax and all those concerns vanished. The reality was that the vines had started growing so early that we still had decent hang time, so the flavors are very good. The early start also put us in a position to sit back and wait out those vineyards that we are typically fighting to get ripe before the rain comes in October.
We're always looking for the flavors to really pop before we pick. In some years, like 2012, flavors are lagging behind while sugars are climbing. Those are the years where we have to hold back and wait for the right flavors, which leaves us with slightly higher sugars and alcohol levels over 14%. 2014 was the opposite, with good flavors showing up well ahead of where I expected. I was blown away when I tasted the Gewürz and the flavors were wonderful at 18 brix!
As a result, we picked at very reasonable sugars and I think there might be one wine pushing 14% alcohol. Everything else is mid-13%, and although the Riesling is still slowly fermenting, it's going to barely break the 12% mark with a classic flavor profile for a dry Riesling. Not to get too nerdy (too late?), but I'm seeing some interestingly high acids after primary ferment, so I'm watching how things move as they go through malolactic conversion. Is it too early to declare the vintage cellar-worthy? Maybe, but I'm already excited to taste these wines in a couple of years.
Cheers,
Alan
Comments
Commenting has been turned off.