March 24, 2014 | In the Tasting Room | Serena Lourie
Cartograph Garden: the winter version
The winter garden is slow to grow but once it gets going, it yields all sorts of tasty organic goodness to share in the tasting room. We have two kinds of oranges - juice and navel - and while the trees did get damaged by frost, the branches that were unscathed are prolific. Just the other day we noticed that in the trees have started putting on their buds for the new season so we are quickly pulling all the oranges off the tree. So, if you are feeling the need for some vitamin C, come visit the tasting room and help yourself to oranges.
The lettuces have finally hit their stride. We have forests of arugula that we are chopping down and bringing in. The red lead, curly leaf lettuces, and romaines are putting on full heads of lettuce that we can now start harvesting. Instead of planting a multitude of spinach plants, we only planted six plants this year and that seems to be the perfect amount so far for a household of two. We've been using the spinach in pasta dishes, soups, and we came across a delicious spinach and brussel sprout saute . The recipe is here - and the only changes we did was to chop the almonds, increase the vinegar by a quarter and decrease the maple syrup by a quarter.
The garlic, onions, barley, and fava beans are slowly growing. Unfortunately, the snails got the best of the sugar snap peas so we won't have any of those this year. The daffodils, hyacinth, tulips, and this beautiful purple flower whose name eludes me are all blooming. The blueberries look promising but the lack of bees continues to be a concern. On the apple tree, only the Fuji branch is in bloom, the Gravenstin limbs are just pushing out their buds.
That's the garden update. Come visit the tasting room and pick up some produce.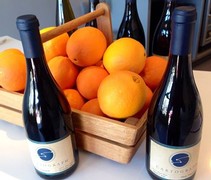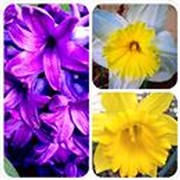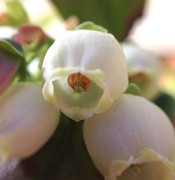 Cheers,
Serena
Comments
Commenting has been turned off.